If you've been following the recent Target designer collaboration, then you know people are not happy with their partnership with Hunter Boots–mainly because there are no boots. While the rest of the highly anticipated collection launched Saturday, April 14, the iconic tall Hunter Boots were delayed (and they still are).
The tall rain boots that the historic British footwear brand is best known for, were not ready for release with the rest of the 300-piece collection. While all other clothing, footwear, and outdoor items dropped in stores and online, the women's tall boots were missing.
In a statement on their website, Target said, "For guests eyeing the women's tall rain boots, unfortunately, they are delayed and won't be available in stores or online when the collection launches. We apologize for any disappointment and we'll share more information when we can."
SHEfinds reached out to Target and a spokesperson for the brand told us that at this time, they don't have a date to share as to when the tall rain boots will be available.
As to be expected, customers are very upset over this announcement. The classic boots were at the top of many shoppers' list to buy when the Target x Hunter line officially hit stores. As of right now, there is no further information about when the Hunter x Target tall boots will become available.
The rest of the Target x Hunter collection is selling out fast, with some customers even lining up outside of stores before they opened to get a jumpstart on the shopping. Considering how talked about this collection has been since it was first teased earlier this spring, we're not really surprised. We're dying to get our hands on it, too!
A few shoppers who went to Target the morning of the Hunter collaboration launch claim they had the Hunter tall rain boots in their carts, only to have them taken away at the register.
Snagged a pair of tall green hunter boots at the #3 selling Target in NC and the boots were removed from my hand at check out along with numerous other customers and I was told "We can't sell these to customers yet." Um why were they on display? #epicfail #HunterxTarget

— Caitlin Best (@hensleycn) April 14, 2018
Should have never made it to this point only to be told I couldn't actually purchase them. #HunterxTarget pic.twitter.com/1niYj5pUWr

— Samantha Hoard (@samanthakhoard) April 14, 2018
Many shoppers have taken to social media to express their frustration with the delayed Target x Hunter tall boots.
after a closer inspection I see why the tall women's hunter x target boots were recalled lolololol what do I do @Target @AskTarget? I'm not risking my life to go back to my target store again when they are actually released!!!! pic.twitter.com/ssazzyJnhH

— Dina Joanna (@dinajoanna) April 14, 2018
#TargetxHunter boots are delayed. pic.twitter.com/4ld145Syyl

— Proud Mary (@Classicblujeans) April 14, 2018
While some Target customers are showing no mercy when it comes to the Target x Hunter mishap, there are a few people who are still standing by the retailer.
Dear @Target,
I'm sorry people are being jerks to you because of the #targetxhunter delay. I'm not mad at you and still love you. ❤️ #Target #getagrippeople

— Shannon Rae Galford (@ShannonRaeArt) April 14, 2018
Hunter Boots took to their Twitter on Saturday to clear up some confusion about the awaited Target x Hunter tall boots. They said, "Target won't sell Hunter Original boots. Our boots are handcrafted from natural rubber following an intricate process. The ones designed in partnership with Target are not produced the same traditional way. We hope that helps."
But they were quickly called out by Twitter users for not supporting their collaboration with Target.
Wow!! Dissing your collaboration! Such a brand turnoff

— mariannecaulfield (@mariannecaulfi3) April 15, 2018
Real Hunter Boots or not, as loyal customers of Targeé, we still can't wait for the tall Wellies to hit the store's shelves.
However, if you can't wait for even a second longer, you can still shop for Hunter Boots elsewhere. Check out some of our favorites below: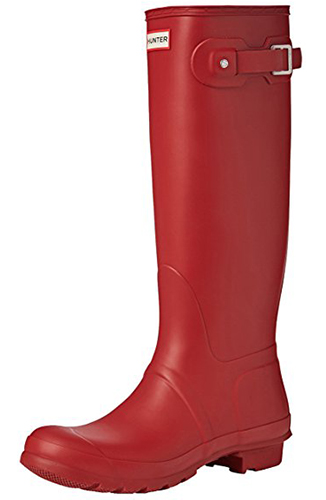 Hunter Women's Original Tall Rain Boot ($94.99)
Hunter Women's Original Tall Rain Boots ($150)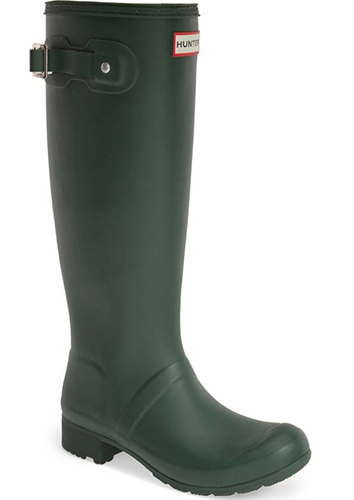 Hunter Tour Packable Rain Boot ($150)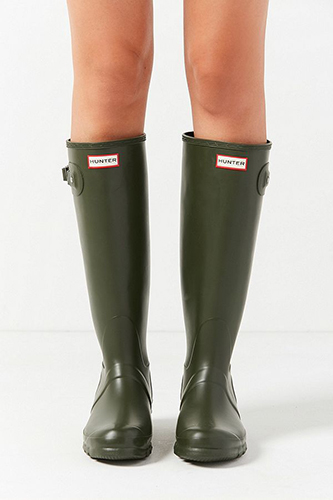 Hunter Original Tall Rain Boot ($150)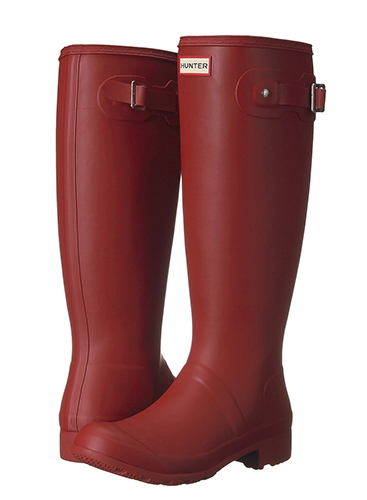 Hunter Original Tour Packable Rain Boot ($104.90)
SheFinds receives commissions for purchases made through the links in this post.