Instagram is the king of social media platforms among young people. Practically everyone has an Instagram account and they check it multiple times a day–at least. Due to Instagram's ever-growing popularity, it's no surprise that so many brands and companies have decided to bring their merchandise to the app. Not only can you find plenty of popular online clothing shops that sell on Instagram, but you can also shop so many popular jewelry stores on Instagram, as well!
As dainty layering jewelry and fashionable stacking rings become more and more popular, it seems as though the variety of Instagram jewelry shops are growing. There are so many gorgeous jewelry accounts on Instagram, we simply can't stop drooling over their shiny merchandise as we scroll the app.
These popular jewelry stores start online and grown in popularity through their flawless aesthetics and jaw-droppingly pretty jewelry pieces. On Instagram, there are many stores just waiting to be discovered. Fashion Nova did get their start on Instagram, after all.
A few of the popular online jewelry stores end up being complete goldmines for affordable and chic pieces. To help you sort through the endless number of jewelry accounts on Instagram, we found the best Instagram-famous jewelry stores that you should definitely be checking out!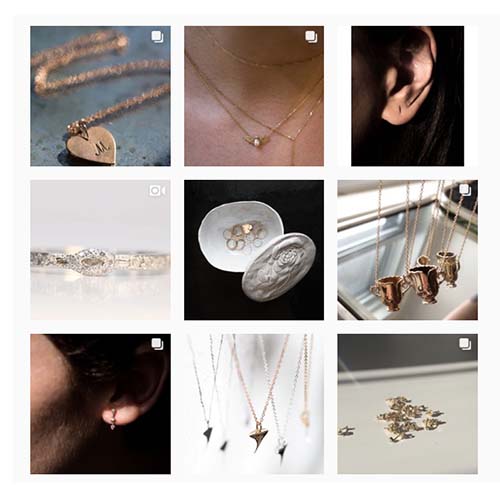 Catbird NYC is a popular Instagram-famous jewelry store that is based out of Brooklyn, New York. The stylish jewelry boutique sells tiny, trendy rings, bracelets, and other designer trinkets. Whether you're shopping for yourself or looking for a unique gift for someone else, this jewelry store on Instagram has it all. The store sells trademark fine, personalized jewelry that can be worn in a variety of ways. The price point of Catbird NYC jewelry starts at $12 and goes all the way up to over $1,000.
Stand & Strand is a minimalist brick-and-mortar jewelry store that is famous on Instagram for its gorgeous pieces. They offer one-of-a-kind jewelry that comes in styles suitable for both casual and high-end wear. Stone & Strand was created to make fine jewelry that didn't feel as stuffy as most do. The results are amazing, beautiful, and dainty little jewelry pieces that you'll want to wear nonstop. Their price point starts at $28 and goes up to over $1,000.
Mejuri creates fine jewelry for everyday wear that looks absolutely stunning on. This Instagram-famous jewelry store specializes in making fun, luxury jewelry pieces for smart women. Their quality is amazing for a fraction of what most luxury jewelers cost. You can shop for necklaces, rings, bracelets, and more at this jewelry store on Instagram. Mejuri's prices start around $20 and go up to about $385.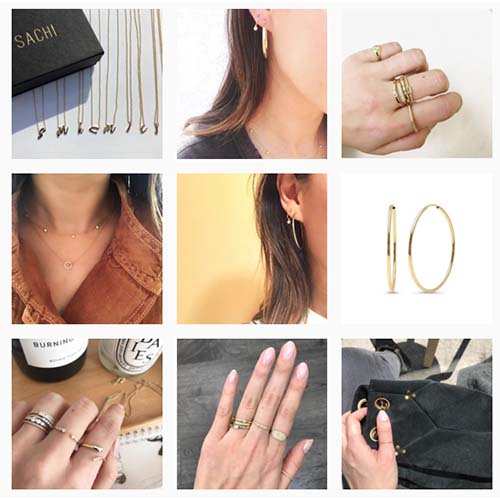 Sachi Jewelry makes stunning pieces that combine luxury and fun. According to the Instagram-famous jewelry store's website, "Sachi means "happiness" in Japanese and "luxury" in Korean," therefore, the brand tries to combine the two when making their jewelry. The beautiful jewelry comes from many collaborations between various jewelers and designers to bring women the most versatile and sensible pieces for every budget. Sachi Jewelry is a bit more expensive than the other Instagram jewelry stores on this list but it is worth every penny.
Shop our editors' picks below: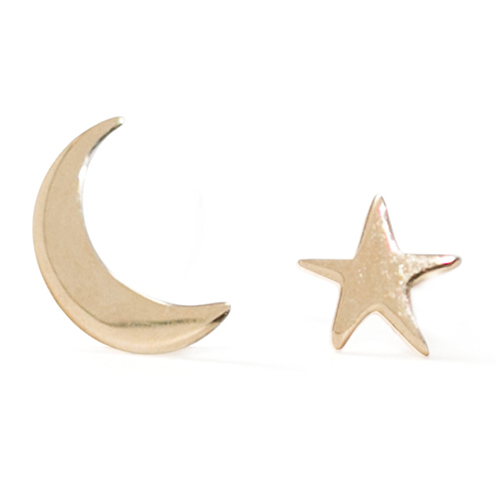 Catbird Tiny Dancer Stud, Yellow Gold ($48)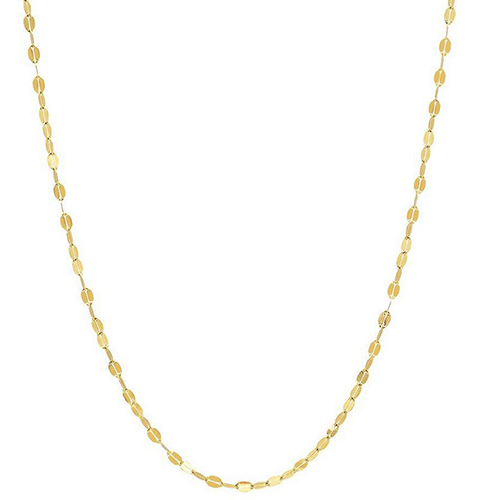 Sachi Twisted Mirror Chain ($ 15)
Mejuri Thin Dôme Pinky Ring ($290)
Mejuri Cabochon Necklace ($79)
Stone & Strand Blue Kite Sapphire and Teeny Diamond Ring ($295)
SheFinds receives commissions for purchases made through the links in this post.