The royal family is long-rumored to have rigid style rules in place about what family members, especially the women, can wear in public. Unsurprisingly, the dress code is pretty modest and the rules include things like wearing stockings and covering their decolletage at all times. But don't tell that to Kate Middleton–she's bound and determined to show a little skin Specifically, in her favorite cleavage-bearing Jenny Packham gown.
Her royal highness has worn the plunging neckline dress multiple occasions, including to the Tusk Awards this week. Gasp! The Duchess of Cambridge just stepped out for the event, which honors individual environmental and conservation efforts in Africa, wearing the stunning teal gown from the British designer.
If the dress looks familiar it's because the mom to George, Charlotte and Louis has worn it before: the first time to an Olympic dinner with Team Great Britain in 2012.
READ MORE: You May Need To Sit Down Before You See Kate Middleton's New Haircut
While the mom of three wore her hair in a lose chignon bun six years ago, on the recent occasion she opted for her highlighted hair down in curls. The formal Nov. 8th event called for her date, Prince William, to be in a tuxedo. So handsome!
https://twitter.com/SPerryPeoplemag/status/1060620594025238529?ref_src=twsrc%5Etfw%7Ctwcamp%5Etweetembed%7Ctwterm%5E1060620594025238529&ref_url=https%3A%2F%2Fwww.harpersbazaar.com%2Fcelebrity%2Flatest%2Fa24816744%2Fkate-middleton-jenny-packham-gown-tusk-awards%2F
The dress also featured a cinched, belted waist. And it should be noted that Kate's not the only royal who has pushed the envelope in this low-cut dress: Princess Madeleine of Sweden, Alexandra, Princess of Sayn-Wittgenstein-Berleburg and Princess Alexandra of Luxembourg have all worn it in various colorways. Rule breakers!
If you love the look of Catherine's go-to gown, we've rounded up some cheaper look-alikes here. Perhaps for your next black-tie or formal wedding? Just make sure the Queen isn't in attendance first.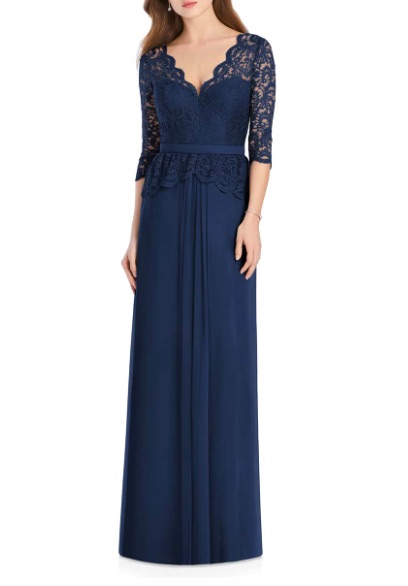 JENNY PACKHAM Lux Chiffon Gown ($284)
Jenny Packham does has under $300 gown styles available on Nordstrom. She's not making the exact shade of teal that Kate wore this season, but we have to say this navy lace number is very her.
Aidan MattoxEmbellished Slit-Sleeve Gown ($495)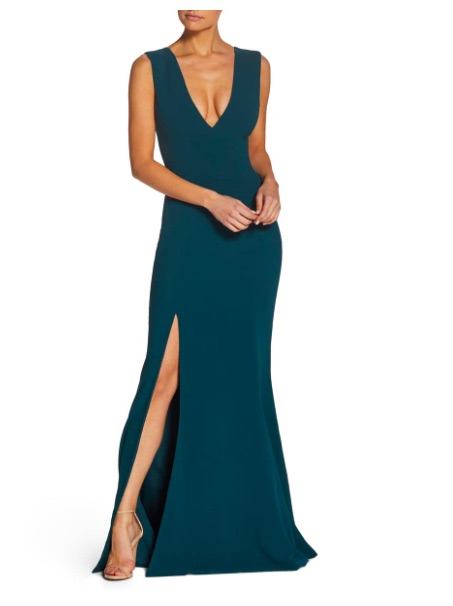 DRESS THE POPULATION Sandra Plunge Crepe Trumpet Gown ($288)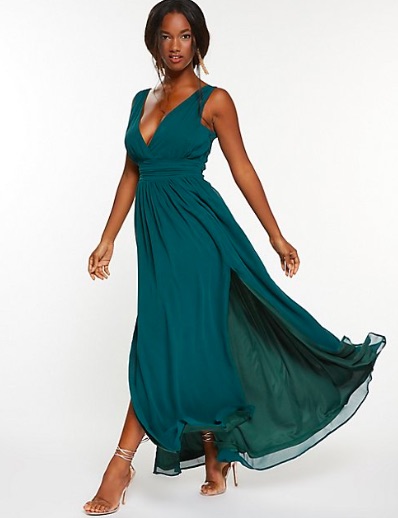 Chiffon V-Neck Maxi Dress ($21.99, down from $44.99)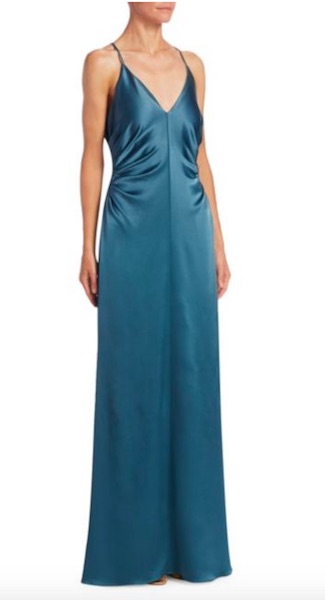 Halston Heritage Ruched-Side Column Evening Gown ($198, down from $495)
SheFinds receives commissions for purchases made through the links in this post.