Anytime M.A.C Cosmetics so much as announces a new eyeliner, we're there for it. When it comes to celebrity beauty collaborations, we practically lose our minds. Their latest makeup inspiration is one of the most exciting yet: M.A.C is teaming up with Aaliyah for a makeup collection that bridges the late R&B star's gorgeously glowing and natural beauty with eyeshadow and lip gloss goodness.
And, boy, has M.A.C been teasing this one for some time now.
The cosmetics giant started dropping hints about the M.A.C x Aaliyah collection last summer, but the details were foggy at best. Meanwhile, scores of Aaliyah fans have been waiting (and waiting) for a release date, which was only just made public—along with swatches that are to die for.
Here's everything you need to know about the M.A.C and Aaliyah makeup collection, including when you can score it and what to expect.
When Will The M.A.C Aaliyah Makeup Collection Launch?
Here are the dates you've been waiting for: M.A.C announced on Instagram that the M.A.C Aaliyah makeup collection will become available for purchase online on June 20 and in stores on June 21. Given the nature of the collection, all the sexy, gorgeous, golden shades, it makes sense to drop the line at the start of the summer season. You're going to want to wear every shade and product in this collection on the beach, streets, and on summer Fridays at the office. It's that casually glam.
If you're wondering how Aaliyah became the focus of M.A.C's new collection, there's a story behind that one. According to Aaliyah's brother, Rashad Haughton, the Try Again singer was a big M.A.C fan who favored its Espresso eyeshadow and Chestnut brown lip liner (it was the late '90s, remember), reports The Cut. Similar to how singer Selena Quintanilla was celebrated by M.A.C with a makeup collection in her honor, a petition appeared on change.org requesting the same royal beauty treatment for Aaliyah. Low and behold, the petition gained major traction and got support from Missy Elliott and Aaliyah's former makeup artist Eric Ferrell.
M.A.C listened and the rest is about to become makeup history.
Of course, you're wondering which products you'll be able to get your hands on. Spoiler alert: there are two and they're both gorgeous.
The Products In The M.A.C Cosmetics x Aaliyah Collection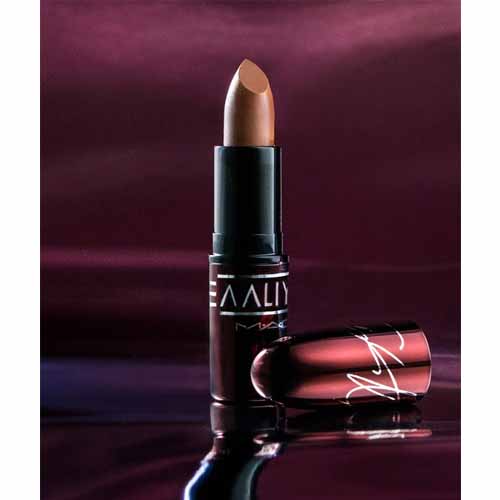 M.A.C x Aaliyah Lip Gloss
One of Aaliyah's beauty trademarks was her glossy nude lip, at times lined (as we have learned) in M.A.C Chestnut lip liner. It comes as no surprise that one of the two products in the M.A.C x Aaliyah collection is a shimmery caramel lip gloss, packaged as an easy-to-apply lipstick, reports Allure.
M.A.C is continuing to tease fans, even now, a few weeks before the makeup collection launch. This shade of lipstick was apparently inspired by one Aaliyah song in particular, but they're staying silent on its name and its source of inspiration.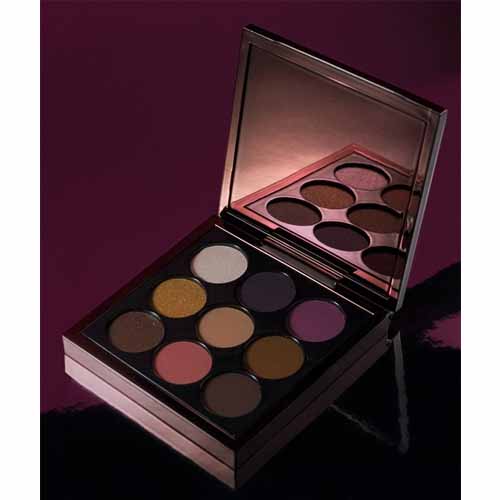 M.A.C x Aaliyah Eye Shadow Palette
Every great cosmetics collection has to have a stellar eyeshadow palette and this one is outstanding. It features nine sexy, sultry neutrals and dramatic takes on neutral shades: shimmery dove gray, an inky matte shade, warm plum, muted shimmery ochre, pale caramel, matte hot chocolate, shimmery dark chocolate, dusty mauve, and deep matte brown. No '90s girl would have dared leave the house without a good brown shadow, and this palette is chockfull of them.
Aaliyah is truly the perfect star to inspire a new M.A.C makeup collection. Not only is she a '90s and early 00's icon who had an incredible beauty and style-sense that we continue to replicate, but she had the talent and charisma to back up that beauty.
Sadly, Aaliyah was only 22 when she died in a plane crash on Aug. 25, 2001. Prior to her death, she starred in the film Romeo Must Die and had a string of Top 10 hits, including Try Again, which appeared in the film's soundtrack and peaked at number one for an unbelievable 31 weeks on the Billboard Hot 100.
There are few celebs as worthy as Aaliyah when it comes to a collab with M.A.C and these two stunning makeup products are a fitting tribute to the queen.
For more news on M.A.C, check out:
--Here's Where You Can Buy The M.A.C Cosmetics x Puma Sneaker Collection
--We've Got Exclusive Swatched Of The New M.A.C Cosmetics Studio Waterweight Concealer
[Photos: M.A.C Cosmetics]