Following a haircare routine that promotes the health of your hair is one of the best solutions for dealing with hair fall. This is especially the case for the products you use in the shower. It's not uncommon for traditional shampoo and conditioner formulas to contain harmful ingredients that damage your hair and hinder hair growth. "An ideal shampoo for thinning hair needs to not only improve the volume of your strands but also encourage growth and circulation of hair follicles," advises New York City dermatologist Neil Sadick.
Chelsea Scott, founder of TruHair, says that there's one natural shampoo that works wonders for those experiencing hair thinning–it's Briogeo's Blossom & Bloom™ Ginseng + Biotin Volumizing Shampoo!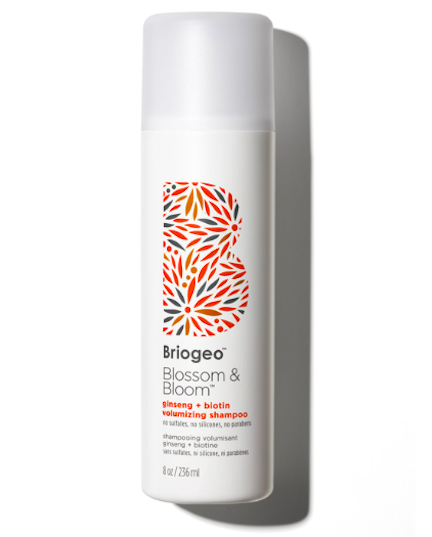 TRY IT: Briogeo Blossom & Bloom™ Ginseng + Biotin Volumizing Shampoo ($24)
Shutterstock
"If you're looking for pure volume and lift, the key ingredients to look for are panthenol and biotin," Scott says, noting that it's 98% natural formula is fortified with ginger and ginseng to stimulate the follicles and "provide immediate fullness and long-term growth benefits."
Shutterstock
Other Benefits:
-Sulfate-free formula effectively cleanses the scalp without stripping away its natural oils.
-Creates fuller-looking hair and supports long-term growth.
-Formulated with vitamin B5 to strengthen tresses from root to tip.
Promising Reviews:
"I have a lot of hair but it's thin and I can never seem to find a shampoo that volumizes my hair, smells DIVINE, and isn't full of harsh ingredients. This shampoo fits the bill. I highly recommend." - ClassicLoves
"For the past two years my hair has been thinning out and I have tried EVERYTHING from Rogain to vitamins and I lost all hope of getting my hair back to the thickness it was before, until I came across this product!! Briogeo is AMAZING! I have only been using the shampoo with the condition for a month and already I feel such a difference in the thickness/volume of my hair. My hair is even falling out less! The best part is is that my hair is actually starting to grow back. I am so glad I took a chance and bought this product because not only is my hair finally feeling healthy, my confidence is starting to come back!!! If anyone out there is having major lack of hair confidence due to thinning and lack of volume, don't give up and take a chance on this product. I know how hard and stressful it can be to constantly feel self-conscious about your hair line and thickness and I can honestly say that I am starting to feel better about how my hair looks every time I wash my hair! The only thing is now I have a bunch of baby hairs that are so hard to style haha. Small price to pay :D" - JVioletdr
"I absolutely LOVE this shampoo!!! Gets my hair clean and when used with the volumizing conditioner, I notice a real difference in the fullness of my hair after blow drying. Smells delicious too! If you have fine thin hair like me and are looking for a natural product to add some volume, this is it!!" - BeautyJunkee87
SheFinds receives commissions for purchases made through the links in this post.