Nina Agdal got sporty on her Instagram showing off her yoga flow in super cheeky Alo Yoga short-shorts.
The Sports Illustrated model knows just how to keep up with her super fit figure. Her workout routines are intense, and she has blessed her YouTube subscribers with tons of workout videos.
The Danish-born supermodel also shares plenty of yoga flows on her Instagram. In one video she shared how she is able to let herself relax while on vacation or traveling without feeling guilty for slipping up in her routines.
The 27-year-old wrote, "It's taken me a long time to be able to get to the point of coming home after 'letting go' and not putting myself down when i look in the mirror and everything isnt as tight as when i left." She continued, "Today is different and that little mean girl voice is replaced with happy thoughts and excitement to be home and back to my routines."
Either way, clearly her busy schedule and routines are working, because she looks extremely healthy and happy.
READ MORE: Nina Agdal Just Stripped Down To The Tiniest Red Bikini We've EVER Seen—Her Body Looks Incredible!
In 2017, Agdal was the cover star for Health Magazine and talked about how she stayed fit while traveling, and it was a totally different mindset from where she is now.
"I always tell myself, 'There are so many things you regret doing or eating, but you never regret a workout.' I always feel better after a workout. I have more energy, and mentally I'm in a better place," she said in the interview.
Now, it seems like Agdal is using working out as a way to keep healthy and happy, and not just to keep up appearances.
READ MORE: We've Never Seen Celebs Wear Workout Clothes THIS Tiny–They've Never Looked Hotter!
Shop Alo Yoga shorts below: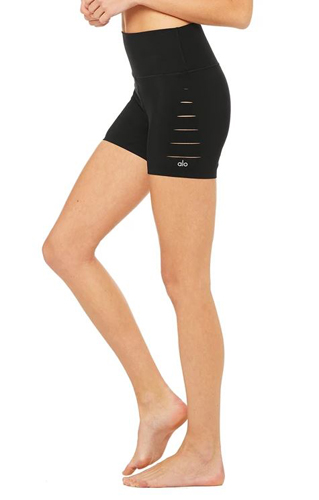 Alo Ripped Short ($72)
Alo High-Waist Lush Short ($62)
Alo Daze Short ($56)
Alo Ambience Short ($72)
SheFinds receives commissions for purchases made through the links in this post.