The basics from Lou & Grey's new collection at Nordstrom are anything but basic! These clothes trendy and stylish pieces will make you feel so incredible you'll want to live in them all year long.
The brand that prides itself on putting out the softest, most comfortable clothing imaginable has just made it a lot easier to stock up on its quality cashmere sweaters, trousers, tops, dresses, and T-shirts that fit like a dream.
Nordstrom just launched a Lou & Grey section on its site—just in time for you to stock up on fall necessities like sweats, poet blouses, sateen pants, and, yes, snug oversize sweaters that will get you excited about chilly autumn days and falling leaves.
Here's everything you need to know about the Lou and Grey launch at Nordstrom — along with a few sweet pieces you need in your closet asap.
Lou & Grey At Nordstrom
Shutterstock
Some background on Lou & Grey: the brand is owned by Ann Inc., a woman's apparel retailer that also owns Ann Taylor. Lou & Grey is considered a sub-brand of Loft, but its merchandise has a more trendy athleisure flair and higher prices that are more in line with Nordstrom's apparel selection.
Lou & Grey has a few stores here and there, but we're talking just a handful. If you didn't live in very specific areas, you were restricted to shopping for its styles online--until now!
On August 13, Nordstrom launched a curated selected of Lou & Grey items on their website and in Nordstrom stores across the country (and it may offer the line in even more stores as time goes on).
According to Retail Dive, Nordstrom is trying to expand its third-party brands like Allbirds and Reformation, so Lou & Grey fits in nicely. You could say this is truly a match made in heaven.
If you shop right now at Nordstrom for Lou & Grey merchandise, you'll find 30 items — all super cute and as comfy as you imagine. Here are a few stand-out pieces from the collection.
Shop Lou & Grey At Nordstrom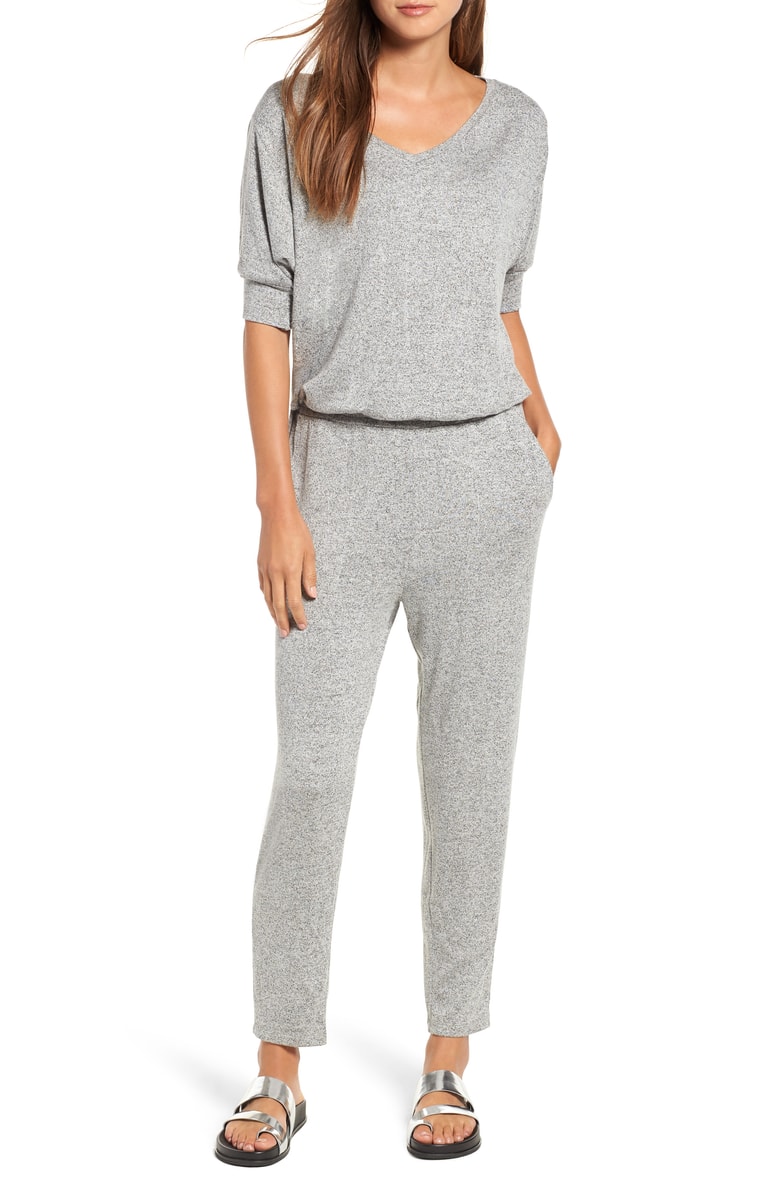 Nordstrom
Lou & Grey Tucked Jumpsuit ($79.50)
Most casual and sporty knit jumpsuits hang in a way that isn't always flattering on the body. But Lou & Grey has a handle on how to design a cute jumpsuit you can wear when lounging around at home and while running errands or grabbing a quick coffee. It actually looks like it's a two-piece outfit and you can choose among two colors: grey or black.
Nordstrom
Lou & Grey Pickstitched Poet Blouse ($59.50)
This pretty poet blouse marries the soft feeling of cotton with on-trend romantic, wide poet sleeves and a subtle black and white print. Pair it with denim — even your most beat-up pair of jeans — and it instantly adds an elegant touch.
Nordstrom
Lou & Grey Brushed Sateen Pants ($69.50)
Move over, jeans — these brushed sateen pants are as easy and comfortable to wear as basic denim, but are slightly more polished. They're cropped and stop just above the ankles, are cut close to the body, feature wide front pockets, and come in the sweetest shade of pink. They're perfect for pairing with an oversized sweater this autumn and winter.
Nordstrom
Lou & Grey Striped Hoodie Dress ($79.50)
When you're stuck in between summer mini skirt and winter wool dress weather, this is the striped hoodie dress you need to pull out of your closet for an effortless transition. The dress is designed with a cotton blend knit and has three-quarter sleeves and a drawstring hood. Pair it with simple white sneakers and you'll find yourself wearing it everywhere.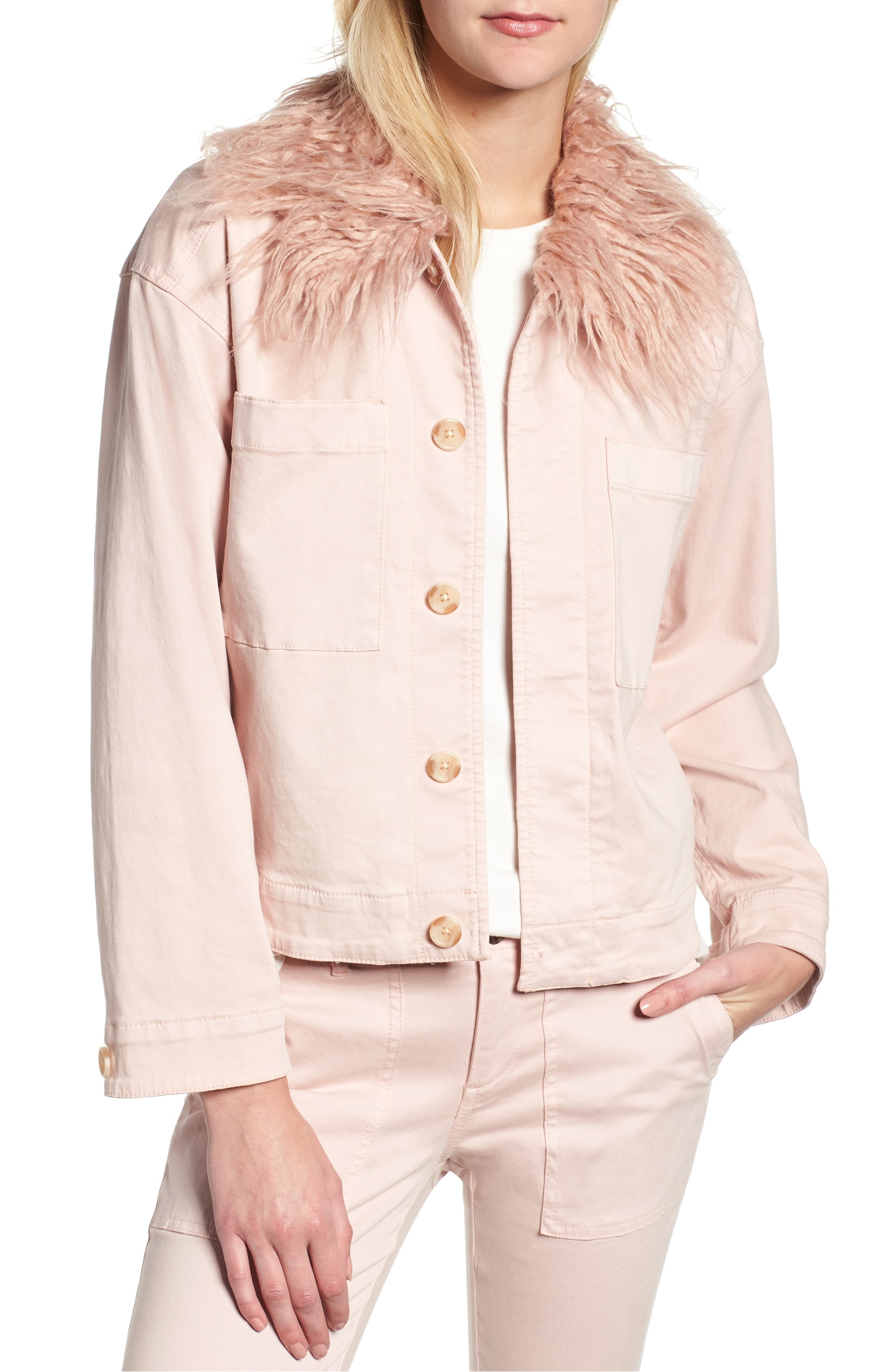 Nordstrom
Lou & Grey Frosé Utility Jacket ($128)
With its soft pink hue, brushed sateen fabric, and adorable faux shearling collar, it would be easy to pass this jacket off as pretty and precious. But its utility style design, front patch pockets, and the fact that its shearling is detachable ensure it's a no-nonsense piece that goes with everything in your closet.
SheFinds receives commissions for purchases made through the links in this post.