After much speculation on his well-being and whether or not he's texting Jennifer Aniston, Brad Pitt is finally speaking out on his divorce from Angelina Jolie. In his GQ Style cover story, Pitt opens up about the end of his marriage and the current state of his family.
Jolie filed for divorce from Pitt in September 2016 following an alleged incident involving their son Maddox, 15. An FBI investigation into child abuse claims followed but were unfounded. "I was really on my back and chained to a system when Child Services was called," Pitt told the magazine. "And you know, after that, we've been able to work together to sort this out. We're both doing our best. I heard one lawyer say, 'No one wins in court — it's just a matter of who gets hurt worse.' And it seems to be true, you spend a year just focused on building a case to prove your point and why you're right and why they're wrong, and it's just an investment in vitriolic hatred."
Pitt and Jolie are also parents to Pax, 13, Zahara, 12, Shiloh, 10 and twins Vivienne and Knox,8.
"Fortunately my partner in this agrees. It's just very, very jarring for the kids, to suddenly have their family ripped apart. If anyone can make sense of it, we have to with great care and delicacy, building everything around that… Our focus is that everyone come out stronger and better people — there is no other outcome," he said. "I see it happen to friends — I see where the one spouse literally can't tell their own part in it, and it's still competing with the other in some way and wants to destroy them, and needs vindication by destruction, and just wasting years on that hatred. I don't want to live that way."
Although the split hasn't been the easiest for Pitt, he's determined to put the kids first. He currently lives in their childhood home in Hollywood Hills, California. "Kids are so delicate. They absorb everything. They need to have their hand held and things explained. They need to be listened to. When I get in that busy work mode, I'm not hearing. I want to be better at that," he said. "I grew up with a Father-knows-best/war mentality — the father is all-powerful, super strong — instead of really knowing the man and his own self-doubt and struggles. And it's hit me smack in the face with our divorce: I gotta be more. I gotta be more for them. I have to show them. And I haven't been great at it."
[Photo: Ryan McGinley Studios for GQ Style]


Lena Dunham and her Girls co-stars, Allison Williams, Jemima Kirke and Zosia Mamet, opted to go without any Photoshop on the February cover of Glamour Magazine. Dunham's cellulite on her upper thigh is front and center.
Following the cover's release, the actress took to Instagram to share a message of body positivity.
"kay, here goes: throughout my teens I was told, in no uncertain terms, that I was fucking funny looking. Potbelly, rabbit teeth, knock knees- I could never seem to get it right and it haunted my every move," the outspoken actress wrote. "I posed as the sassy confident one, secretly horrified and hurt by careless comments and hostility. Let's get something straight: I didn't hate what I looked like- I hated the culture that was telling me to hate it."
She continued by calling out those who have bosy-shammed her since becoming famous, "When my career started, some people celebrated my look but always through the lens of "isn't she brave? Isn't it such a bold move to show THAT body on TV?" Then there were the legions of trolls who made high school teasing look like a damned joke with the violent threats they heaped on, the sickening insults that made me ache for teen girls like me who might be reading my comments."
Finally, she concluded the post, "Well, today this body is on the cover of a magazine that millions of women will read, without photoshop, my thigh on full imperfect display. Whether you agree with my politics, like my show or connect to what I do, it doesn't matter- my body isn't fair game. No one's is, no matter their size, color, gender identity, and there's a place for us all in popular culture to be recognized as beautiful. Haters are gonna have to get more intellectual and creative with their disses in 2017 because none of us are going to be scared into muumuus by faceless basement dwellers, or cruel blogs, or even our partners and friends. Thank you to the women in Hollywood (and on Instagram!) leading the way, inspiring and normalizing the female form in EVERY form, and thank you to @glamourmag for letting my cellulite do the damn thing on news stands everywhere today ❤️ Love you all."
[Photo: Glamour]
It's official! Dwayne "The Rock" Johnson is PEOPLE Magazine's 2016 Sexiest Man Alive! So how did he feel about the honor? "I said, 'That's awesome.' And then what went through my mind was just how cool and exciting it is," Johnson tells the magazine. "And then I thought, 'Wow, we've pretty much reached the pinnacle.' I'm not quite too sure where we go from here. I've done it all, this is it."
The former WWE champ is coming off a big year in Hollywood with his most highly-anticipated project of 2016, Disney's Moana, hitting theaters this Thanksgiving. He also has a ton of films in the works for 2017 including Fast and Furious 8, Baywatch and the Jumanji remake. It's no wonder he's the world's highest-paid actor!
Johnson is also the first non-white actor to receive the Sexiest Man Alive title since Denzel Washington in 1996.
[Photo: People]
Rob Kardashian and Blac Chyna cover this week's issue of People magazine, where Rob opened up about issues--like his weight gain and retreat from the spotlight--that he hadn't spoken about previously. Here are the top 3 revelations from the interview:

1. On why he skipped Kim and Kanye's 2014 wedding: "I was doing my suit fittings in Paris right before the wedding and I just wasn't comfortable. I'm 6'1" and at my most I probably weighed 300 lbs. There were cameras at the airport on our trip there and I was very unhappy with the person I saw in all the pictures. I'm upset I missed my sister's wedding but it was a personal decision."
2. On Caitlin Jenner. "I know how it can be to feel uncomfortable in your own skin."
3. On her sister's exes. "All I want is for Lamar to be healthy and have a positive life and be there for his kids. Even Scott. In our day and age, all this stuff is very normal."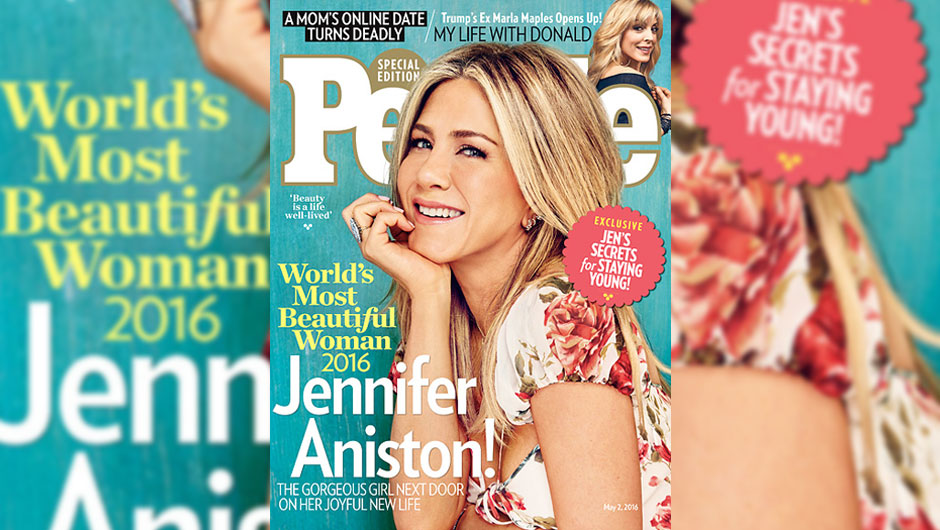 Our girl Jennifer Aniston was named PEOPLE's Most Beautiful Woman in the World for 2016! Aniston was "very, very flattered" when she first heard the news and had a "very excited, teenage-y kind of moment."
In the issue, which is available Friday, April 22nd, she also talks about her diet, beauty routine, and marriage to Justin Theroux. Can we just say, she looks even better now than her Rachel Green days, so whatever she's doing, it's definitely working!!
[Photo: Instagram]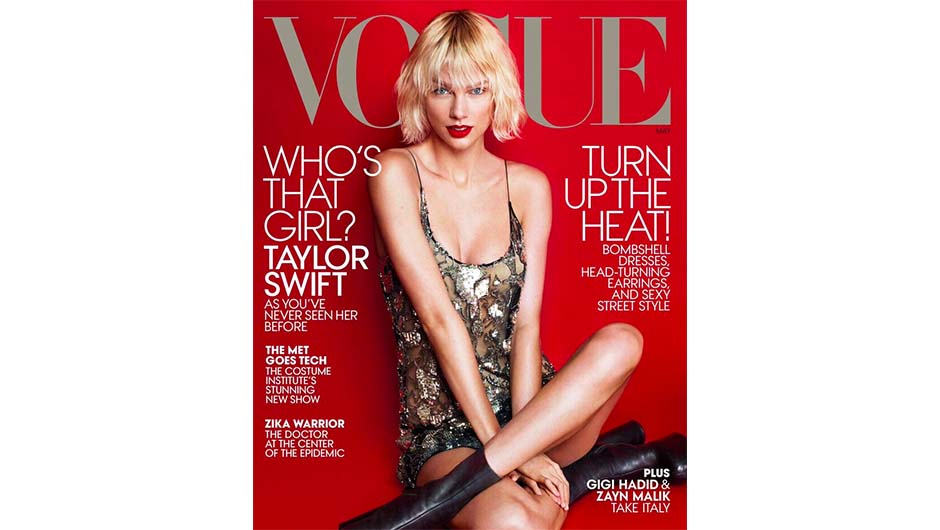 Taylor Swift, is that you?! The singer is unrecognizable on the May cover of Vogue with wavy platinum blonde hair. The magazine's headline is "Taylor Swift As You've Never Seen Her Before," which is definitely accurate.
The inside includes deets on her girl squad and "magical" relationship with ordinary boyfriend Adam. JK, he goes by Calvin Harris publicly and is a pretty big deal, in case you didn't know already.
The issue hits stands April 26th!
[Photo: Mert Alas and Marcus Piggott/ VOGUE]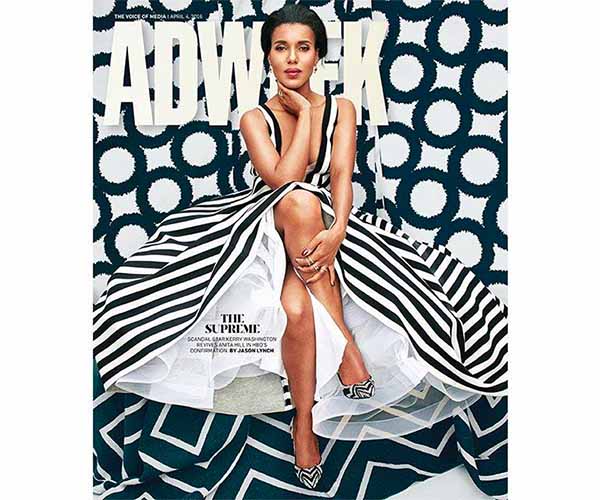 Kerry Washington, like the boss she is, addressed her photoshopped Adweek cover with class. The actress posted a message to Instagram stating that she loves her feature and calls gracing the pages "an honor." However, when it comes to the cover image, Kerry, "was taken aback." She elaborates, "It felt strange to look at a picture of myself that is so different from what I look like when I look in the mirror. It's an unfortunate feeling."
[Photo: Instagram]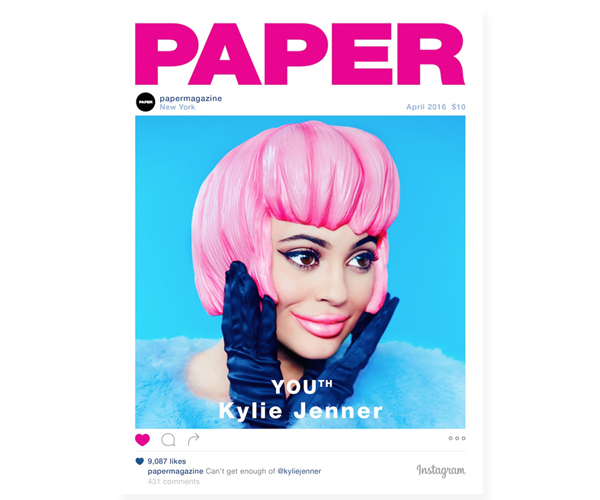 Kylie Jenner is on the cover of Paper this month for the "Youth" issue. The reality star looks like a legit doll with her plastic pink wig, matching lips and oversized eyes. Now, before you go thinking she got even more plastic surgery, she posted on Instagram, "my eyes and lips are edited to look bigger." So there you have it! Check out the issue when it hits stands on April 12th.
[Photo: Instagram]
UPDATE: Ben finally responded to Jennifer's revealing Vanity Fair interview. The actor told The New York Times, "She felt like she wanted to discuss it and get it out there and get it over with." He continued, "So she could say, 'Look, I already talked about it – I don't want to do it again.'" He added, "It's fine. She's allowed to talk about it."
He also made a point to acknowledge that the former couple's recent public appearances aren't an act, "Jen's great. She's a great person." He continued, "We're on great terms. I just saw her this morning, so that's the reality that I live in."
Jennifer Garner is finally breaking her silence on her divorce from Ben Affleck in the new issue of Vanity Fair. She discusses her three children and refers to Affleck as the "love of my life" but he's a "complicated guy." Garner also reveals new information about the nanny scandal. Despite all of her hardships this year, she says she looks forward to "just having a sense of humor." Good for her!
[Photo: Instagram]
Britney Spears has the honor of covering the 100th issue of V magazine! There is a total of three covers shot by legendary photographer Mario Testino, which all feature Spears looking hot, hot, hot. "When looking for cover-worthy subjects for our 100th issue, we had to ask ourselves, Who do pop stars and musicians — who have become an integral part of what V represents — look up to and admire?" said Stephen Gan, founder and editor-in-chief of V. "There was only one answer: Britney! She has entered icon status, and who in our world did not grow up listening to her music?" Pick up your copy of the 100th issue on newsstands March 8!
Also, in case you're inspired by Brit Brit's style in this shoot, shop her Guess Deep V-Neck Lace Bralette ($29) that was featured in the issue!
[Photos: Instagram]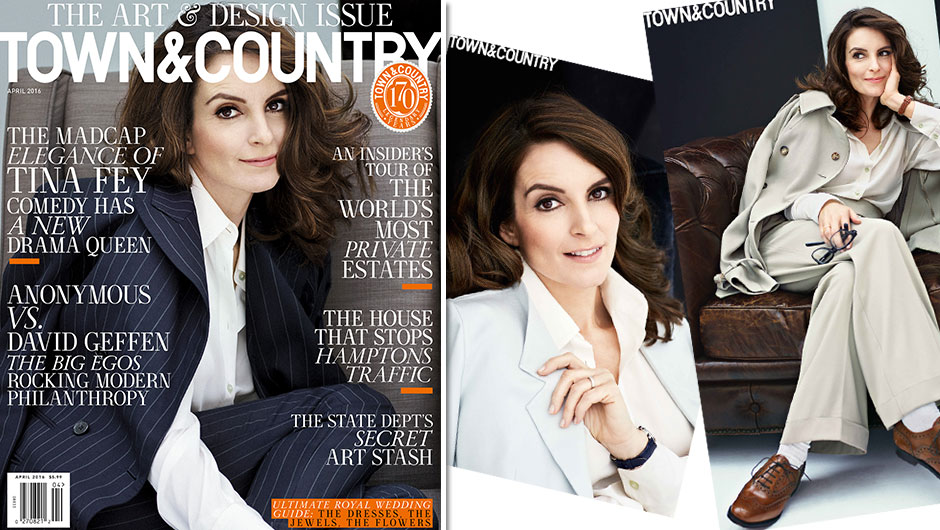 Tina Fey is on the April cover of Town & Country looking beautiful! In the issue, Fey opens up about aging in Hollywood, expectations women face and the perception that women aren't funny. Pick up the issue on newsstands everywhere March 8.
[Photos: Alexei Hay]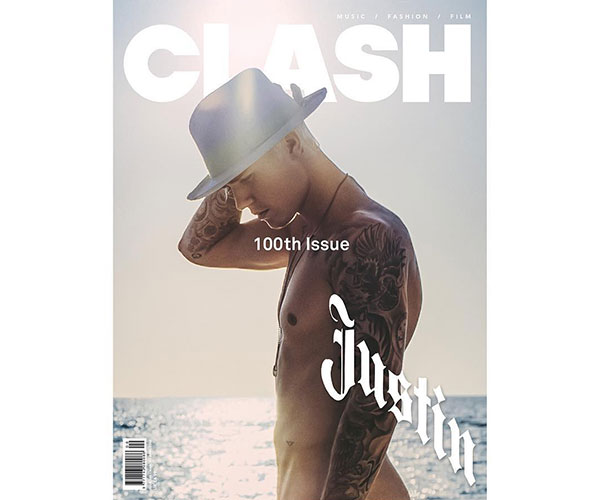 Hot damn! Justin Bieber posed completely nude on the cover of Clash Magazine for the 100th issue. We guess that's a good way to celebrate.
This isn't the first time the Internet went nuts over his naked body. However, it's different this time because the Biebs approves of this image, making it all the more sexaaaaaay. He even makes me think that hat is a good look. K gotta go cool down now.
[Photo: Instagram]
For the first time ever, Sports Illustrated Swimsuit crowned three separate cover models for the 2016 issue. UFC champion Ronda Rousey, plus-size model Ashley Graham and 2015 SI rookie Hailey Clauson look absolutely stunning on each of their covers. "It's always been an objective of mine to be more inclusive and be more representative of what real beauty is," MJ Day, editor of Sports Illustrated told People. "I think that the industry has for a while been stuck. Beauty is subjective. Beauty is not one size fits all. Beauty varies from decade to decade, from country to country, from state to state. This is a platform to really celebrate that and remind people of that."
[Photos: Instagram]
Adele looks stunning on the March cover of Vogue! In the issue, Adele talks about her newest album, being a mom and her love for shopping. Pick up the issue on newsstands on February 23!
[Photos: Annie Leibovitz]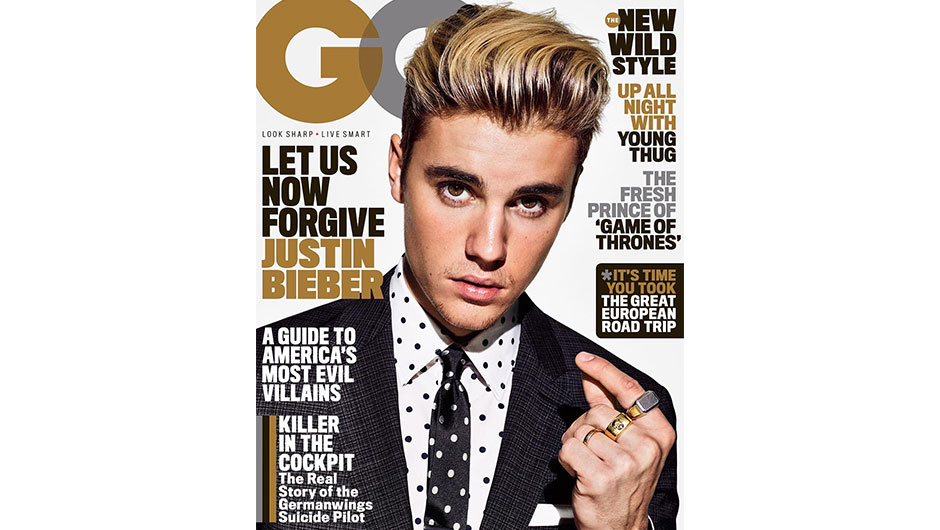 GQ is tapping into Justin Bieber for their March cover story. The Biebs gets candid about his relationship with Hailey Baldwin and what "Sorry" is really about. He also opened up about growing up and acknowledging your mistakes.
[Photo: Instagram]
Dakota Johnson is featured on the March cover of Marie Claire. In the issue, she discusses her extra workouts for the Fifty Shades of Grey sequels, actresses she admires and her dating life.
[Photos: Txema Yeste]
Watch out, Justin Timberlake! People just named Ryan Reynolds the "Sexiest Dad Alive." Reynolds told the magazine, "Having a daughter was a dream come true for me. I would have made a terrible king." He welcomed his daughter, James, with wife Blake Lively in December 2014. "I never admitted it out loud, to myself or my wife, but I really wanted a little girl. It's the best." he says. AW!!
[Photo: Instagram]
Gigi Hadid landed herself on the cover of Vogue Paris...twice! One cover features Hadid in a nothing but a jacket and necklaces, to which she wrote on Instagram, "What an honor and dream come true it is to be on the cover of French Vogue. Thank you so much @mertalas @emmanuellealt." As for the nude cover, she wrote, "And here's the version where I'm wearing mostly Chanel N°5 ;) lol @vogueparis" Gorgeous!
[Photos: Instagram]
Jessica Alba covers Cosmopolitan's March issue. As one of Hollywood's most successful women, Jessica discusses femininity, never doubting yourself and equal pay for women in the issue. Pick up your copy on newsstands February 9!
[Photos: Tesh/Cosmopolitan]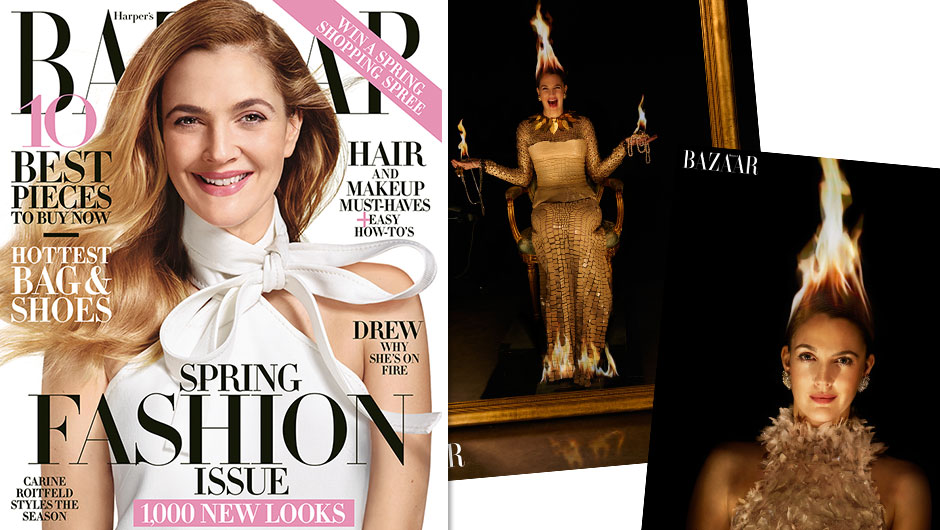 The March issue of Harper's Bazaar features Drew Barrymore and she is hot, hot, hot! Her fiery photoshoot was inspired by one of her first films, 1984's Firestarter. In the issue, Drew talks about what it means to be "hot", motherhood and her favorite comedians. Pick up the March issue of Harper's Bazaar on newsstand February 16!
[Photos: Jean-Paul Goude]
Selena Gomez graces the March cover of W magazine. In her interview, she discusses her very public relationship with Justin Bieber, growing up in the public eye and her use of social media. Gomez also notes she will probably "give all of it up" in a few years, referring to social media, so soak up all her posts while you can!
[Photos: Steven Klein]
Kourtney and Khloe Kardashian cover next month's Architectural Digest which features a major spread on both of their California "dream" homes. Yes, we've seen bits and pieces of both places on TV, however, this shoot really puts each of their homes on full display. Plus, there are more celeb homes in the issue. Take a peek inside here.
[Photo: Instagram]
It's here! It's here! Vanity Fair unveiled the cover for their 2016 Hollywood issue on Snapchat and it features some of the fiercest women in the industry. The cover pictures 13 outstanding actresses from ages 21 to 78. From left to right: Jane Fonda, Cate Blanchett, Viola Davis, Jennifer Lawrence, Charlotte Rampling, Brie Larson, Lupita Nyong'o, Rachel Weisz, Alicia Vikander, Gugu Mbatha-Raw, Helen Mirren, Saoirse Ronan and Diane Keaton. The cover was shot by the legendary photographer Annie Leibovitz. So sleek!
[Photo: Twitter]
Julianne Hough is Cosmopolitan's February cover girl! In the issue, she opens up about her long-distance relationship, her career (catch her in Dirty Grandpa and Grease: Live) and how she's really happy at the moment. You can pick up this month's issue of Cosmo now!
[Photos: Matt Jones/Cosmopolitan]
Derek Zoolander finally got the cover of Vogue for the magazine's February issue. The male model posed alongside Penelope Cruz, and he is joined by supermodels Gigi Hadid, Joan Smalls and Jourdan Dunn for the inside spread (so hot right now). Is it February 12th yet? In desperate need of some walk-offs...
[Photos: Vogue]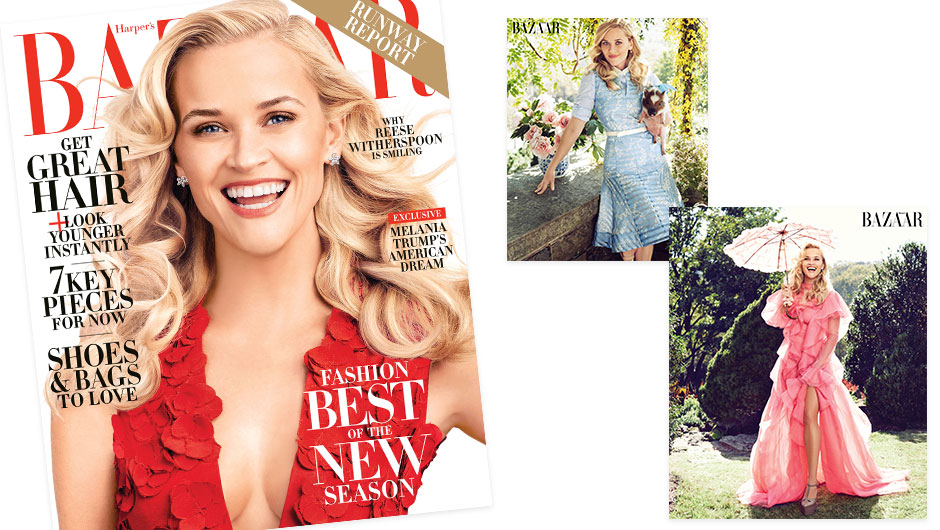 Reese Witherspoon is Harper's Bazaar's February cover girl! In the issue, available on newsstands January 19, she discusses turning 40, being more open and her Southern-inspired line Draper James. Witherspoon looks stunning on the cover and in the whimsical inside photos. At almost 40, she proves she still has it!
[Photos: Alexi Lubomirski]