Breakfast is important — there's no doubt about it. A healthy breakfast provides the fuel you need to focus at work, power through your workout, and it even helps you burn fat by giving your metabolism a boost and lose weight.
But if you wake up in a hurry and tend to rush through your morning routine, you already know that making healthy breakfast can be a pain. That's where plan-ahead breakfasts come into play. Breakfast is one of the easiest meals to make ahead, freeze, fridge, or store in Tupperware, and forget about.
These five plan-ahead breakfast recipes will make your mornings so much better. They're healthy, simple to whip up and store beautifully until it's time to enjoy them–even on hectic mornings!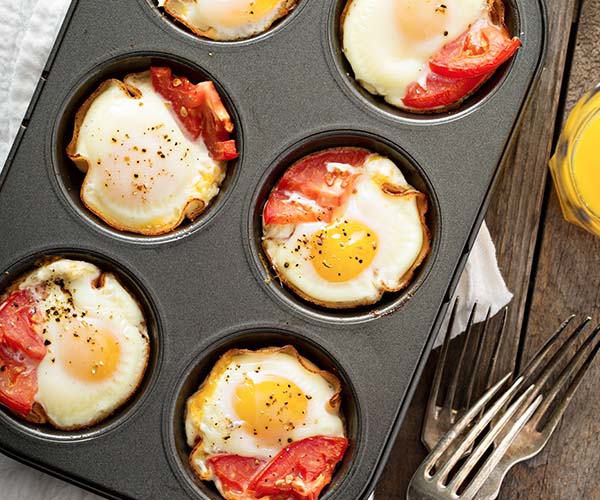 Eggs are one of the most nutritious foods you can eat in the morning. Packed with protein, vitamins like B12, and minerals like selenium, and low in calories, they also pair well with a variety of veggies and cheese. These healthy egg muffin cups can be stored in the fridge and popped into the microwave for 30 seconds before enjoying them. This ingredients list looks extensive, but remember: you can sub out ingredients you don't like and fill in the blanks with other meats and veggies.
Ingredients:

Kale, chopped
Baby spinach, chopped
Tomatoes, diced
Onions, finely chopped
Red bell peppers, finely chopped
Green peppers, finely chopped
Mushrooms, finely chopped
Goat cheese, crumbled
Basil, finely chopped
Mozzarella cheese, shredded
Salt & pepper to taste (other seasonings like oregano or garlic powder work well, too!)
Muffins are another versatile recipe that gives you the freedom to make substitutions — one week you may try banana and chia seeds; another week blueberries and flax may sound more tempting. Gather up these ingredients to whip up these delicious grab-and-go muffins.
Ingredients:

2 cups of oat flour
8 dates, pitted
1/2 cup of water
1 ripe banana
1/4 cup of maple syrup
1/3 cup coconut oil
3 eggs, lightly beaten
1/2 cup almond milk
1/2 cup chia seeds
3 Tbs unsweetened cacao powder (for color!)
1/2 tsp salt
3 tsp baking powder
1/2 cup of Greek yogurt

When we think about convenient portable breakfasts, burritos that can hold just about anything you pack inside come to mind. These flavorful breakfast burritos pack in eggs, cheese, avocado, and a variety of spices.
Ingredients:

For the Avocado-Tomato Salsa:
1 large avocado, peeled, pitted, and diced
1/2 cup diced seeded tomatoes, from 1 to 2 tomatoes
1 small shallot, minced (about 2 tablespoons)
1 clove garlic, minced
1 jalapeño pepper, seeded and minced
1 tablespoon fresh lime juice, from 1 lime
1/2 teaspoon salt
1/4 teaspoon ground cumin
1/4 cup fresh chopped cilantro

For the Burritos:
4 large eggs
1/4 teaspoon smoked paprika
1/4 teaspoon salt
1/2 lb spicy sausage (such as chorizo, Italian, or anything you like), removed from casings
1-1/3 cups (6 oz) shredded Monterey Jack cheese
4 (10-in) burrito-size flour tortillas
Vegetable oil
Combine all of these healthy ingredients needed to make overnight oats, place them in a container, store it in your fridge for hours, and they create the most delicious breakfast — one that tastes more like a treat. Bonus: you'll only need five ingredients and a few toppings.
Ingredients:

1/3 to 1/2 cup milk (dairy milk, almond, cashew or coconut milk)
1/3 to 1/2 cup old-fashioned rolled oats
1/3 to 1/2 cup yogurt, optional
1 teaspoon chia seeds, optional but highly recommended
1/2 banana, mashed, optional
Serving suggestions: fruit (fresh or dried), nuts, nut butter, seeds, protein powder, granola, coconut, spices, citrus zest and vanilla extract.
The number one breakfast for when you really have no time to lose is this one: yogurt and fruit parfaits that are made with just four ingredients.
Ingredients:
Nonfat vanilla yogurt
Fresh strawberries
Blackberries, raspberries, or blueberries
Granola
For more breakfast tips, check out 4 Quick & Healthy Breakfast Recipes You Should Eat For A Flat Stomach and The One Fruit You Should Never Eat For Breakfast, Like Ever on SHEFinds.com.
Photos: Shutterstock