Despite a few major steps forward in recent years, Hollywood is still seriously short on female heroines. So when we find one, like our girl Rey from the Star Wars franchise,  it's a given we're going to want to dress up like her on Halloween. And to that we say: bring it on.
Star Wars Rey Halloween Costume
Fans of Star Wars (the original films and newer titles) were introduced to Rey, played by English actress Daisey Ridley, when she appeared as the main character in Star Wars: The Force Awakens. We knew her as a scavenger who was abandoned on the planet Jakku as a child and had to make her own way, eventually being drawn to the Resistance. Even without training, Rey was a natural born fighter who could wield a lightsaber like nobody's business and defeat Kylo Ren.
But it was in The Last Jedi where Rey and her story really captured our hearts and minds. Despite her failed efforts to coax Luke Skywalker into joining the Resistance, this strong-minded fighter goes at it without him, risking her life at the hands of Kylo Ren and eventually discovering some pretty important news about her parents (who are just ordinary people, which somehow makes her character even more mysterious and likable).
It's pretty easy to see why we'd want to dress up as Rey for Halloween. Lucky for Rey fans everywhere, this superhero's costume is pretty simple to whip up at home and relies on just a few affordable items you can buy on Amazon. Given how basic some of her pieces are, you can even repurpose and include them in your everyday wardrobe long after Halloween is over.
Here are the key pieces you'll need to create a DIY Star Wars The Last Jedi Rey Halloween costume without spending a fortune.
Here's What You Need To Dress Up As Rey From Star Wars: The Last Jedi For Halloween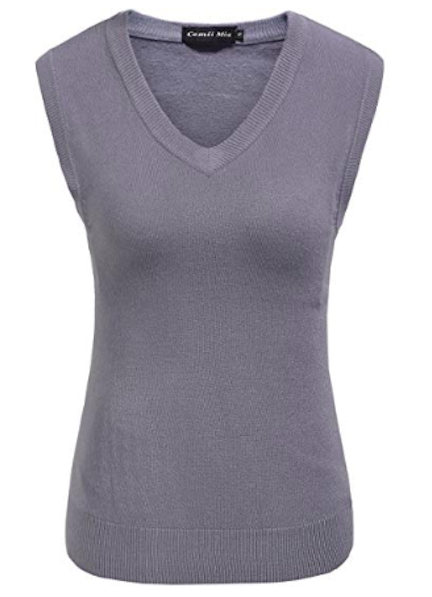 Camii Mia V-Neck Pullover Sweater ($22)
A Basic Sleeveless Pullover Sweater
It gets chilly in space, so Rey wears layers to keep warm. This basic grey sleeveless pullover sweater is perfect as a base layer.
Beyove Sleeveless Shawl ($15)
A Sleeveless Grey Shawl
This sleeveless shawl may not look like much at first, but it's an essential piece you'll need to create Rey's costume. Just picture it layered over your grey sweater and wrapped around the front of your body so that it creates a V-neck shape. Of course, you'll need to hold it together with a major brown belt—and we found the perfect one.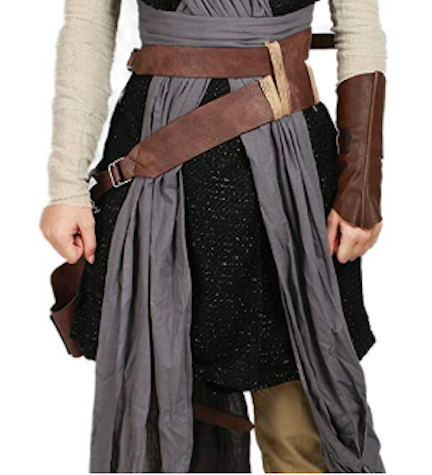 xcoser Rey Sidebag ($45)
A Brown Belt With a Sidebag
You can get away with wearing an ordinary brown belt over your basic shirt and shawl (double belted is best to achieve this look). But if you're going to invest in one Halloween costume piece for Rey, make it this brown belt with sidebag. Rey's belt and bag is a distinctive feature and this cosplay accessory is a near exact replica that will make you immediately identifiable to other Halloween revelers (it even doubles as a purse for the night).
Gloria Vanderbilt Dawn Cargo Capris ($20)
Grey Cargo Pants
Ren wears a grey-brown pair of capri pants that she is sometimes spotted tucking into boots, while other times you can catch her wearing them in true capri style with a shorter boot and leg peeking out in between.
These pants would be perfect for wearing while engaged in battle (they're comfy and Rey might even be able to tuck her blaster into one of the cargo pockets), but you could also picture her venturing across the desert while wearing these. Best of all: they have a faux leg hem and are affordable and made from 98 percent cotton, so you can totally wear these after Halloween.
Dailyshoes Mid Calf Slouch Suede Boots ($20)
Brown Slouch Boots
Flat brown boots are a constant in Rey's wardrobe. These affordable boots, with their slouchy, calf-length design, pair perfectly with capri pants to complete the lower half of Rey's killer combat costume. These boots have a rubber sole that will keep you from slipping—just in case your Halloween turns out to be a wet one.
True Gear North Women's Fingerless Warmer With Bootleg Warmer ($6)
Arm Warmers
Keep your arms warm and snag an extra pair of bootleg warmers to prepare you for the cold winter. Just be sure to order two of these because each packet comes with one arm warmer.
Rubie's Star Wars Episode VIII Rey Lightsaber ($28)
Rey's Lightsaber
No Jedi in training can show up to battle without her lightsaber. This is a replica of the lightsaber that belonged to Luke Skywalker, his father before him, and now Rey.
SheFinds receives commissions for purchases made through the links in this post.