There's no way you can spell truth without Ruth, and there's no way we can leave the iconic Supreme Court Justice Ruth Bader Ginsburg off our list of Halloween costumes for 2019.
While RBG has been paving the way for the feminism movement and progressing gender equality in the courts for dozens of years, 2019 has been an iconic year for Ruth. Recently, two featured films have released, each showcasing RBG's many achievements, along with her continued perseverance and determination; the movie adaptation "On The Basis of Sex," and the documentary style feature "RGB."
As we continue to fangirl over this real life superhero, what better way to showcase our love and appreciate for RBG than by replicating her look this Halloween. Everything from her beloved lace pieces, iconic thick-rimmed glasses, and her dignified Supreme Court Judge robe. Read on as we break down RBG's court apparel (piece by piece), and give you all the tools and recommended products to recreate her look.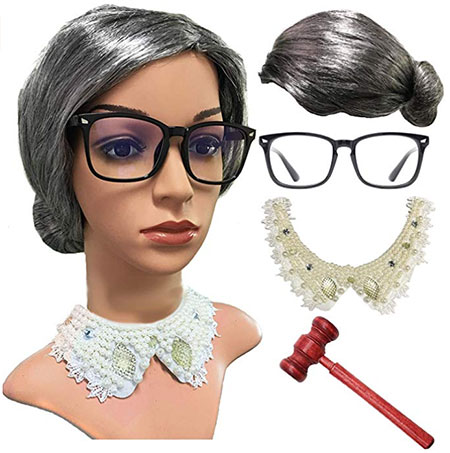 Amazon
The Accessories
Regardless of our age, hair color, or current eyeglass prescription, we can all pull off RBG's fabulous demeanor with the right accessories. This EFORLED RBG Wig Set, comes with everything you could possibly need and imagine when creating a Ruth Bader Ginsburg Halloween costume.
The Wig
Now, you don't have to worry about standing in front of a mirror for hours to recreate RBG's signature low standing bun. With no hair out of place, Ruth exemplifies pristine attention to detail. Thank goodness we can recreate with a wig and not rely on our own steady hand.
The Glasses
Look dignified and poised in your RBG Halloween costume with style-inspired glasses from the legend herself. Sure you may not need them, but who is Ruth without her signature lenses?
Jabot Collar
This particular accessory, the Jabor collar, typical consist of lace material and is pinned around the throat of a collar or particular ensemble. Jabot collars, are a staple piece in RBG's overall look in the courtroom. In fact, they're not purely a fashion accessory for Ruth Bader Ginsburg. Many of her pieces have been given to her by fans from all over the world, from TV personalities, to known royalty. She switches her Jabot Collars regularly and they all have special meanings to her.
The Gavel
Want to display true RBG power and authority, add a judge's gavel to your look. Whether you're walking around the Halloween party breaking up an altercation or demanding everyone smile for an Instagram picture, this accessory not only puts the outfit together but can come in hand as a staple party piece. Sure, you'll miss out on having a free hand - but we think it's worth it!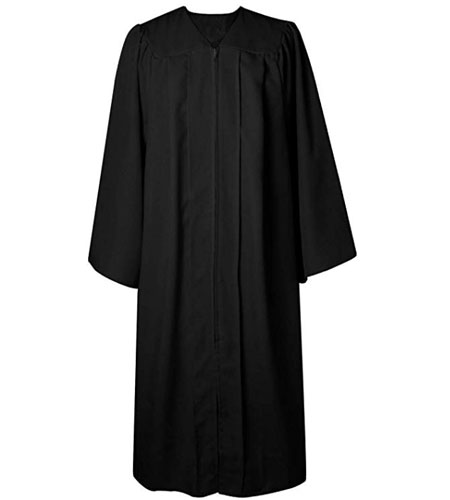 Amazon
The Robe
Or in some instances referred to as a gown, judges since the 1700's have been sporting signature black robes and Ruth Bader Ginsburg is no different. While there's no mandate saying court judges have to wear black robes in hearings, judges tend to stick to tradition and rock the robe with pride. If they can do it, we think you should too! Try thisGGS Matte Graduation Gown for Bachelor & High School ($16.99) for an afforable replica of RBG's own court robe
For more Halloween Costumes inspired by #bossbabes like Ruth Bader Ginsburg check out SheFinds.com. Featuring a complete roundup of top 2019 inspired Halloween costumes, many of which are modeled after powerful women paving the way in various industries. What could be better than replicating their iconic looks?
SheFinds receives commissions for purchases made through the links in this post.