After years of living out of the spotlight, Sandra Bullock is back and better than ever. But when she's not staring in big blockbuster movies like Ocean's Eight, which hits theaters this summer, or walking red carpets in gorgeous gowns, she's mom to two adorable kids, Louis, 8, and Laila, 5.
But, getting her perfect family wasn't an easy process. Sandra spoke candidly with InStyle for their June issue about the adoption process and how she struggled to keep it a secret from the paparazzi.
"I had to figure out how to hide the kids' faces because there was a bounty on our heads," she says. "When you adopt a child, there's a placement period, and if something goes sideways, they have the right to take the child away. It's a tenuous, strenuous six months."
And, of course the paparazzi were persistent. The actress recalls, "We had an allergy scare that sent us to the ER, and we were followed by the paparazzi, so the word was out that I had another child. And everyone wanted photos. It was heartbreaking. Louis would hear a helicopter or drone, and he'd run to get his sister and drag her across the lawn and hide her under the trampoline. So poor Laila had PTSD. Everything's a learning experience."
Sandra credits boyfriend Bryan Randall, who photographed Laila for her People cover back in Dec. 2015, with helping her ward off the paparazzi. He's also become a big part of the family, too!
"He's a patient photographer who was working with three subjects who hate the camera," she says. "But it took the bounty off once we did those official photos... He's super kind. For the kids he's sort of No. 1. and I'm No. 2. But I get it because he's more fun and has better treats."
Now that things have quieted down, Sandra is enjoying being a mom and watching her kids' personalities blossom. "Lou is super sensitive. I call him my 78-year-old son. He's like Shecky Greene, a Jewish Catskills comic. He's wise and kind. I saw that when they handed him to me. There was a spiritual bigness to him. I was like, 'I hope I don't eff that up,'" she says of her eldest. "Laila is a fighter, and that's the reason she's here today. She fought to keep her spirit intact. Oh my God, what she is going to accomplish. She's going to bring some real change."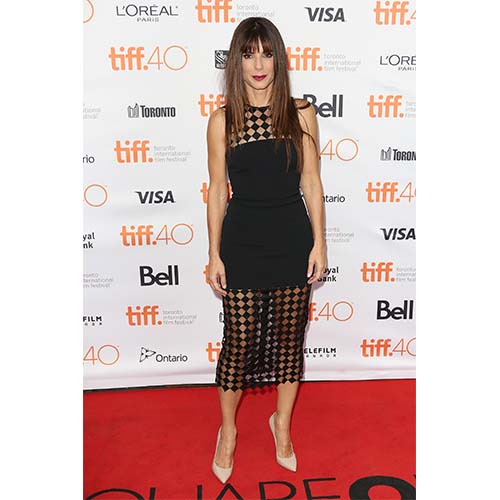 In the future, the actress says she is looking forward to "getting older" and "watching my kids grow up to be hopeful, grateful, healthy, kind and safe…and in a bubble with a chip in their head," she says. "I'll be right behind them, and a drone will probably be following us."
What do you think of Sandra's candid interview? Let us know in the comments below!
Photos: Splash