This past year has given horror fans a run for their money. From Jordan Peele's sophomore film in the genre, Us, to a few Stephen King classics, like It and Pet Sematary, there has been plenty of inspiration for creating the scariest Halloween costume of all time.
If scary looks aren't your thing, but you've been invested in movies and pop culture, there's tons of inspiration from incredibly popular moments of the past year. One example of a pop culture moment fit for a Halloween costume is Lil Nas X's "Old Town Road" music video look.
But, for those looking for a truly frightful evening, look no further than these terrifying movie and pop culture moments.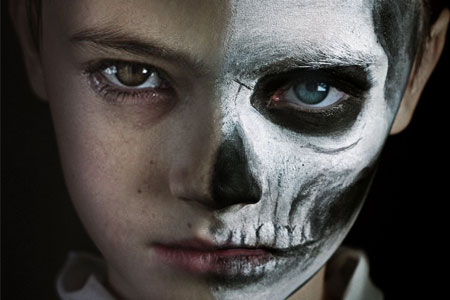 1. The Prodigy
Though the critical reception for this paranormal horror wasn't exactly great, it only received a 43 percent on Rotten Tomatoes, the movie's poster featuring Jackson Robert Scott is great inspiration for a spooky skeleton makeup look.
The perfect pairing for this costume would be a mother-son duo. Dress up your kid in mostly black clothing, and get artistic with face paint. There are countless tutorials on YouTube to guide one's creation of this half-face skeleton. Don't forget contact lenses to change the color of one eye to a bright, ominous blue.
For mom, a plain white T-Shirt is all that's necessary, along with dark circles under the eyes and disheveled hair. Schilling's character Sarah is losing sleep over an internal struggle of maternal instinct and fear for the dark force taking over her son.
This wasn't Scott's first try in the horror genre, the young actor is best-known as Georgie in the first installment of It starring Bill Skarsgård. Playing Scott's on-screen mother in The Prodigy is Orange Is The New Black's Taylor Schilling.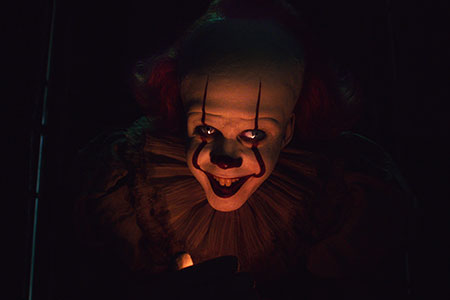 2. It
One of the scariest movies of the past year is about to get a sequel. Stephen King's iconic novel tells the story of a group of kids being tormented by a demented killer clown named Pennywise. In It: Chapter Two, the gang, called The Loser's Club, is all grown up and It is back with a vengeance.
Of course, the most obvious scary option would be to dress as the killer clown, but if you have a whole group dress as the gaggle of kids, as well.
The 2017 remake of the classic horror film starred some incredible young actors like Stranger Things' Finn Wolfhard, Jack Dylan Grazer, Sophia Lillis, and more. Each character has their own distinct look and personality, so a big group of seven could easily accomplish this look with nostalgic '80s fashion.
Of course, don't forget to add in an eighth member to the group dressed in a full clown costume and horrifying clown makeup to take this group costume over the edge terrifying.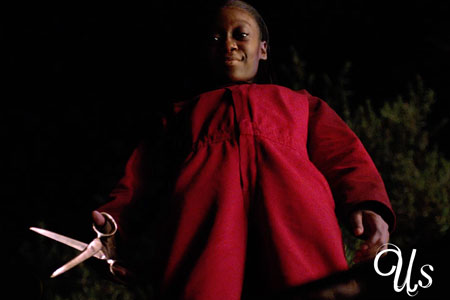 3. Us
Jordan Peele's second directorial venture into the horror genre was just as creepy and layered as his first well-received film, Get Out. A frightening family interrupts their alter-ego's serene beach vacation, and there's a major plot twist that left audiences stunned.
It'll take Lupita Nyong'o-level acting chops to truly pull of this frightening costume, but the actual garb is pretty simple. Find a red jumpsuit and the biggest pair of kitchen shears to look like the killer family-of-four.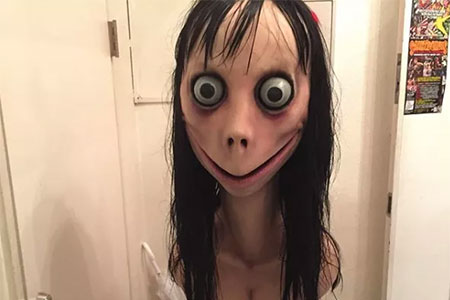 4. The incredibly frightening viral Twitter trend "Momo"
Early in 2019, reports came out that a viral video featuring this bizarre distorted woman interrupted some children's programming and promoted suicide or violent acts.
The hashtag "Momo Challenge" went viral on Twitter, and left many parents rightfully concerned. Some came forward proclaiming that it was a hoax, but either way the trend was truly nerve-wracking. And, it lends itself to the scariest Halloween costume of all time.
A stringy black wig, off-the-shoulder white tank top, and a knack for makeup is the best way to complete the look. There are a few makeup tutorials on YouTube that include prosthetics to fully encapsulate the frightening vibe.
5. Pet Sematary 
Another Stephen King classic was remade into one of the scariest horror films of the year. Pet Sematary is about a haunted forest that brings loved ones back to life, but at a cost. While zombified pets are one thing, a human brought back to life implemented a whole new set of challenges.
Children in the forest worship the enchanted cemetery by marching through with animal masks. Purchase an animal mask, beat on a round drum, and wear tattered clothing to become these frightening possessed kids.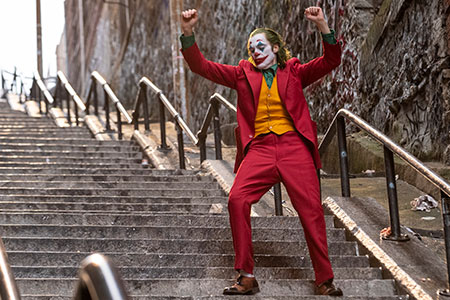 6. Joker
Joaquin Phoenix is the latest Joker in the upcoming spin-off movie about the Batman villain set to release in October ahead of Halloween. The Joker isn't exactly a new Halloween look, but Phoenix's iteration is quite possibly the most chill-inducing.
Major makeup skills are necessary to fully recreate the clown makeup he sports. And, don't forget the iconic red suit with a yellow vest and green shirt to look classy and spooky at the same time.
7. Velvet Buzzsaw
Jake Gyllenhaal traveled back to his mind-bending horror roots, like in the early '00s Donnie Darko, in this Netflix horror mystery. Gyllenhaal plays an art curator who discovers a painting from a recently deceased artist that comes to life in demonic ways.
Those who have seen the movie will understand how truly scary this unassuming costume is. Gyllenhaal sports wide square frame glasses and a classy suit with a chaotic look in his eye.
The classy costume could be turned into a couple's look or a trio with the addition of the two women in the movie Rene Russo and Toni Collette.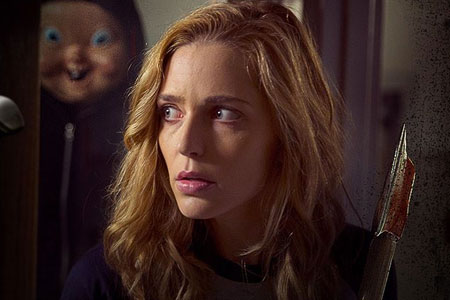 8. Happy Death Day 2U
A slasher twist on the plotline from Groundhog Day, a college student wakes up on her birthday and is killed by a baby-masked killer before the end of the night only to wake up again in her bed the next day.
In the sequel, Tree Gelbman (Jessica Rothe) experiences the same anomaly and reclaims the narrative killing herself in outlandish ways before the killer in the Kewpie-esque mask can get to her.
Find a baby mascot head and sport a dark hoodie to act the part of the creepy killer, or hold a birthday cake wearing a hospital robe with smeared makeup to play the part of Tree.