Political costumes are a popular and common holiday theme, especially in a year in which every time you sit with a cup of coffee to read up on the news you discover a new scandal. If you're hitting up a few Halloween parties you'll probably see one of two (or ten) store-bought Donald Trump and Melania Trump costumes. Some of your most creative friends may gather a group together and reinterpret the looks of the entire Trump family. Looking for another Trump-related costume to try? If you've been watching the news, you know that Stormy Daniels has recently been dragged into the media circus, which is why we're expecting to see a lot of Stormy Daniels Halloween Costumes this year.
Steal The Show With This Stormy Daniels Halloween Costume
This costume idea allows you to be a little different and stand out from the crowd, while still jumping onboard the political costume bandwagon. A DIY Stormy Daniels Halloween costume is really simple to make and involves a few affordable pieces that you may (depending on your style preferences) choose to wear after Halloween.
Daniels is an adult entertainer who has appeared in pornographic films and who has also worked as a screenwriter and director. She was a Penthouse Pet of the Month and already had fame among many who are familiar with the adult entertainment universe. But the entire country got to know her a lot better after she sat for an interview on 60 Minutes to discuss her alleged affair with President Trump and a $130,000 payment she reportedly received to keep quiet about the incident.
No matter where you stand on the issue or how you feel about Stormy and the whole political climate, this is one costume that most people will recognize. Even better: It won't break the bank. Here's everything you need to make a DIY Stormy Daniels Halloween costume.
The Four Items You Need To Make A DIY Stormy Daniels Halloween Costume
1. A Blonde Wig
OneDor Wig ($21)
There are plenty of costumes that allow you to get away with wearing them without a wig — a Stormy Daniels Halloween costume is not one. If you don't already have golden blonde hair that falls past your shoulders, you're going to need a wig like this one to pull off the controversial star.
Stormy's hair is always perfectly tousled, so even if you are a natural blonde, be sure to add body and a few waves to your long layers to get her Hollywood look.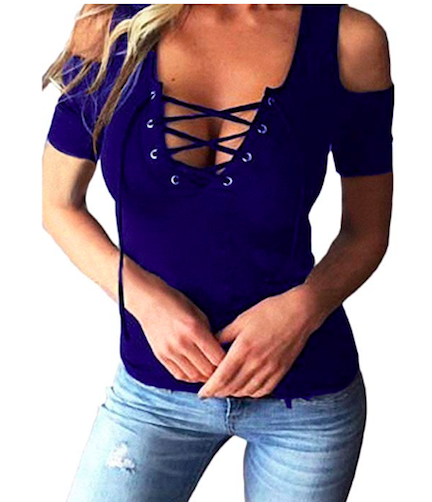 2. A Deep V-Neck Pirate Top
Imagine V-Neck Top ($10-14)
Stormy Daniels doesn't have one specific look that she continually rocks. Depending on the situation and occasion, you'll spot her wearing everything from a glittery sequin low-cut gown to a low-cut tank top and skirt to a low-cut little black dress.
Sense a theme here?
Stormy is rarely seen in an outfit that does not include a deep V-neck blouse or top. This pirate blouse in blue is similar to a dress she was spotted wearing on her way to tape a segment of The View in New York City. It's entirely up to you whether you want to wear it with a lingerie push-up enhancement or keep things natural.
This cute top comes in several colors, in case you like it enough to add a few to your closet. And it boasts a wide range of sizes from small to XXXXXL.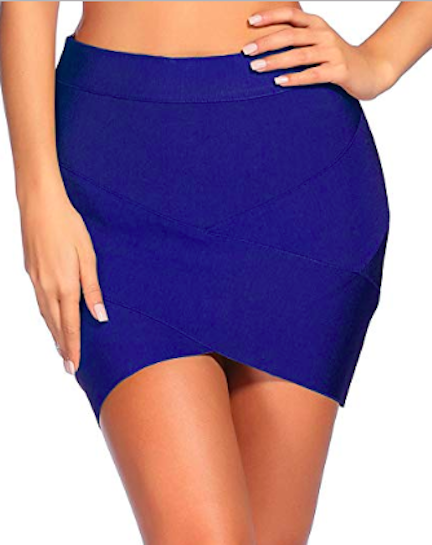 3. A Blue Bodycon Miniskirt
Madame Uniq Bandage Bodycon Mini Skirt ($14-27)
Pair your blue pirate blouse with this snug-fitting blue miniskirt, which was designed as a body con skirt made from actual bandage material, so you know it will fit like a glove. Most reviewers actually love this skirt, but some warn that you should size up unless you want it to fit really tight. It even comes in 15 colors and sizes that range from X-Small to X-Large.
4. A Padded Push-Up Bra
FallSweet Push-Up Padded Bra ($13-15)
There's really no other way to say this: Stormy Daniels gets a lot of attention for her large breasts. The actress plays up to her assets by showing them off in sexy, low-cut tops and dresses, proving she is proud of her body. If you do choose to get a boost in the chest department for the sake of a more realistic-looking Halloween costume, this padded push-up adds a full two cups to your regular bra size and you can even adjust the amount of cleavage you show or conceal by tightening or loosening its front straps.
SheFinds receives commissions for purchases made through the links in this post.