We don't know about you, but we're feeling Taylor Swift right now! The 29-year-old has gone from snakes and darkness to quite literally rainbows and butterflies this year. Her "Reputation" era is over and she's moved on to a path of love, with her new album "Lover" releasing on August 23rd, and the most fun single "You Need To Calm Down," out this summer.
Not only has the singer made this pop confection the official anthem to support the Equality Act–but it will surely be one of the biggest Halloween costumes in 2019. Let's take a look:
'You Need To Calm Down' Music Video
The video for Taylor's most inclusive song yet was released on June 14, 2019. It quickly became the song of summer, landing her on the top of the Billboard Hot 100, and also garnering praise for its message of acceptance and support of the Equality Act before the Senate. Additionally, Swift made a "generous" donation to GLAAD at this time.
The anti-homophobic video features cameos by so many legendary Pride figures–from Ellen Degeneres, to the cast of "Queer Eye," trans actress Laverne Cox, RuPaul and others. Iconic!
Taylor Swift Costume
If you want to go as Taylor Swift herself in the video, let's consider her cool pink faux fur jacket, bikini and sunglasses look that she is seen wearing as she emerges from the on-fire trailer, and continues to wear as she floats in the above-ground pool. You can even complete the costume with a bold back tattoo. Now if that ain't trailer park chic, I don't know what is.
Here's what you'll need:
Pink Faux Fur Jacket
Tay's magenta pink faux fur jacket is the statement piece of this look. You will absolutely need it to be recognized in this costume!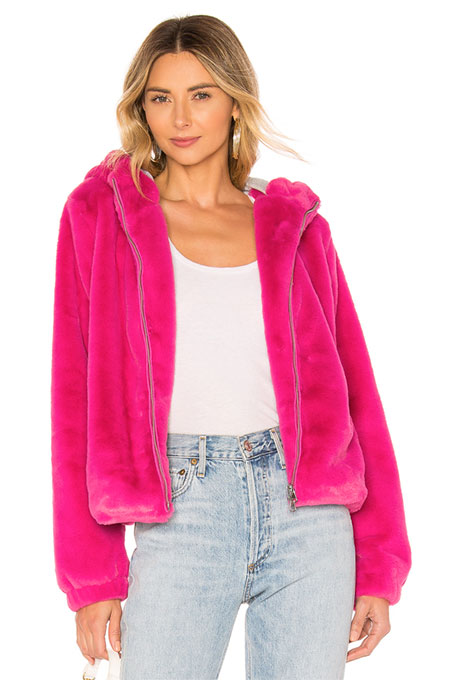 Shop now: Luv The Nightlife Faux Fur Hoodie ($87)
Pink Bikini
Tay loves herself a high-waisted bikini.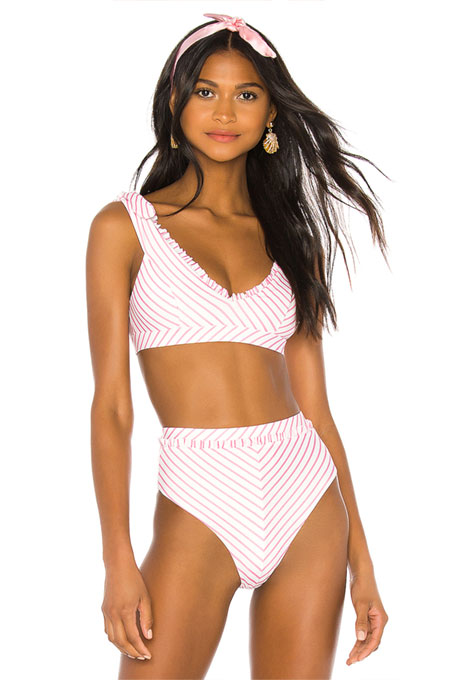 Shop now: Em Top ($78) and Em Bottom ($68).
Pearl Cat Eye Sunglasses
Shop now: Jeweled Cat Eye Sunglasses ($17.89)
Butterfly Tattoos
One of the best moments of the video is when Taylor emerges from the trailer revealing a full back tattoo of a snaking turning into butterflies, a clear reference to her "Reputation" era and imagery that was also present in the video for "Me!" from the album. It's the female equivalent of Ben Affleck's phoenix from the ashes.
Shop now: Black Silhouette Tattoos ($6.49)
Cocktail Glass
A true diva just sips her cocktail while the haters hate. Just ask Rihanna!
Shop now: Plastic cocktail glasses ($15.99)
Tay & Katy Perry: Hamburger & French Fries
Taylor rocked all kinds of colorful looks as she paraded around the trailer park, but none garnered the loudest gasp than her Hamburger and French Fry hug moment with Katy Perry! The two buried the hatchet of their longstanding feud, and we were shook. No more "beef" for these two–unless you count Katy's burger suit. This is going to be an incredible "Best Friend Costume" or "Couples Costume" this year.
Here's what you'll need:
Hamburger Costume
If you're the Katy Perry, you'll need a big fat hamburger costume and a bright orange wig.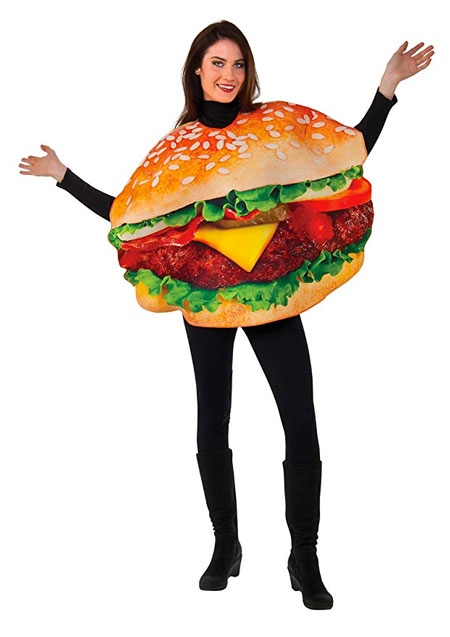 Shop now: Rubie's Men's Burger Costume ($24.72)
French Fries
For the Taylor Swift side, a French Fry costume will be a must.
Adult French Fries Costume ($54.99)
Easter Eggs
In true Taylor Swift fashion, there are so many easter eggs for fans sprinkled throughout the video, including a reference to the iconic Cher quote "Mom, I am a rich man," to changing the word "glad" to "GLAAD," and highlighting the letters "EA" letters in reference to the Equality Act. Any of these would also make great Halloween costume ideas! You'll get points for creativity!
Mom, I am a rich man: The quote comes courtesy of a 1996 Cher interview with Jane Pauley. You can write the phrase on a t-shirt, and then get some fake Monopoly money to stuff your pockets. It's a mood!
Equality Act: For the costume, you can wear a white t-shirt and long johns with the words of the Act written with sharpie all over.
Snake turning into butterflies: True Swift fans know that she is ditching her snake imagery for a new butterfly persona for the new album.
Spilling the tea: In the video, Queer Eye's Tan France is seen sipping piping hot tea from a kettle, just like Swift did in her "Look What You Made Me Do" video. Buy a floral tea kettle and matching tea cup and you'll have the perfect Halloween accessory!
Drag pop queens: Stars from RuPaul's Drag Race are seen dressing up as pop queens like Lady Gaga, Beyoncé, Adele and more, in a pageant where everyone gets the crown. Great group costume!
SheFinds receives commissions for purchases made through the links in this post.