Etsy is the go-to destination for finding amazing hand-crafted gifts and novelties. But did you know they actually have a huge selection of beauty and bath products? Most of the shops feature handmade, high quality skincare and makeup. In fact, some custom made creations on Etsy achieve internet fame (like the famous rainbow highlighter) and can barely stay in stock. Other brands start on Etsy and make their way to big stores like Sephora and Anthropologie. Check out the slideshow to see the best beauty buys you can find on Etsy.
Herbivore Botanicals
Herbivore Botanicals is one of the huge success stories that sprouted from Etsy. The brand was created by a husband wife duo in an effort to bring consumers safe and effective skincare products. These days, you can find their products in stores like Sephora and Nordstrom. Fans of the brand claim the Lapis Facial Oil ($72) changed the state of their skin by reducing redness and clearing up their complexions. Their latest Moon Fruit night treatment deeply resurfaces and hydrates your skin while you sleep.
[Image: @herbivorebotanicals]
ILNP
Reviewers are obessed with the holographic nail polish from ILNP Boutique Nail Laquer. The brand specializes in holographic polishes and has a ton of color options in their Etsy store. Each bottle is jammed packed with high-quality holographic pigment, making it some of the best rainbow nail polish on the market. From Ultra Chrome to Neon, you won't be disappointed in this hand-crafted polish.
The nail polish pictured is MEGA ($10), which is one of their best-selling shades.
Bitter Lace Beauty
Bitter Lace Beauty gained online fame with the original Rainbow Highlighter. The internet freaked out about the handmade highlighter that creates a rainbow effect when applied to your skin. The product is so popular, the Etsy shop can barely keep the highlighter in stock. Since becoming an internet sensation, they have launched Halloween themed multi-colored highlighters and other custom made makeup goodies.
[Image: @bitter.lace.beauty]
French Girl Organics
French Girl Organics is an ode to all things French. Their all-natural skincare products are made from locally sourced ingredients on a Seattle farmstead. The five-star Etsy store features facial oils, body scrubs, and even dry shampoo. Plus, you know a brand is cool when it's sold at Anthropologie.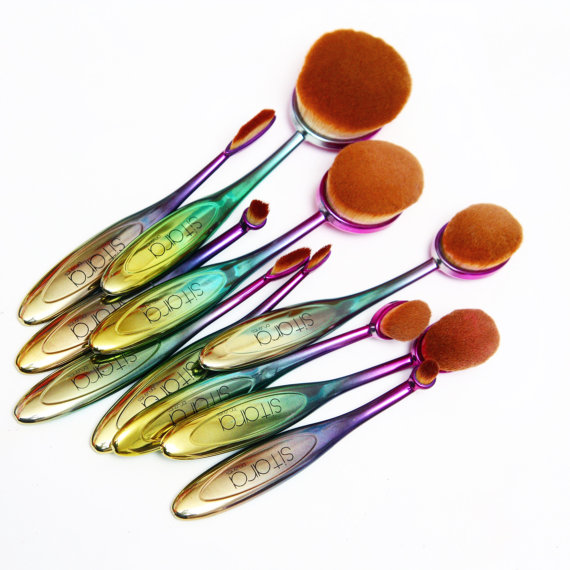 Sitaras Colletion
Etsy store Sitaras Collection isn't just a beauty shop. The store actually specializes in jewelry. However, they sell an amazing set of multi-colored makeup brushes that rival the famous Artis brushes. The eye-catching brushes are made with 100% synthetic hair and are super soft, giving your skin a flawless finish.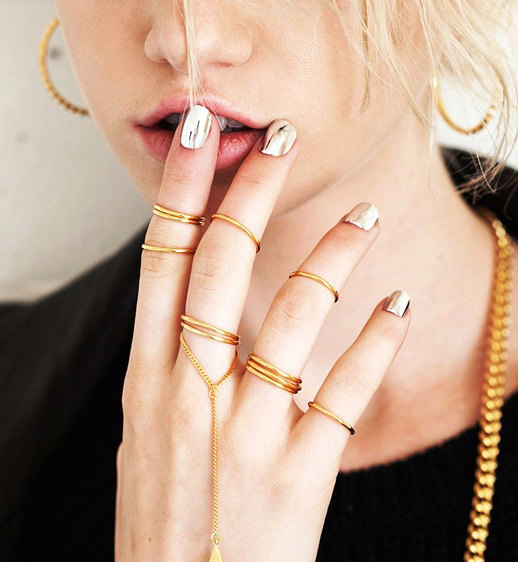 So Gloss
Chrome nails are super trendy right now and Etsy store So Gloss makes the look easy to achieve. The shop sells easy to apply nail wraps with cool metallic and negative space designs. These heat-and-stick wraps make your manicure instantly look like a work of art with out the actual work.
Swirl and Sparkle
Cleaning your makeup brushes can be a chore, but Swirl and Sparkle actually makes the task seem fun. The shops sells organic solid makeup brush cleansers that come in a variety of scents and fun designs (like puppies and Star Wars characters). Cute factor aside, cleanser formula does serious work. Your brushes will never be cleaner.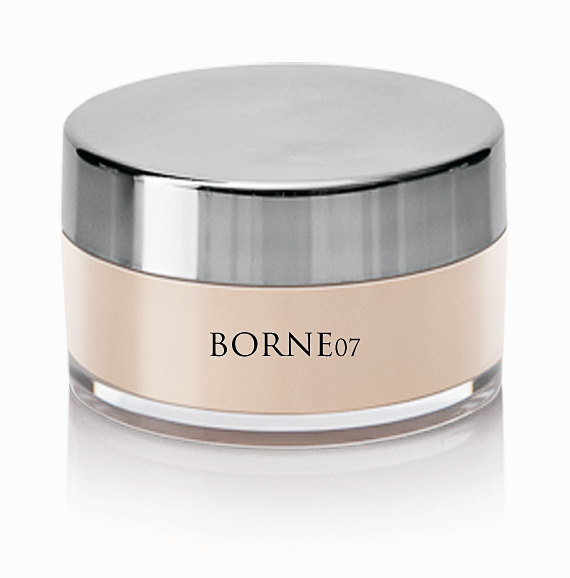 Borne Cosmetics
Etsy shop Borne Cosmetics gives Bare Minerals some serious competition. The line of mineral makeup is made without any synthetic chemicals or preservatives (they even make vegan options). The brand's most popular product is their Mineral Makeup Foundation which comes in a ton of shades and retails for less than $20.