Noticing a few extra strands circling your shower drain? Chances are the culprit could be lurking as close as in your go-to sudsy shampoo. Without even realizing it, you could be exposing your hair to harmful ingredients weekly, if not daily. One of the most crucial products to avoid is shampoo containing sulfates.
Sulfates are used in shampoos for their foaming ability, which helps shampoo get that lathery, sudsy effect. Sodium Lauryl Sulfate (SLS) and Sodium Laureth Sulfate (SLES) are the common types of sulfates that are lurking in countless formulas and have been found to break down the proteins in the hair and scalp, resulting in weaker strands and an inflamed and irritated scalp that's dry and flaky.
READ MORE: The One Ingredient That Should NEVER Be In Your Shampoo Because It Causes Thinning Hair
Shutterstock
Another ingredient to look out for in your shampoo is sodium chloride, which is another name for the same type of table salt you add to your food and fills the salt shaker in your kitchen. It's also added to shampoo to create a foamy lather, but doesn't actually cleanse your hair any better than formulas that are formulated without the harmful additive.
While it isn't a toxic ingredient, it is extremely dangerous to the health of your hair since it drys out the scalp leaving it itchy, dry, and prone to both hair loss and pesky dandruff.
Shutterstock
Luckily, repairing your hair from the drying damage of harmful shampoos is easier than you may think. By giving the ingredient list of your go-to bottle a glance, you'll be able to avoid additives that strip the hair of its natural oils.
We've rounded up some hair-healthy alternatives that will cleanse your strands without creating damage:
Not Your Mother's Naturals Tahitian Gardenia Flower & Mango Butter Curl Defining Shampoo ($8.99)
Not Your Mother's Royal Honey & Kalahari Desert Melon Repair + Protect Shampoo ($7.59)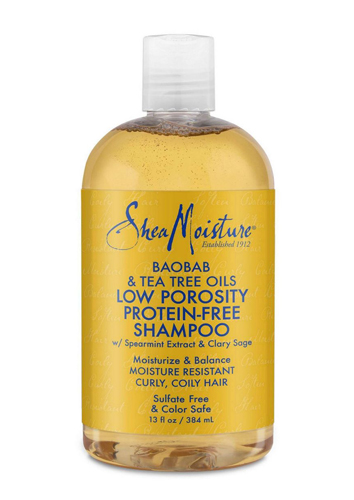 SheaMoisture Baobab & Tea Tree Oils Low Porosity Protein-Free Shampoo ($9.59)
SheFinds receives commissions for purchases made through the links in this post.