Although lip balms are supposed to moisturize your lips, some lip balms actually do the opposite. Instead of relieving the pain of dry, chapped lips, these lip balms can dry out your skin even more. To make it easier to avoid these lip balms, we spoke to dermatologists about what ingredients we all should steer clear from when choosing a lip balm.
Although it may be tempting to pick out the first chapstick you see, taking the time to check the ingredients can help you fight your dry lips more effectively. Read on for the lip balm ingredients you should avoid, according to experts.
Shutterstock
Humectants
According to Leslie Baumann, MD, who spoke to StyleCaster, two ingredients you should always avoid in lip balm are hyaluronic acid and glycerin. She explains, "Lip balms with humectants such as hyaluronic acid and glycerin make lips worse."
Baumann explains why humectants can make your dry lips even worse: "These ingredients pull moisture out of the skin, especially in a dry environment, and then the water evaporates away." If your favorite lip balm has these humectant ingredients, it's important to check and see if they are offset with occlusive ingredients like beeswax or oils. If not, it could be worthwhile to find a new favorite.
Shutterstock
Added Fragrance
Speaking to HuffPost, Dr. Rachel Nazarian, of Schweiger Dermatology Group in New York City explained that it is important to avoid any lip product with added fragrance that can irritate the skin. Instead, she recommends choosing a bland lip balm with lanolin or beeswax can help cure your dry lips faster.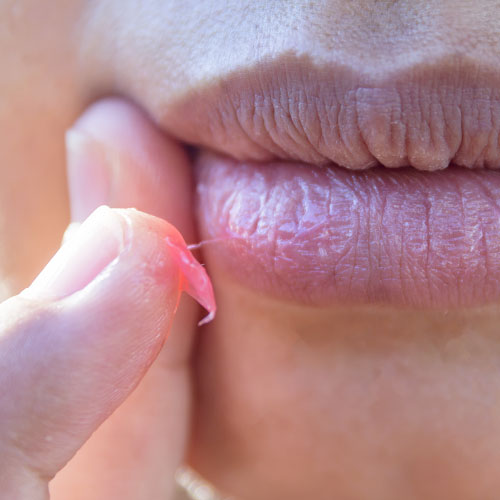 Shutterstock
Menthol
Dr. Joshua Zeichner, MD, a board-certified dermatologist based in New York, spoke to Well And Good, about the appeal and side effects of lip balms with menthol. Because menthol leaves your lips with a cooling feeling, it's a popular choice for people with painful chapped lips.
Unfortunately, it may be doing more harm that good. Zeichner explains, "Menthol can lead to irritation of the skin with disruption of the skin barrier, as well as inflammation. n the end this can lead to more dryness, creating a vicious cycle where you feel the need to apply more of the product."
Shutterstock
Salicylic Acid
Dr. Y Claire Chang, board-certified cosmetic dermatologist at Union Square Laser Dermatology, told HuffPost that salicylic acid is another counterintuitive ingredient in lip balms. She explains, "Too frequent use of salicylic acid can cause irritation and further dry out the lips."