While fine lines and wrinkles are signs of aging you can treat specifically with anti-aging efforts, thinning hair can be due to a number of factors, making it trickier to tackle. Diet, genetics, and styling habits can all play a role in determining the thickness and health of your hair, as well as thinning.
If you're dealing with the frustration of thinning hair, the good news is that there are easy ways to repair the wellbeing of your locks. By using a protective hair serum daily, not only will your strands be strengthened for styling, but they'll be repaired from the inside out for added shine and health. The important thing is finding what hair serum works best and what ingredients should be avoided at all costs.
READ MORE: This Affordable Hair Oil Has A 5-Star Rating Because It Makes Your Hair Grow SO Fast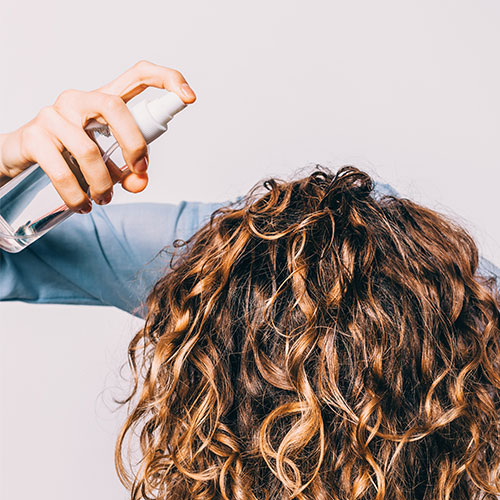 Shutterstock
READ MORE: The One Natural Hair Growth Product Dermatologists Swear By
When searching for a hair serum, it's crucial to check the ingredients and avoid any formulas made with sodium lauryl sulfate. Although the ingredient is often added to shampoos and hair products, experts agree it's known to deposit in the hair follicles and lead to thinning hair. Aside from thinning hair, it's been proven to block follicles which make new and healthy hair growth nearly impossible.
Because of this danger, it's best to opt for a hair serum free of harmful ingredients that add little to the wellbeing of your hair. OGX's Coconut Milk Anti-Breakage Serum is an excellent option which is formulated free of harmful sodium lauryl sulfate, and instead comes packed with a ultra-hydrating and protective blend of coconut milk, coconut oil, and egg white protein.
Shutterstock
What It Does:
- Lightweight formula moisturizes and hydrates hair
- Can be used as a pre-styling primer by spraying on damp hair
- Strengthens hair with a powerful blend coconut oil, coconut milk, and whipped egg white protein
- Adds strength, shine, and elasticity back into damaged hair
OGX Coconut Milk Anti-Breakage Serum ($6.69)
Promising Reviews for OGX Coconut Milk Anti-Breakage Serum:
"I bought this product like 4 months ago. I have always had dry hair. Just the way it is. I bought this and i do use heat. I have 3b curls that i flat iron down. I use this after i use the water cream by ogx then i use a heat protectant and i have nice smooth ends with no breakage and shine, plus the smell is nice and not too overpowering. I love this product and use it so much. If i was stuck on a desert island i would bring this with me. I'm on my second bottle and honestly i will be buying more. Works better than high end for me." - Itay
"This serum is perfect for damaged hair or even preventing from getting damaged hair! Just a little goes a long way, plus it promotes hair growth I have been using this product for months now and my hair has never been stronger and longer! I also DO NOT WASH MY HAIR EVERY DAY I like to take about 3-4 days breaks from using shampoo and conditioner the least I go is about 2 days. Your hair depends on your natural oils, don't strip your hair every day." - _desnayy_
"I bought this bc my hair seemed to be damaged from heat styling. Worked well and smells amazing. It seems to work best with wet hair on the ends before drying and right away I noticed a difference. My hair was shiny and felt less damaged." - Jenn
SheFinds receives commissions for purchases made through the links in this post.