Skincare fads come and go, but in the end, it's all about using quality ingredients to nourish and protect your skin. There have been plenty of products and trends popping up in the skincare world lately, but there's one that's got our full attention–and it revolves around a common food? Say hello to Mushroom Skin Care!
Mushroom Skin Care
Brands have been incorporating mushrooms into their skincare products, allowing shoppers to enjoy its skin-healthy effects. We know that the superfood makes a great addition to most meals, but is it really that great for your skin? Believe it or not, mushrooms have major nutritional and medicinal value and some may help prevent cancer!
"Mushrooms are packed with compounds such as proteins, lipids, and phenol and are rich in vitamins and amino acids," says Dr. Leslie Baumann, director of the University of Miami Cosmetic Medicine and Research Institute. "There is even greater evidence that some species have strong antioxidant, anti-inflammatory, and tumor-inhibiting activity when applied topically, but their effectiveness is not based on the ingredient alone. Extracts must be specially formulated so that they get into skin."
Mushroom Skin Care Benefits & How It Affects Your Complexion
Mushrooms are also very high in antioxidants, vitamin D, and the mineral selenium, which helps fight off free radicals and inflammation. This anti-inflammatory response works to reduce visible redness, calm sensitivity, and irritation. But that's not all! Mushrooms can also help leave your skin feeling refreshed, strong, and hydrated. Sounds good to us!
Most contain kojic acid, which is a natural substitute for hydroquinone and known as a skin lightener in the skincare industry, making this ingredient excellent for those who struggle with dark spots, acne scars, and hyperpigmentation.
There are a lot of different mushrooms out there, but the most experts say that the best 'shrooms for healthy, younger-looking skin are shiitake mushrooms. They contain the antioxidant L-ergothioneine, which helps prevent cell breakdown and helps exfoliate the skin. Shiitake mushrooms also improve the skin's vitality and encourage faster skin renewal and increase skin elasticity.
Best Mushroom Skin Care Products
Want to incorporate mushrooms into your skincare routine? Here are some of our favorite mushroom-infused products that promote youthful, radiant skin:
YOUTH TO THE PEOPLE Adaptogen Deep Moisture Cream ($58)
Kat Burki Vitamin C Intensive Face Cream ($110)
Volition Beauty Snow Mushroom Water Serum ($62)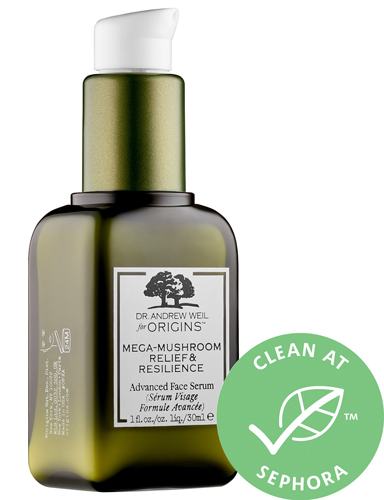 Origins Dr. Andrew Weil For Origins™ Mega-Mushroom Relief & Resilience Advanced Face Serum ($56)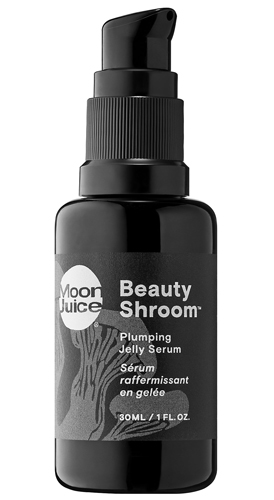 MOON JUICE Beauty Shroom™ Plumping Jelly Serum ($58)
SheFinds receives commissions for purchases made through the links in this post.