Meghan Markle is everyone's beauty and fashion inspiration right now, and it's not hard to see why! The royal-to-be is always looking fabulous and wears the cutest, trendiest clothes. If you look a little closer, you'll notice that she's also got amazing skin that's practically wrinkle-free. What's her secret to her sculpted, younger-looking skin? It's facial yoga!
Yup, facial yoga is a thing and it's something that a lot of people are doing now! It's a set of exercises designed to work the facial muscles to maintain suppleness and youthfulness. This is definitely an interesting way to get your skin looking firmer. "I do facial exercises from one of my favorite aestheticians, Nicola Joss, who basically has you sculpt your face from the inside out," Markle explained, according to Harper's Bazaar. "I swear it works, as silly as you may feel. On the days I do it, my cheekbones and jawline are waaaay more sculpted. There's a reason she is in high demand around awards season when every actress wants to look A-plus."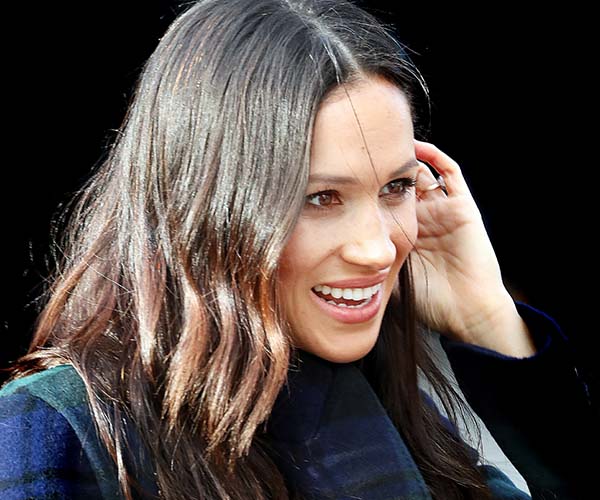 According to face yoga expert, Danielle Collins, Markle's facial yoga regimen is actually a great way to "strengthen muscles attached to the skin, improve lymph flow and relax lines caused by holding tension in the face for long periods of time." It could even reduce wrinkles and puffiness, lift sagging skin and allow the skin to look healthier!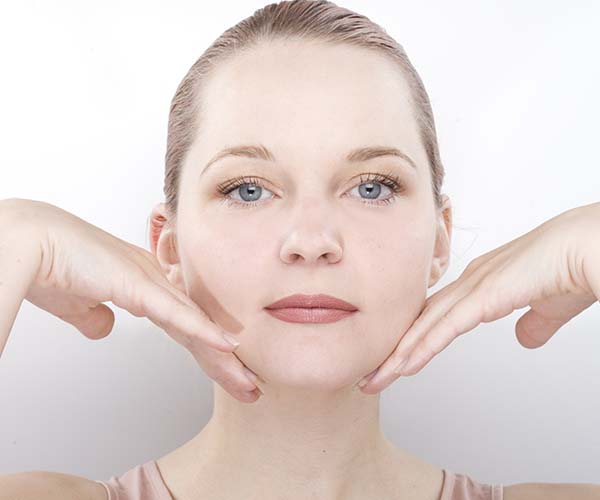 Collins also suggests doing facial exercises that work the lower, middle and upper layer of skin, which she believes "will increase the blood circulation, allowing more oxygen and more nourishment to reach the cells of the skin" to deliver a glowing complextion.
But, you'll only see the same results as Markle if you combine the facial yoga with a massage, too! "Face massages combined with the face exercises will increase the collagen and elastin, the natural plumping agents which will mean a firmer and healthier complexion. Boosting the collagen and elastin is a key way for the skin to look younger and healthier," she says.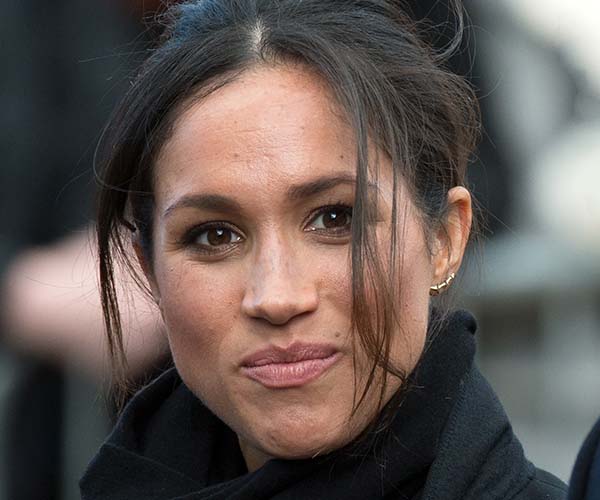 Dying to know how to do facial yoga like Meghan Markle? Here are some face yoga moves that Markle and Collins swear by:
"Looking straight ahead place your finger tips on the top of your neck and lightly stroke the skin down as you tilt your head back. Bring your head back down and repeat twice more. Then jut your lower lip out as far as possible, place your fingers on your collarbone and point your chin upwards, pulling the corners of your mouth down. Hold for four deep breaths. This releases neck tension, tones and lift the neck area," Collins says.
"Begin looking straight ahead with your chin level. Turn your head to the right so that it is even with your right shoulder and then tilt your head backwards," Collins advises. "Hold for six to eight seconds. Return your head to the forward position with your chin level. Turn your head to the left, even with your left shoulder. Tilt your head back and hold for six to eight seconds - repeat up to three times. This lifts and tones the neck muscles therefore firming lines and wrinkles on the side of the neck and face."
"First place your middle fingers at the beginning of your eyebrows. Start to gently tap around your eyes following the top of your eyebrow and then continue under your eye just at the top of your cheekbones. Then continue to the inside corners of your eye. Then repeat, going in the opposite direction, making little tapping motions. This is great for reducing eye wrinkles, boosting circulation and relaxing the muscles," Collins explains. "Then with your index fingers very gently stroke just under your eyes from the nose outwards four times to warm up and relax the eye area. This helps to reduce bags and puffiness under the eyes by removing toxins and increasing blood flow and oxygen to the area."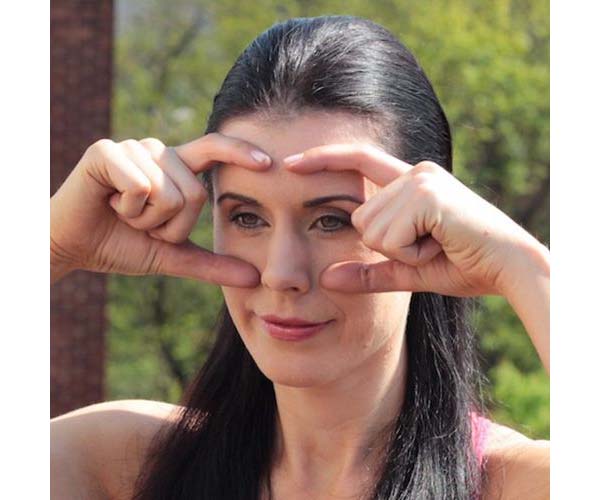 "Make a big C shape with your thumb and index fingers. Place your index finger just above and parallel to your eyebrows and your thumbs on your cheeks. Start to pull down with the index fingers while trying to raise your eyebrows and making the eyes wide. Hold for two seconds, relax and repeat again. Now do three more times. Then hold this position for ten seconds. This will firm up the forehead, reducing lines and wrinkles," according to Collins.
[Photos: Splash, Total Beauty, Danielle Collins]