Finding the perfect foundation can be a struggle, especially if you have aging skin. Most foundations fail to meet the needs of aging skin and draw attention to concerns like wrinkles, dryness, and dark spots by having a cakey effect on the skin. Plus, plenty of traditional formulas lack antioxidants and broad-spectrum SPF protection, which will only result in more visible skin damage. Thankfully, there are places like Sephora that are filled with some of the best anti-aging foundations available, including Estée Lauder's Double Wear Nude Water Fresh Makeup. It's one of Sephora's bestselling foundations and is known for its profound anti-aging benefits.
Best Anti-Aging Foundation
Estée Lauder Double Wear Nude Water Fresh Makeup ($42) 
This fluid, long-wear foundation uses SPF 30 and a powerful blend of antioxidants to keep the skin protected from UV and environmental damage while also providing a glowing, even skin tone and keeping dark spots and hyperpigmentation at bay. Its formula moves comfortably with your skin for a fresh, natural, healthy, and even-toned appearance. This foundation is great for aging skin as it hydrates using a moisture complex of red fruit extracts, including watermelon, lychee seed, and apple.
But, it's the Double Wear Nude Water Fresh Makeup's SPF and antioxidant defense that makes it an excellent product for aging skin. Sunscreen is considered to be one of the best forms of anti-aging prevention there is and works to keep the skin healthy. When combined with antioxidants, which help repair the skin and prevent any further damage from free radicals and environmental stressors. These are some of the biggest causes of wrinkles and dark spots after all!
Best Anti-Aging Foundation Reviews
"I have super oily skin and I always use the Estee Lauder Double Wear and decided to try this one because it was lighter. I gotta say I fell in love with how natural this looks, although it is light to medium coverage, I love how it looks on my skin. I also have a lot of texture and I feel that this foundation does not emphasize that as much as the Double Wear does." – RubiRouge29
"I am a long time lover of original double wear, so when I purchased and used this product I didn't like it at first. It's coverage is not as intense as original. As I worked with it and figured out the best way to use I now I love it. I found that using a beauty blender gave me little to no coverage, and if your like me and a lover of original double wear you def expect at least a medium coverage. Now I use with a primer, a Sephora 56 brush and KVD blurring powder…. and it's perf! Looks so fresh, natural and beautiful on the skin." – DianeVelasco
"As someone with very dry skin, this foundation is better than most others I've tried. It doesn't separate and flake like other foundations do, stays on all day. I wore it to the beach and not only did it protect my skin (SPF), but it survived the heat and even water! Hasn't broken me out yet and I have very sensitive skin. I'm impressed!" – chloette
Find More Picks For The Best Anti-Aging Foundations
Estée Lauder's Double Wear Nude Water Fresh Makeup is just one of our many picks for the best anti-aging foundation. Keep scrolling to find more anti-aging foundations that will help you get younger-looking skin:
CoverGirl + Olay Simply Ageless 3-in-1 Foundation ($12.37)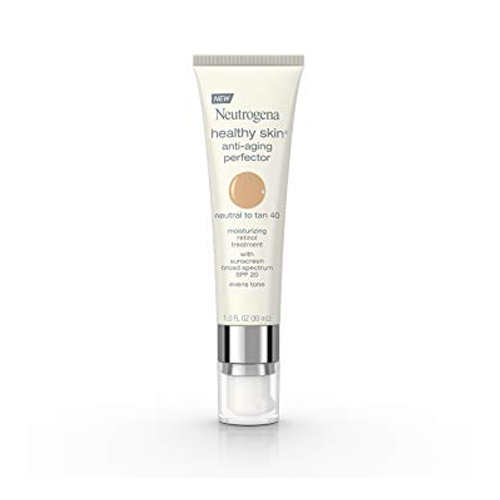 Neutrogena Healthy Skin Anti-Aging Perfector SPF 20 ($14.99)
Benefit Cosmetics 'Hello Flawless!' Oxygen Wow Liquid Foundation ($36)