There are a lot of skincare products that cater to aging skin, but none work as well as a serum. Unlike most products, serums are designed to get deep into the skin to help reverse the signs of aging on its surface. They can be hydrating, firming, and brightening, which is something that everyone's skin needs after a certain age. There's a new serum on the market that Sephora shoppers are racing to buy: Moon Juice's Beauty Shroom™ Plumping Jelly Serum. It's one of the newest Sephora anti-aging serums to hit the shelves and it's already got a 5-star rating online!
The Best Sephora Anti-Aging Serum
Moon Juice Beauty Shroom™ Plumping Jelly Serum ($58) 
This intensive adaptogenic serum visibly smooths, fills, lifts, and plumps the skin, making it an excellent solution for loss of firmness and elasticity, dryness, and the reduction of fine lines and wrinkles.
It's formulated with silver ear mushroom and hyaluronic acid, which work together with nutrient-dense reishi to help enhance the skin's elasticity and help reduce the signs of inflammation. The serum's light, jelly texture is able to penetrate into the skin's surface to create lasting hydration barrier for super supple skin with resilience and bounce.
Sephora Anti-Aging Serum Reviews
People Are Already Loving The Beauty Shroom Plumping Jelly Serum!
"I was so shocked by this product and it turned my skin around completely in one day. It goes on feeling slimy but quickly dries and feels beautiful on my skin. Calmed my skin right down. I also noticed that my skin has normalized. I was dry and then oily in my T zone. My skin seems normal now. I do not get oily and I do not have to moisturize if I don't want to. It is amazing and I will be keeping this product!" – Lisaeg14
"After a few days and even the first application, my skin is so soft and smooth. It's very moisturizing and I don't mind the texture or the scent. Smells like it's good for you :) Def will repurchase. I love that the ingredients are natural." – MJGL
"I'm in love with this jelly! I've been using it morning and night and after just a few days I've seen an immediate and noticeable change — the wrinkles around my eyes and forehead are totally diminished. I love the scent and it's super hydrating without being oily or sticky. It's also a miracle for my lips – which normally crack from dryness – now it's like they're hydrated in a deeper way that normal chapstick just can't accomplish." – gabibaldwin
Check Out Some More New Sephora Anti-Aging Serums That Shoppers Are Buying
Moon Juice's Beauty Shroom™ Plumping Jelly Serum is just one of the many new Sephora anti-aging serums to hit the shelves. Here are some of the newest products to be added to their anti-aging skincare selection:
Herbivore Prism Exfoliating Glow Potion ($62)
Shiseido Ultimune Power Infusing Concentrate ($100)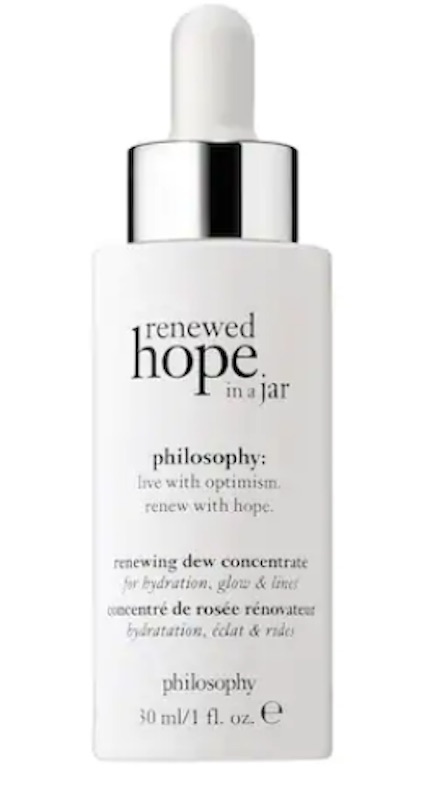 Dr. Brandt Skincare Bright Biotic™ Dark Spot Minimizing Serum ($55)
SheFinds receives commissions for purchases made through the links in this post.