Dark spots aren't fun, especially when you're trying to fade them. These pesky little spots can be caused by a variety of different things, but thankfully, they can be taken care of with this new serum from Dr. Brandt Skincare–it's the Bright Biotic Dark Spot Minimizing Serum! This product just launched and it's already considered to be the best dark spot serum at Sephora, which is all thanks to its brightening and balancing formula.
We Found The Best Dark Spot Serum!

Dr. Brandt Skincare Bright Biotic Dark Spot Minimizing Serum ($55) 
How The Best Dark Spot Serum Works
This serum combines brighteners, fruit enzymes, and a Biotic Balancing Complex to help reduce the look of dark spots for a brighter, healthier complexion. Papaya and pineapple fruit enzymes gently peel away unwanted pigmentation and dead skin cells from the surface, along with a brightening blend of anti-browning lipids, vitamin B3, and white flower extracts that visibly reduce any discoloration.
The real star of this serum is Dr. Brandt Skincare's breakthrough Biotic Balancing Complex, which works to optimize the skin's ecosystem by balancing naturally occurring flora on the skin's surface while fortifying the skin barrier. It also helps restore the skin's natural pH levels, too!
Check Out Some Best Dark Spot Serum Reviews!
"I love this serum!!! The texture is milky and hydrating. I noticed my dark spots significantly lighter after just one month! I have lots of acne scars and a few sun spots and noticed a huge difference. It also helped calm my redness. I'm pretty pale so I get red a lot. Such a great serum!! Will absolutely buy again." – mkupaddicted22
"So calming and soothing on my sensitive skin! I have eczema and this is magic. The right amount of brightening for my sun worshipping habits." – cindyV18
"ABSOLUTELY LOVE THIS PRODUCT! It was recommended to me in conjunction with my Dr Brandt Vitamin C Power Dose (which I HIGHLY recommend too!). I have been using this for a few weeks (I mix my vitamin c drops with this) and it has really moisturized, brightened and got rid of ALL the small bumps and redness on my skin. I love that it is lightweight but very moisturizing serum. I have bad acne marks and it is slowly disappearing!!! I recommend this as a treatment for those looking to brighten their overall skin! LOVE!!!" – MortalBeauty
What Dermatologists Say You Should Use With The Best Dark Spot Serum
Incorporating a dark spot serum into your skincare routine is a great way to get a radiant, clear complexion, but Melissa K. Levin, M.D., a board-certified New York City dermatologist and clinical attending at New York University Langone Health and Mount Sinai Hospital, says that the only way to really prevent them is by using sunscreen daily!
"The most important skin-care product is sunscreen. Dark spots will only get darker with sun exposure," she explains. Not sure which sunscreens are the best? Levin recommends using mineral-based formulas as they protect the skin from both UVA and UVB rays. It's also important to make sure that your go-to sunscreen has zinc oxide and titanium dioxide on its ingredient list, too!
Find More Products Like The Best Dark Spot Serum At Sephora
Sephora's shelves are stocked with the best dark spot serums available. Here are some of their newest and greatest ones that will help you get radiant, youthful skin:
Kiehl's Clearly Corrective Dark Spot Solution ($50)
Murad Rapid Age Spot and Pigment Lightening Serum ($69)
Peter Thomas Roth Potent-C Targeted Spot Brightener ($58)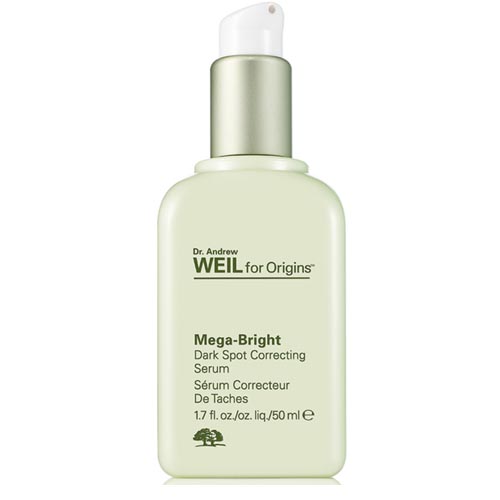 Origins x Dr. Andrew Weil Mega-Bright Spot Correcting Serum ($59)
SheFinds receives commissions for purchases made through the links in this post.