Packing for trips shouldn't be so stressful, but when it comes to deciding which beauty products to bring with you and which to leave behind is challenging. And don't even get us started on trying to plan for which products will be taken at airport security and which will make the cut.
When it comes to the Transportation Security Administration's strict rules on cosmetics, things can get a little confusing.
There is a very precise list of TSA-approved beauty items and rules that you'll need to follow if you're flying to your vacation destination–or risk having your beloved liquid lipstick confiscated. Now, that doesn't mean you should throw in the towel and resign yourself to wearing one lipstick every day and removing it with a few makeup wipes. But you'll save yourself a ton of hassle and time if you know the TSA beauty product rules before you pack.
To make traveling even easier, we rounded up a few great TSA-approved beauty products, too.
Travel-Friendly Beauty Products That Will Pass The TSA
TSA Beauty Product Rules & Guidelines
The TSA rules differ depending on the consistency of the beauty product you're packing, according to USA Today.
TSA Rules For Liquid Cosmetics
For liquid cosmetics, there's a 3-1-1 rule when it comes to how many liquid makeup products you can stash in your carry-on luggage. Remember that their definition of liquid includes perfumes and nail polish, but also foundation, moisturizer, and even eyeliner. Liquids have to be placed in a resealable container that weighs 3.4 ounces or less and then all of your liquid cosmetics must fit into a clear, plastic, resealable one-quart size bag.
TSA Rules For Non-Liquid Cosmetics
If you're packing non-liquid makeup like blush, lipsticks, powders, and solid balms (not gel balms, which are considered liquid), you're allowed to take as many as you'd like in your carry-on.
TSA Rules For Aerosol Cans
Toiletries that are in an aerosol can, such as hairspray, must be placed into a container that's no larger than 3.4 ounces. This same rule applies to mouthwash, liquid soap, and hair gel.
TSA Rules For Beauty Tools
There was a time when carrying tweezers onboard was a no-no, but the TSA's restrictions on sharp objects have loosened slightly. You can now carry tweezers and nail clippers in your carry-on, as well as small scissors that have a blade that's no longer than four inches. You can also bring disposable razors onboard, but safety razor blades need to be packed in your checked luggage. Make sure you cover any sharp objects so that TSA agents don't get hurt should they have to look through your carry-on case.
What Happens If Your Product Breaks A TSA Rule?
The TSA recommends packing oversize liquid cosmetics in your checked luggage as often as possible to avoid potentially packing them the wrong way in your carry-on bag. Investing in refillable travel bottles that are the exact size required is also a safe bet.
And if you do make a mistake and accidentally pack too many liquid cosmetics that don't pass muster at airport security, you don't have to throw away whatever can't fly with you. You can pay to have that favorite moisturizer from France shipped to your home address.
Of course, one of the best ways to avoid a TSA mishap is by taking advantage of all of the amazing TSA-approved beauty products that are about to make your trip a lot less stressful.
Our Favorite TSA-Approved Beauty Products
Caudalie Favorites Set ($39)
If you have your skincare routine down to a science and can't stand the thought of traveling with scaled-back versions of the products you love, don't despair: this five-piece skincare set from Caudalie has everything you need and will pass security with flying colors. The French cult favorite comes with a Micellar cleansing water, beauty elixir toner, a clay detox mask, a lightweight gel-cream moisturizer, and an anti-aging eye cream.
Benefits Cosmetics Boi-ing Hydrating Concealer ($20)
This concealer doesn't just hide dark circles caused by traveling into new time zones, though it does a great job of that, too. It's hydrating and contains vitamin E and apple seed extract to soothe skin that is parched from airline travel. You can even apply it over existing concealer to perk up your makeup after a long day. And the best part: it comes in a travel-friendly stick formula that barely takes up space in your carry-on luggage.
Marc Jacobs Daisy Rollerball Perfume ($27)
Don't risk spilling perfume all over your clothing (and then having to wear that clothing throughout your trip--no one loves perfume that much). Rollerball perfumes are perfect for travel because they're leak and spill proof and won't hog up precious packing space.
Moroccan Oil Volume Travel Kit ($48)
No matter what your hair type, this TSA-approved set of haircare products, all infused with argan oil, will keep your strands glossy, healthy, and voluminous no matter where you travel. The set comes with a shampoo, conditioner, hydrating mask, and oil treatment—and everything is conveniently placed in a zippered travel bag.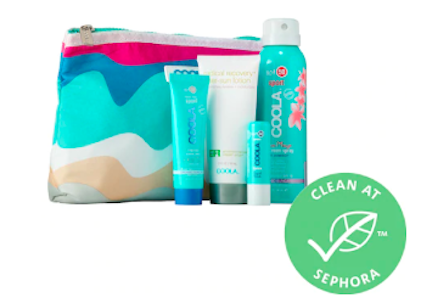 Coola Sports Organic Suncare Travel Set ($40)
Since we should all be wearing sunscreen each day, and the necessity of SPF is amplified if you're traveling to the beach or mountains, this suncare travel set puts your mind at ease by providing everything you need in a really cute, water-resistant zippered travel bag. The set comes with SPF 50 for the face, Classic Sport SPF 50 spray for the body, Liplux SPF 30, and an after-sun lotion to provide hydration and cool you down after a long, hard day of relaxing poolside.
For more travel tips, check out This Is The Best Coat To Travel With and 6 Skincare Products You Should Always Travel With, According To Dermatologists on SHEFinds.com.
[Photos: Shutterstock]
SheFinds receives commissions for purchases made through the links in this post.