Marvel's "Avengers: Infinity War" featured the movie franchise's biggest cast to date, but every superhero fan knows that Wanda Maximoff was the real star of the 2018 blockbuster. Not only is she an amazing superhero, but she also makes an excellent Halloween costume for Marvel mega fans. Thinking about making a Wanda Maximoff Halloween costume? Why not pay homage to the superhero by recreating her iconic outfit from the film's biggest battle? Here's what you need to know before you get started on your Wanda Maximoff "Infinity War" costume:
What You Need To Know Before Making A Wanda Maximoff Halloween Costume
Known as the Scarlet Witch in the Marvel Universe, Wanda proved to be one of the team's biggest players with her various superhero abilities, which include telekinesis, telepathy, and energy manipulation. Despite being one of the Avengers' newest members, she proved that she was one of their most valuable players in "Infinity War." Her powers helped her defend the Mind Stone and the team during their epic brawl against Thanos and the Outriders in Wakanda.
Though the fight didn't end in the Avengers favor, the fashionistas in us couldn't stop obsessing over Wanda Maximoff's "Infinity War" outfit. She stuck with her signature scarlet color palette and rocked a chic burgundy leather jacket and a burgundy corset top. For her bottoms, the superhero opted for a pair of fashionable-yet-practical leather leggings and knee-high boots.
Everything You'll Need To Make A Wanda Maximoff "Infinity War" Costume
Seems easy enough to put together if you're making a Wanda Maximoff Halloween costume, right? All of these pieces can be found on Amazon and are incredibly affordable! Here's everything you need to make your own Wanda Maximoff "Infinity War" costume:
1. A Long Brown Wig
Charming Synthetic Fiber Long Wavy Hair Wig ($12.99)
Let's just from the top, shall we? Since her debut in "Avengers: Age Of Ultron," Wanda has rocked long brunette waves to fight bad guys.
Everyone attempting to make a Wanda Maximoff Halloween costume will need a good dark brown wig to nail the look. We found a pretty close dupe that only costs $12.99!
2. A Red Jacket
Casual Lapel Long Leather Jacket Suit Coat Windbreaker Trench Coat ($73.99)
Aside from her long locks, Marvel fans would say that her red jacket is one of her most distinguishable qualities. Wanda's signature burgundy jacket keeps her warm and stylish while also giving her mobility to fight bad guys.
The same can be said for this cute leather jacket from Amazon. It's a little pricey, but it's an almost exact match to Wanda's jacket and can definitely be worn again.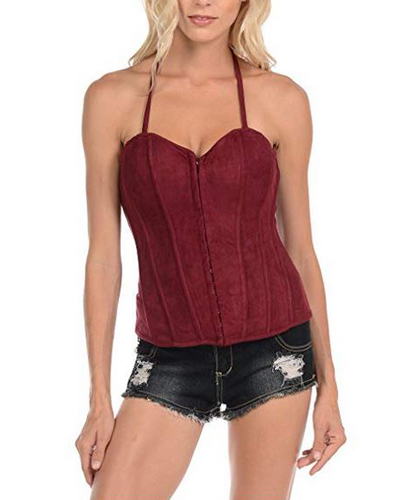 3. A Burgundy Corset
Lydia USA Sexy Suede Front Hook Eye Regular Corset Bustier Top With Back Of String Cross ($25.95)
Wanda has a stylish corset under her jacket, which helps Wanda achieve her monochromatic look. Not sure where to get a burgundy corset to match your red leather jacket? This affordable corset top from Amazon will definitely do the trick!
4. A Pair Of Fingerless Gloves
Women Stretchy Long Sleeve Fingerless Gloves ($6.99)
It seems that Wanda prefers to keep her accessories pretty minimum. She loves a good layered necklace look and never enters a battle without her go-to pair of fingerless gloves. This pair from Amazon will really help you channel your inner Scarlet Witch.
5. A Pair Of Leather Leggings
Everbellus Sexy Womens Faux Leather High Waisted Leggings ($15.99)
Wanda's look is pretty basic when it comes to her pants. The beloved Marvel character wore black pants in the film. You could break out your go-to black leggings or black jeans if you're not in the mood to buy something new. Or, you can get a pair of leather leggings to add a stylish flair to your costume... The choice is up to you!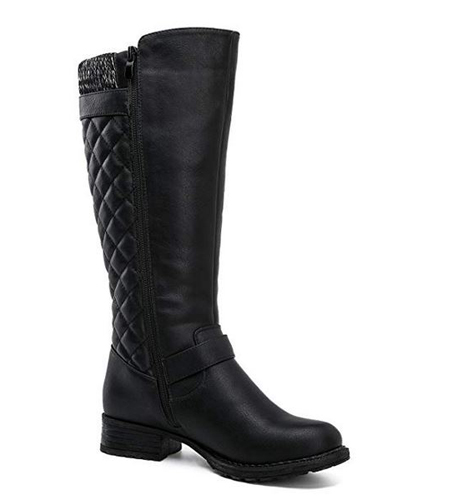 6. A Pair Of Knee-High Boots
Globalwin Women's KadiMaya Boots ($19.99)
Any black boots will do if you're making a Wanda Maximoff "Infinity War" Halloween costume. If you're in need of a new pair or just want to dedicate a special pair to the costume, you should definitely try these affordable boots from Amazon. They feature a chic quilted pattern that adds texture and style to your costume.
7. A String Of Red Christmas Lights
Holiday Essentials Ultra-Brite Red Lights with Green Wire, Pack of 100 ($9.79)
Die-hard fans, listen up! If you're looking to go big with your DIY Wanda Maximoff "Infinity War" Halloween costume, then you're going to need some special effects. A force field of red lights emanate out of Wanda's hands when she uses her powers, so we recommend attaching a string of red Christmas lights to help recreate her powers. We've also seen some expert cosplayers combine red tissue paper or red tulle with the lights to really make it look like they've got Wanda's powers!