The sad reality of wedding planning is most couples do not have an endless supply of money at their disposal to throw their dream wedding, but that doesn't mean you can't have a truly magical day. In fact, there are plenty of ways to get exactly what you want on your big day without breaking the bank.
Here are 10 simple ways to trim your wedding budget without skimping on style.
1. Trim the Guest List
"The first thing you need to do is think about the number of attendees you plan on having," says Amy Conrad, Event Manager and onsite wedding expert at Enclave Las Vegas. "Trimming down your guest list is one of the best ways to trim down the total cost for the big day."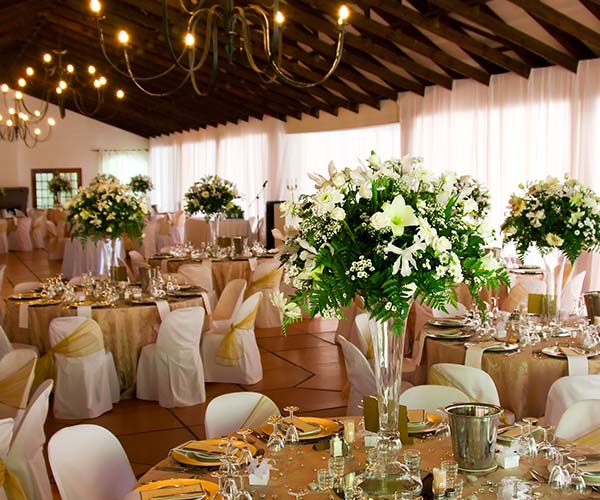 2. Book an All-Inclusive Venue
Choose a venue that has in-house catering and all the tables, chairs, linens, glassware, silverware, plates, etc. that you need, says Risa Weaver-Enion, owner and chief wedding planner at Risa James Events. "Having to hire an outside caterer and rent every little item (on top of paying a site fee to the venue) adds up fast."
3. Choose White Décor
Be okay with most of your wedding decor being in white, says Lindsey Nickel, founder and wedding planner at Lovely Day Events. "Everything comes in white, table linens, flowers, paper items, to chairs to chair cushions. White is usually the most affordable option for many items and everything is offered in white."
4. Buy Secondhand
"When it comes to the overpriced wedding dress, I recommend shopping consignment stores in person for a used dress as you need to see how the style fits," says Andrea Woroch, nationally-recognized consumer and money-saving expert. "However, if you recently tried on a new gown that you fell in love with, check out used bridal gown classifieds to see if someone is selling that same style at your size, or bigger at sites like OnceWed.
Check craigslist for local brides unloading their table and wedding decor for less, or scope out sites like RuffledBlog, OnceWed, and Tradesy. You can also find like-new wedding decor sold by brides through Facebook Marketplace, which makes it nice because you may be able to arrange to see the item or items in person before buying."
5. Skip The Sit-Down Dinner
Forgo the sit-down dinner and instead opt for buffet style, says Dawn Stafford, wedding expert and creative director at Gathering Souls. You can still serve delicious foods, but the buffet is a more affordable option.
6. Serve a Signature Drink
Serve a signature drink or two instead of a full bar, says Nickel. "This is also a fantastic way and budget-friendly way to add your personal touch to your wedding day."
7. Cut the Cake
Instead of getting an elaborate cake made and designed, couples can opt for a faux cake, says Danielle Avant of Love! Affairs Events & Experiences. "Couples hey can inquire with their baker about creating a faux cake to include one real cake slice--this will be for the purposes of pictures during the cake cutting. Buy sheet cakes from Costco or a wholesale store bakery and serve the slices of sheet cake to guests. They will never know the difference."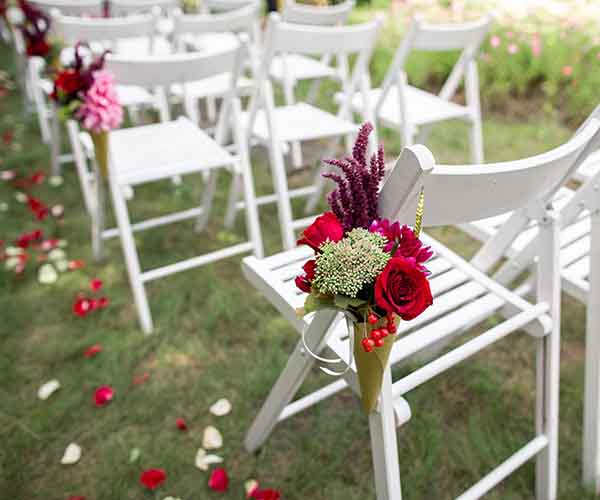 8. Go for Daytime
Opt for a wedding time set earlier in the day, says Avant. "A wedding ceremony that starts at 11:30 a.m. or at noon, will allow for a wedding reception to occur during brunch time. Everyone loves brunch and a brunch menu will help trim down the catering budget. It will also help trim the bar costs - mimosas, wines, and juices can be served instead of a full bar."
9. Skip the Favors
Brides always feel a lot of pressure to send their guests home with a memorable favor. But Weaver-Enion says most people won't even notice if there aren't any favors, so if your budget is tight feel free to skip them.
10. Turn to Technology
Make use of technology to send save-the-dates electronically instead of having paper cards printed, says Weaver-Enion. "It saves on the cost of the actual cards, as well as postage. Similarly, use an online response system so you don't have to purchase paper response cards and stamps for the return envelopes."
[Photos: Shutterstock]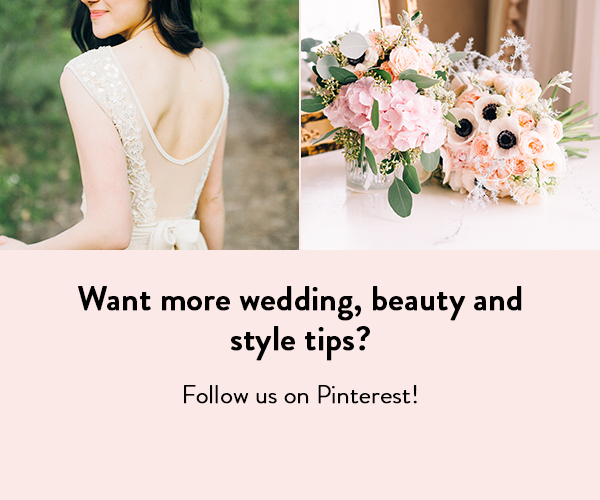 Want more wedding tips and advice? Follow SheFinds on Pinterest!
And check out:
--10 Mistakes Every Summer Bride Should Avoid
--8 Things You Should Never DIY For Your Wedding, According To The Pros