When Beyoncé headlined Coachella this year, we couldn't get enough of, well, pretty much everything about Bey and Beychella. And that includes Beyoncé's Coachella wardrobe, which included everything from a mesh crop top by Balmain to a Balmain black latex bodysuit and jacket with major, serious shoulder pads. Beyoncé's most wearable costume that was really anything but a costume was a classic spirit jersey—one that held a powerful and significant message that coincided with her powerful, important performance as the first black woman to ever headline at Coachella.
Beyoncé's yellow Balmain collegiate hoodie sweatshirt was emblazoned with the letters BAK, which many believe was a shout out to her sorority days as a Beta Delta Kappa girl, though in this case the "B" and "K" probably stand for "Beyoncé" and "Knowles," while the central delta symbol may refer to "The Roc" symbol that represents Jay Z's Roc-A-Fella records company. The fact that Bey performed alongside DrumLine Live, a marching band made of members from Historically Black Colleges and Universities, only solidifies that wardrobe guess.
Beyoncé is always ahead of her time when it comes to fashion choices, but in the case of spirit jerseys, she put her own spin on what is already a timeless trend. Spirit jerseys started in the south and became hugely popular among who else but college students–especially sorority members, who loved the way the cozy shirt served as an unofficial uniform for their group. The roomy sweatshirts, which sometimes have hoods and often do not, are the perfect lounging around piece. They boast meaningful monograms, the names of schools and teams, and often times, school, team, or club colors and symbols.
Whether you're a student at a school, member of a group, or just love the look of spirit jerseys, it's simple to get in on the trend. Some are very obviously connected to teams and groups, while others think outside the box when it comes to sweet, memorable mottos and monograms. Grab one and feel like Beyoncé.
These brands offer cute spirit jerseys:
Topshop Bulls Sweatshop by UNK x Topshop ($68)
One of the best sources for spirit jerseys in all colors and types is Topshop, which features a slew of athletic sweatshirts, including this Chicago Bulls sweatshirt born out of a collaboration between UNK and Topshop. If the Bulls aren't your team, no worries—you can also snag spirit jerseys that pay homage to other teams and shirts that have nothing at all to do with sports. One cute sweatshirt has a Southern State logo and rainbow and (speaking of Beyoncé, there are plenty more with Ivy Park logos to show you are on team Bey.
Spirit Los Angeles California Spirit Jersey ($50)
Spirit is a leader in brands that design really cute spirit jerseys. They carry jerseys that represent every state, from New York to California, and they come in a variety of colors and design patterns that range from solid block letters to camo. Of course, they also feature a Beyoncé spirit jersey—because, why not?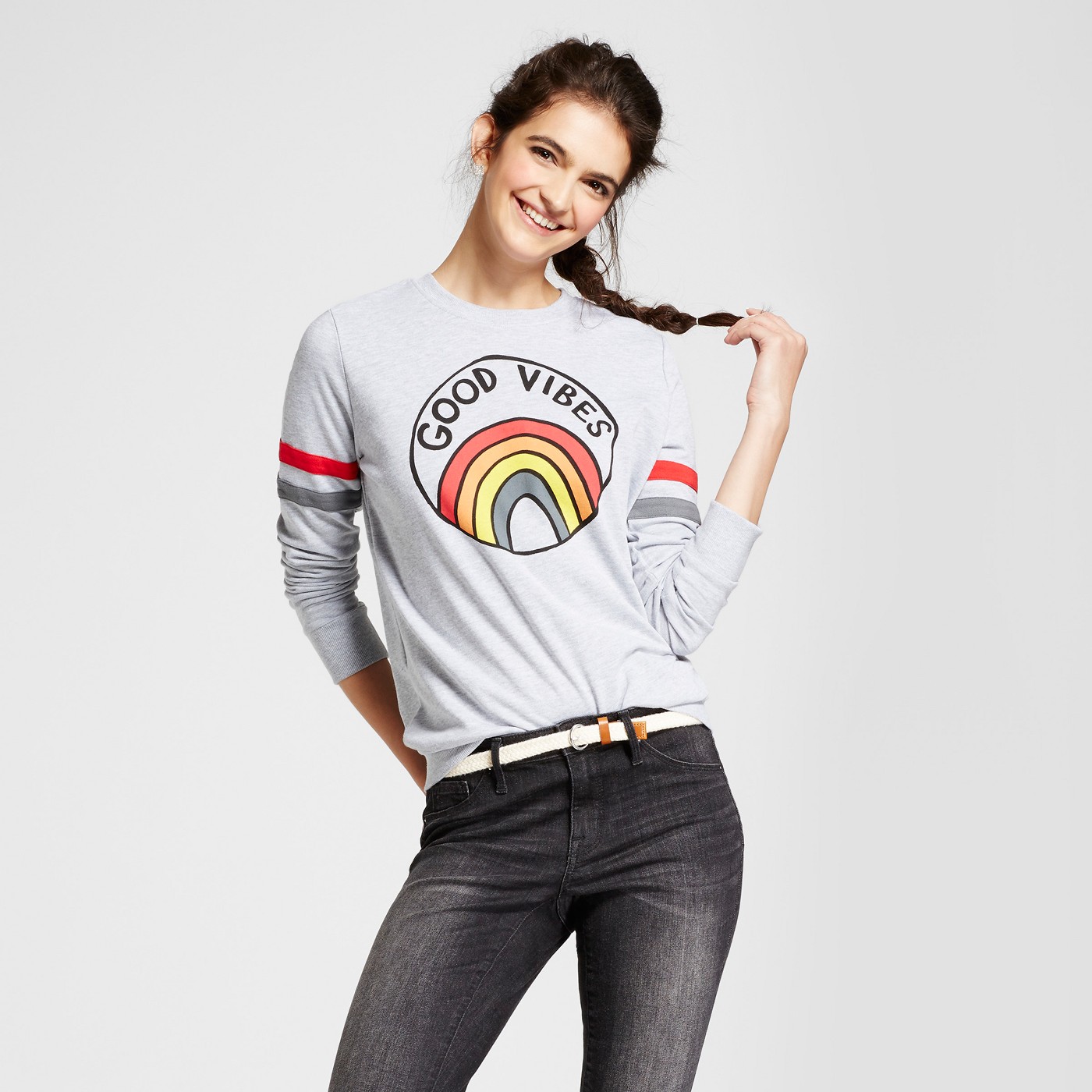 Target Good Vibes Graphic Pullover Sweatshirt ($19.99)
You don't have to break the bank when you buy a spirit jersey. An outlet like Target has more generic, but super cute, sweatshirts like this one with its Good Vibes rainbow logo and collegiate-inspired striped sleeves. The graphic sweatshirt is lightweight and perfect for in-between seasons, and it pairs well with both shorts and flared or skinny jeans. If you're a fan of the show Stranger Things, be sure to check out Target's spirit sweatshirt tribute to the series, which includes a jersey with a huge "11" emblazoned on the back.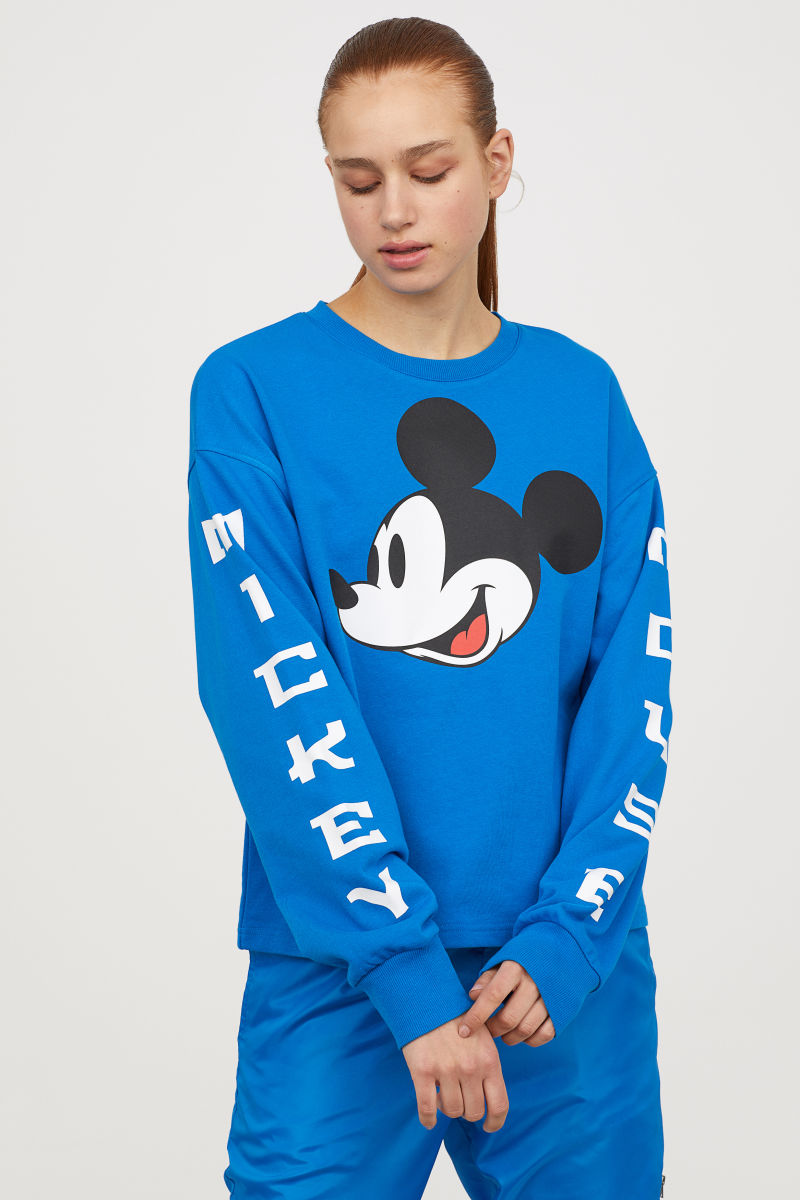 H&M Sweatshirt With Printed Design ($19.99)
You don't have to just feel spirit toward a school, team, state, or state of mind—this H&M sweatshirt is designed to look like a spirit jersey and shows tons of love for Mickey Mouse. This wide-cut and lightweight sweatshirt has casual dropped shoulders and ribbing at the neckline and cuffs.
Spirit Shop Women's Replica Jersey ($28.95)
No matter what type of spirit jersey or sweatshirt you want, Spirit Shop can customize the front and back using specific colors and logos. Their custom apparel and sportswear includes schools, sports and themes, businesses, holidays, military, charities, and even political affiliations.
For more trend tips, check out:
--10 Trends That Will Be Huge In 2018
--The One fashion Trend No One Will Be Wearing In 2018
SheFinds receives commissions for purchases made through the links in this post.