From afar, Ben Affleck and Jennifer Garner seemed like the perfect couple. They would gush about each other on the red carpet and go on fun outings with their children, Violet, 12, Seraphina, 9, and Samuel, 5. But, it looks like a lot was going on behind the scenes of their relationship, which eventually caused the couple of 10 years to divorce in 2015.
"After much thought and careful consideration, we have made the difficult decision to divorce," the couple said in a joint statement, according to E! News. "We go forward with love and friendship for one another and a commitment to co-parenting our children whose privacy we ask to be respected during this difficult time."
So, what exactly went wrong? Apparently there was a lot we didn't know about Affleck and Garner!
[Photos: Splash]
When news broke that the couple's divorce, a source revealed that their relationship had simply run its course. "It was just time," the source told People. "There was no catalyst."
But, another insider says that Affleck's struggle with alcohol addiction was also to blame. In fact, they revealed that both Garner and Affleck hoped that his March 2017 rehab stint would help fix their relationship, but it wasn't enough. "It came down to his last-ditch attempt at saving things by going to rehab," another source said. "But it was just too little too late."
And, who could forget all of those rumors about Affleck cheating with the family nanny, Christine Ouzounian. Garner kind of confirmed the rumors to Vanity Fair during a 2016 interview. "Let me just tell you something. We had been separated for months before I ever heard about the nanny. She had nothing to with our decision to divorce. She was not a part of the equation," she said. "People have pain — they do regrettable things, they feel shame, and shame equals pain. No one needs to hate him for me. I don't hate him. Certainly we don't have to beat the guy up. Don't worry — my eyes were wide open during the marriage. I'm taking good care of myself."
Now it seems that co-parenting is working great for the former couple, and that the two still have a deep love and respect for each other.
"Jen is a superhero mom. She is an amazing mother and I'm really lucky to have her as a partner to co-parent these kids with," Affleck told E! News in March. "We try our best, we put them first and that's what we do."
"We are definitely a modern family," Garner said in an interview with NBC's Today Show, according to E! News. "We're doing really well."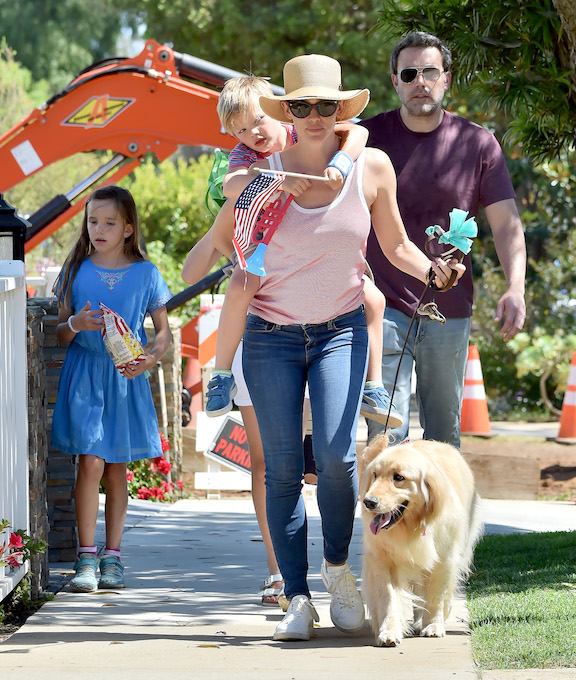 We're happy to see that Garner and Affleck still make such a great team even though they're not longer married!
Are you still sad that these two are no longer together? Let us know in the comments below!