The royals are never ones to break tradition, especially when it comes to fashion. In fact, there's a royal wardrobe etiquette that everyone must follow when they're out in the public eye. And, it looks there are strict rules regarding their handbags and accessories, too!
For example, have you ever noticed that Kate Middleton never carries a purse? At first we thought that the royal simply preferred clutches over traditional purses, but it seems that it's all part of the protocol.
We did a little digging, and it turns out that there's a devious reason behind the royal clutches: It's so they can get out of shaking hands with people!
"It is protocol that you do not extend your hand to any member of the royal family (blood royal or those who have married into the family) unless their hand extends first," royal etiquette expert William Hanson tells Daily Mail U.K. "The Duchess of Cambridge may well prefer not to shake hands with certain people — but there are other ways to achieve this, as used by The Queen and other members of the royal family, than opting for a clutch over a bag with a strap."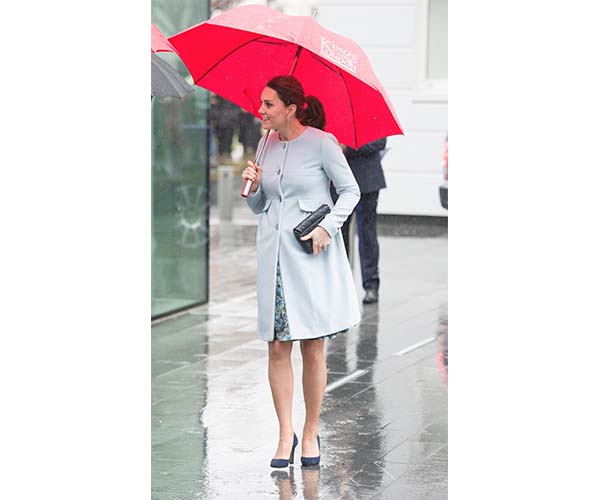 This is mind-blowing! And, it turns out that Kate's been doing this for years! "When the Duchess is at an event, she holds her bag in front of her in both hands when shaking hands might be awkward," Myka Meier, founder of Beaumont Etiquette, tells Good Housekeeping.
Though carrying a clutch is part of the royal etiquette, it seems newcomer Meghan Markle isn't too fond of it. She's been spotted rocking a small strapped bag instead of a clutch from time to time. "She's been pushing the boundaries with her fashion choices since she the very beginning, and this rule is no different. For her first public appearance, she carried a $667 Strathberry bag that had, you guessed it, a long strap that freed up a hand," according to Bustle.
But, Markle isn't the only royal that didn't always follow the rules. As you may recall, Princess Diana also dismissed the clutch rule and opted for smaller purses during public appearances. And, she never wore gloves or hats in public, even when she was supposed to!
"[Princess Diana] abandoned the royal protocol of wearing gloves because she liked to hold hands when visiting people or shake hands and have direct contact." Eleri Lynn, who curated Kensington Palace's new exhibition, Diana: Her Fashion Story told People. "She also stopped wearing hats because she said, 'You can't cuddle a child in a hat.'"
Well, you can bet that we'll never look at clutch bags the same again! And, that we'll be carrying one the next time we're at an event we don't want to be at...
What do you think of the royal clutch rule? Let us know in the comments below!
[Photos: Splash]