Morgan Matkovic of Lilies & Lambs  is a guest blogger for SheFinds.
When I joined Young Living a few months ago, I was a bit skeptical at first. I didn't know a fraction of the thousands of ways oils can be used to benefit our lives. I joined simply because they sell the prettiest diffuser, the Aria, that I ever did see. And I needed it. It wasn't until I received my starter kit and started researching, and diffusing, and combining my own oils that I discovered all the benefits they truly provide. After a few months of being an official member of the oily world, I'm hooked.
It's hard not to scroll through your Instagram feed or click through stories and not stumble across someone's love of essential oils. They seem to be popping up everywhere these days, in all different forms: in diffusers and roller balls; room sprays and cleansers.
But what exactly are essential oils, and which ones are worth buying? Essential oils are the lifeblood of a plant that are extracted using careful steam distillation, resin tapping, and cold pressing. The power of essential oils can be accessed in many ways, such as diffusing, topical application and consumption. Oils have been used for thousands of years to benefit and support us in a variety of ways. Each essential oil has its own, unique, benefits that can support us emotionally, physically and spiritually.
There is an overwhelming amount of essential oils out there. But I've done the leg work for you–and here are the six Young Living Essential Oils you need in your life right now:
1. Lavender: Lavender is probably one of the most popular essential oils. It has variety of uses and smells divine. I diffuse lavender throughout the day for its calming effects, and at night for sleep support. It can be used topically on cuts or burns to aid in healing. Lavender can also be combined with a carrier oil and used in roller balls as a perfume-either alone or mixed with other favorite essential oils like rose or geranium. And it is one of the key ingredients in my homemade glow serum- which can be used morning and night for dewy, bright skin.
2. Thieves: Thieves is known for its immune support- perfect for this time of year. It can be diffused throughout the day or at night, or combined with a carrier oil and used in a roller ball on the bottom of feet and along the spine for immune support and wellness boosting. It can also be used for cleansing- the YL starter kit also comes with a packet of Thieves concentrate which you can dilute with water to make a non-toxic household cleaner. And you can use it to clean, well, pretty much anything- counter tops, bathrooms, windows, kids' toys. You name it.
3. Frankincense: Frankincense is a grounding oil that can be used for emotional support and sleep support. Diffuse at night with lavender or inhale for its calming, grounding properties. It is also known for its skin support- add some to your homemade glow serum for help in the reduction of fine lines and wrinkles.
4. Raven: Raven is one of those essential oils that is perfect for this time of year. Diffuse in your diffuser day or night, or add a few drops in the shower for natural respiratory support. It can also be used to create a natural, homemade chest rub with a cooling effect.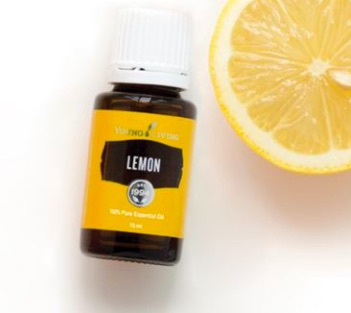 5. Lemon: Lemon is a natural detoxifier and energy booster. It can be diffused- alone or with peppermint or another uplifting oil of your choice- for an energizing effect. It can be used as a natural "goo-gone" when cleaning. And you can add to water or tea to detoxify.
6. Peppermint: Peppermint is one of those oils that can be used in a myriad of ways. Combine with a citrus oil in the diffuser for an energizing effect; create a roller ball filled with peppermint and carrier oil and roll on the temples for headache support. If you love the taste of fresh peppermint, add to your baked goods or coffee in the morning. Or diffuse throughout the day to smell like the holidays.
All of the above oils, plus five more, can be found in the Young Living Starter Kit that you receive once becoming a member. You can also enjoy 24 percent off retail pricing, the benefits of Essential Rewards and the opportunity to earn commissions simply by sharing Young Living. To find learn more, become a member, or receive your starter kit click here.

Morgan receives commissions for purchases made through her referral links in this post.