If you're not hooked on Netflix's GLOW yet, now is the time. The show celebrates both female empowerment (we need that) and incredibly kitschy costume (hello, Halloween!). In fact, we just might have found the most bad a** women's Halloween costume of the year right here: Zoya The Destroyer.
The series, which stars Mad Men's Alison Brie as down-and-out actress Ruth Wilder, is all about women's wrestling. Ruth's ring persona is Zoya The Destroyer, a Soviet villain with a thick accent and an axe to pick with the capitalists. And if you weren't already sold when you heard the name (or the fact that you get to do an accent all night), the costume itself is what Halloween costume dreams are made of. Zoya wears a shiny red lamé leotard, a Russian Cossack hat and thigh-high black boots. Who doesn't want to play the sexy bad guy (or in this case, girl).
What You'll Need To DIY The Zoya Destroyer Costume
Zoya's costume looks pretty stereotypical Soviet, but in keeping with the look of female wrestlers (think, lots of spandex and sturdy lightweight boots you can tear around in) plus the 1980s (teased hair, don't care). This isn't a costume that you need to buy in a store. You can totally DIY it with items already own, plus adding a few things from Amazon or the flea market/ Salvation Army. Here's what it's going to look like:
DIY Zoya The Destroyer Halloween Costume
Speaking of Netflix Halloween costume: have you seen our Handmaid's Tale one?
A red bodysuit or leotard
Because it's wrestling, you'll need to start with a leotard or bodysuit. You can't expect to enter the ring and win with too much redundant torso fabric. And nothing says female wrestling like spandex. Zoya aka Ruth's exact leotard has one long sleeve and a piece around the neck, but it's totally fine if you fudge that for the costume. We couldn't find an identical one at an affordable price, but we did find this very similar red lame one on Amazon that should do the trick:
Chictry Women's Shiny Metallic Leotard High Cut Bodysuit ($6.99)
A Belt
Ruth wears a waist belt that also has a crossbody strap, but we couldn't find anything like that online. People won't notice the difference. Wear any black belt with a gold or brass buckle from your closet or your partner's closet. Or–we found this cool one that has a "Z" buckle. It's not related to a Zoya The Destroyer costume–but how perfect is it?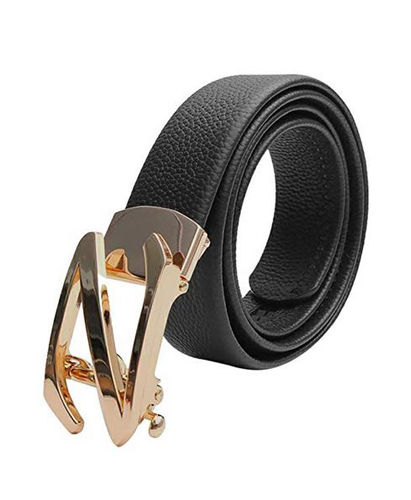 Men's Genuine Leather Ratchet Dress Belt With Automatic Buckle ($19.99)
A Russian Cossack Hat Or Fur Headband
Because she really amps up the Russian-ness, Zoya wears one of those fur hats (well, actually hers is a headband with her 80s hair teased up on top). Called a Cossack hat after the region of origin, this item is a must for the costume. We found one on Amazon (there are lots on the market):
Faux Fur Headband Winter Headband Earwarmer Earmuff ($12.99)
Tall Black Boots
You probably already own a pair in your closet, so hopefully you don't need to buy this part of the costume. But in case you do, we found a pair on Amazon. The key is comfort here. Hers so that she can destroy Liberty Belle in the ring, Yours so that you can stay out all night long on Halloween. Choose a flat, slouchy pair like Zoya's. We found some that are perfect: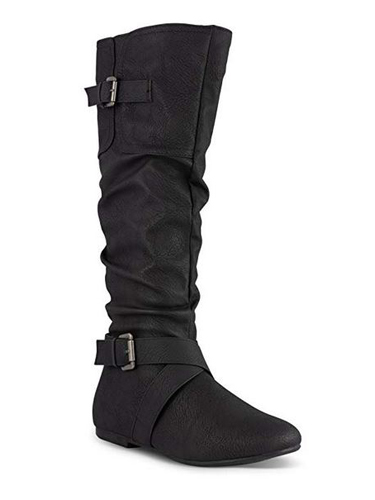 Twisted Women's Faux Leather Slouchy Buckle Strap Mid Calf Boots ($38)
Black Lipstick
To top the look, you'll need some dramatic black lipstick exactly like the one Zoya wears. Can't sleep on the Halloween makeup for any costume–it's so important for completing the look!
MAC Aaliyah Lipstick in Street Thing ($11.10, down from $18.50)
Teased Hair
This is 1980s Los Angeles, people. Big hair is a MUST. Load up on the hair spray and give yourself a teased up-do. Inspo:
So, there you have it–the five basic items you need for a Zoya the Destroyer Halloween costume. Of course, there will always be someone that will really take a costume dead serious. In this case, it's all these lovely ladies we found on Instagram who have already dressed up as Zoya (mainly, for Comic Cons). Here's all the inspiration you need to get in to character:
SheFinds receives commissions for purchases made through the links in this post.