The Hulu original series The Handmaid's Tale is moving on to its third season with the completion of season 2. The recent finale has fans freaking out, even more so then when the TV show first came out last year. The Handmaid's Tale, which was actually based off a book from 1985, is thrilling, exciting, and a must-watch. If this show isn't on your Hulu watchlist, add it ASAP.
Not to spoil too much, but here's a quick synopsis. The show is set in the future after a civil war when religious extremists rule the society and fertility rates are extremely low. Because of this, fertile women become known as "handmaids," and they have to live with the elite members of society to essentially produce children for them. Yikes! The handmaids have no rights and wear kooky little red robes with white bonnets (a throwback to the 18th century).
Easy Handmaid's Tale Halloween Costume Idea
If you're an avid viewer of the show and want the easiest DIY Halloween costume ever, we rounded up everything you need to transform into Gilead's next handmaid.
All the women in the series have specific uniforms that they're required to wear, and the style and color indicate their social standing. The handmaids, unfortunately, got stuck wearing long, cape-like, bright red dresses with white underwear, brown boots and socks underneath. To top off this overtly modest fashion statement, the handmaids have to wear white structured bonnets that partially hide their faces whenever they're in public. This designated wardrobe obviously has the society's male religious rulers written all over it.
If you want to make a statement and show your appreciation for the new obsession-worthy TV show, a Handmaid's Tale costume is perfect! You can purchase a full Handmaid's Halloween costume off of Etsy or from your local costume store, but honestly, your easiest and cheapest option is to buy a big red cape, and other miscellaneous pieces to complete the look, for the same effect.
DIY Handmaid's Tale Halloween Costume With 4 Items
1. Red Robe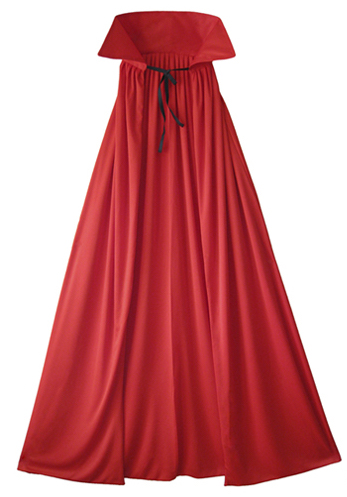 Fully Lined Deluxe Red Cape ($19.88)
Amazon has pletny of red capes that will work perfectly as your Handmaid's costume for Halloween. This one is priced affordably under $20, making the DIY costume even easier. Not only will you look totally authentic with a red cape like this one, but it will also keep you warm on that chilly Halloween night. It's a win-win!
2. White Bonnet
Target Women's Bonnet White ($15)
The bonnets that the handmaids wear aren't of the typical lace-y type. They have a more futuristic spin that actually more closely resembles a cone you might put on your dog. Weird. If you're good with a sewing machine, you can buy a pattern to make the bonnet yourself for $6 from Etsy, or a $30 bonnet kit with some of the materials. If you don't even know how to thread a needle (I feel you), you can buy a similar bonnet from Target. It looks more colonial, but it'll do the trick.
3. Canvas Tote Bag
Bargain Canvas Tote ($1.35)
The handmaids also carry white canvas crossbody tote bags. If you really want to get technical, you can have a custom, realistic purse made for $20 on Etsy. Otherwise, stick with this much cheaper, shorter version that you can actually reuse quite often. This is another great item to incorporate into your Halloween costume because it will give you somewhere to hold your belongings while you party all night long–a luxury most Halloween costumes do not offer!
4. Brown Combat Boots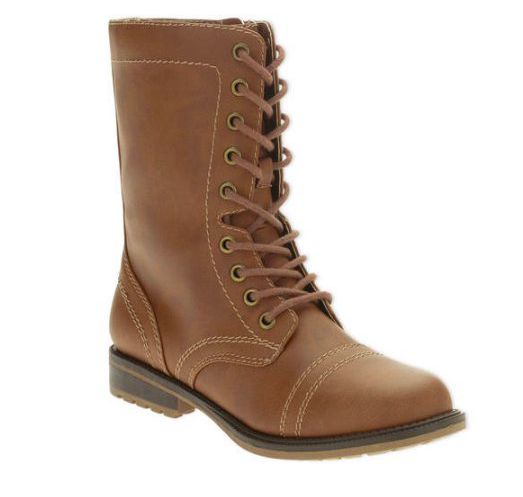 Faded Glory Women's Combat Boot ($19.97)
As for footwear, the blander the better. There's not much room for creativity with the handmaids' shoes (shocking!), and your options are pretty much boots or….boots. If you already have a pair of brown riding boots or combat boots, then you're all set. How simple! If not, check out this cheap pair from Walmart for less than $20.
For more DIY Halloween costumes, check out the latest ideas on SHEfinds.
SheFinds receives commissions for purchases made through the links in this post.