Unless you live in a cave without Internet access, you've probably gotten wind of Taylor Swift's new song, "Look What You Made Me Do," and its corresponding music video. Although we're still not sure exactly what we made Taylor do, the song is annoyingly catchy. The video, on the other hand, takes drama and shade to never-before-seen levels. With disses to Katy Perry, Kim and Kanye, and even music streaming companies, you really just have to see this video to believe it. There's A LOT going on. And, in true T. Swift fashion, she just had to steal the solar eclipse's thunder and announce news of her upcoming album the same day, which is called "Reputation" in honor of her new self-proclaimed "good girl gone bad" identity. We'll see how that pans out. Anyway, we predict this buzz-worthy song and video will spark tons of T.S. Halloween costume variations this year. She has more than 10 different outfits you and your it-girl squad can replicate from the music video, but we rounded up a funnier approach to a DIY T. Swift costume based on her "edgy" new look from her album cover.
We've come a long way from T. Swizzle's "Teardrops On My Guitar" days. As she explains in her new song, "the old Taylor can't come to the phone right now." Why? Because "she's dead," duh! I must admit, though, she does look kind of cool with her new "smarter" and "harder" persona that she debuted on the"Reputation" album cover. She wears her curls slicked back with a choker necklace and a ripped sweatshirt. To re-create this look, you can pre-order her new merchandise she just launched for the album. Buy this "Rep" sweatshirt, cut a few holes in it and wear it off your shoulders to copy Taylor's cool-girl look. Repping (get it!?) her merchandise will also probably feed into her ego even more.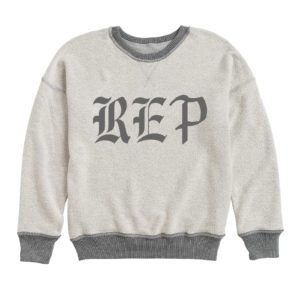 Reversible Terry Pullover ($65)
In the song's music video, Taylor drops it low in scenes that look strikingly similar to Beyoncé's "Formation" video. Coincidence? Probably not. But, her backup dancers all wear black "I <3 T.S." t-shirts. Apparently, this might be a stab at Taylor's ex (shocking!) Tom Hiddleston, who once wore a similar shirt when he dated the melodramatic star. Good news—you can also get your hands on this notorious shirt from her online marketplace as part of her new collection. Wear it under the sweatshirt for the complete T. Swift allure. Or, honestly, just make your own.
Embroidered Crop Tee ($50)
The country/pop singer also sports a thin, gold choker on the album art. We found a similar one from American Eagle.
AEO Gold Linked Chain Choker ($5.97)
It wouldn't be a Taylor Swift costume without her signature red lip, but it looks like she might be experimenting with darker shades. Even though she released the "Reputation" album cover in black and white, it appears that the lip color she's wearing screams more of "I'll be the actress starring in your bad dreams." Keep the rest of your makeup to a minimum for the costume.
Nars Velvet Matte Lip Pencil ($27)
In case you haven't heard, after her drama with Kim and Kanye, Taylor has since been labeled a "snake," which she of course plays on in the music video. So, ssssssslither into all your Halloween parties with this rubber prop draped around your torso.
Realistic Manmade Soft Rubber Animal Fake Snake ($2.85)
If you want another prop, you can also create her red, underlined "list of names" that she mentions over and over in "Look What You Made Me Do." Include every single one of her exes and anyone she's ever had bad blood with. It might be a long list.
And, there you have it, folks—a 2017 Taylor Swift Halloween costume. Maybe once you channel her identity you'll finally solve the mystery of what everyone actually made her do. Keep us updated.
For more DIY Halloween costume ideas, make sure to check out this year's best pop culture Halloween costumes.
[Photo: Instagram]