Dior Nail Glow is a new treatment varnish that claims to be a 2-in-1 French manicure polish; according to the label, it makes the pink of your nails pinker and the white of your nails whiter. By enhancing the "natural" color of your nails, it saves you a trip to the salon, and requires only 1-2 coats (no top coat!). And all for $24. Sound too good to be true? We were doubtful ourselves, and decided to give the treatment a go.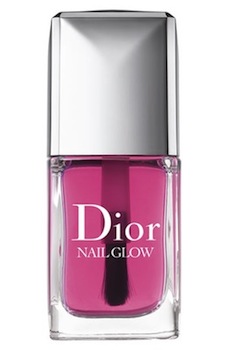 Dior Nail Glow ($24)
We were totally surprised by the results. While it doesn't give you a complete French manicure effect (which isn't even really "in" anymore), it absolutely performs as advertised when it comes to making the pink nail pinker and the white tip whiter (how that science works is beyond us!). The shiny finish gives nails a polished, professional manicure look and actually makes them appear healthier instantly.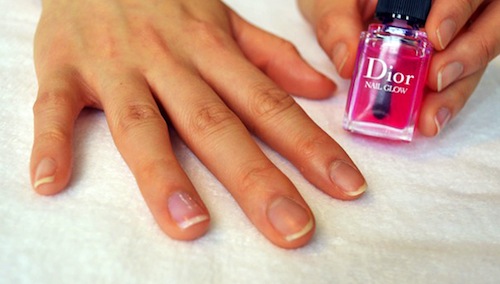 Applying Dior Nail Glow: Can you tell which finger it's on?
We'd suggest investing in a bottle just to keep around for those days when you're too lazy, busy or poor to get a manicure, but want to make your nails look healthier in 90 seconds. It's definitely the best way we've found to fake a professional mani at home. And be patient–the polish reacts with UV waves, so you'll see the full results under natural daylight.
What do you think of Dior Nail Glow? Would you give it a try?
Obsessed with nail polish? Check out these miniature nail polish sets, Sephora's perfect manicure tool and the best textured nail polishes.