Under-eye circles can be a major pain to deal with. Those dark, fine-lined bags under your eyes can make you look much older than your actual age. The worst part about them is that they can pop up so easily: under-eye circles can be formed by stress, lack of sleep, and aging. And while you may be searching for an easy fix, you could end up doing more harm than good!
That's right, don't believe every quick fix you see on the internet. While many drugstore products formulated for your skin can help reduce fine lines and discoloration under your eyes, there are a few "hacks" that just don't work, and end up making your problem even worse. So, make sure you do your research and avoid anything that seems like a red flag to put under your eyes. One of the biggest beauty myths out there is using hemorrhoid cream for your under-eye circles, but guess what: it's probably causing more damage than you think.
Dr. Cynthia Bailey , board certified dermatologist and founder of DrBaileySkincare.com, told SheFinds exclusively that she is highly against this taboo trick of using hemorrhoid cream for your under-eyes. This weird trick, which has been toted as a beauty secret by actress Sandra Bullock, is definitely not the best choice to be rubbing under your eyes, Dr. Bailey warns. These creams contain an active ingredient called hydrocortisone, which Dr. Bailey states should not be used on the sensitive skin surrounding the eyes.
"Hydrocortisone can gravitate into the eye and cause corneal thinning and a special type of cataract unique to cortisone exposure," Dr. Bailey explains. "In addition, hydrocortisone will thin skin over time. Eyelid skin is already some of the thinnest skin on the body. It will readily absorb the hydrocortisone and thinning (called atrophy) is a real risk. Cortisone induced atrophy can be permanent and can also cause 'broken' blood vessels to show (called telangiectasias). Cortisone induced thinning will make wrinkling and crinkling of eyelid skin worse. Hydrocortisone is theoretically helpful in eyelid puffiness and redness because of its anti-inflammatory and vasoconstrictor effects but just don't!"
Another ingredient in hemorrhoid creams that Dr. Bailey says is harmful to your eyes is phenylephrine. "This is another vasoconstrictor and will temporarily relieve redness, congestion and edema but there is the potential for rebound worsening." Yikes, sounds like you should definitely be steering clear of this stuff!
So, with the amount of health risks and concerns, you might as well stay away from applying hemorrhoid cream under your eyes any time soon. If you're looking for a fix for under-eye circles, then try an eye cream that's focused on repairing dark circles and puffiness.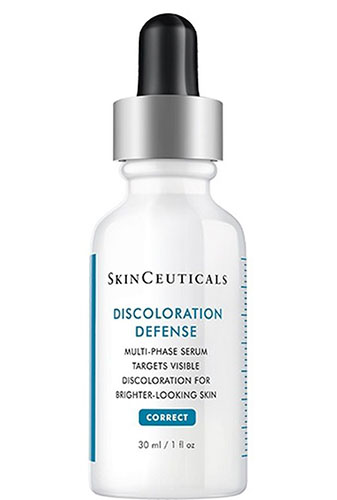 Discoloration Defense Skin Discoloration Serum ($98)
If you're on the hunt for a cheap drugstore product that will relieve you of your under-eye circles, then we recommend using e.l.f. Illuminating Eye Cream. This cream is infused with Jojoba oil, cucumber, and vitamin E to soothe and invigorate your under-eyes. Te result: puff-free, glowing and youthful skin! The best part is that this cream is only $10, so you can stock up on this skin-saving product without making major dents to your bank account.