Flip flops  usually aren't chic, but these Bernardo Miami flip flops ($89) are, considering they were Jackie O's favorites for exotic vacations. In the photo above, she's holding a pair of  Bernardo sandals during a trip to Greece.  A-listers with classic style, like Reese Witherspoon and Halle Berry still wear the sandals today. What makes them so special?
These Bernardo Miami flip flops are hand crafted with Nappa leather and come in lots of colors (Jackie O owned the sandals in 16 different shades).  They're incredibly comfortable, but dressy enough to wear with a maxi dress out for drinks.  Is $89 too much for a pair of flip flops? Let's do the fashion math: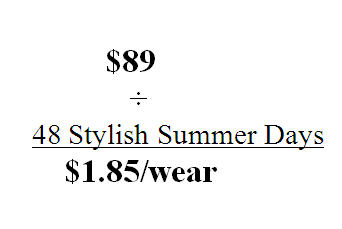 If you wear these sandals four days out of the week for the entire summer, they cost less than a popsicle from the ice cream man. We would choose these flip flops over a cheap rubber variation any day.
See more of our fashion maths, and then check out our guides to the best comfortable shoes, and the best flat sandals.