Unless you live under a rock, you've probably heard about Rihanna's highly-anticipated makeup line, Fenty Beauty. It's all skin tone-inclusive brand has been making major waves in the beauty industry, and immediately became a fan-favorite to beauty gurus and beginners since it's launch. And to live up to its reputation, Fenty Beauty released it's Galaxy Collection, which is packed with glitz and glitter to keep you shining bright like a diamond on your big nights out. One of the most coveted products in the line is the Galaxy Palette, which contains 14 shimmering shadows. These pigments can make you look as breathtaking as the cosmos, but for a pretty penny. Unlike many of the other reasonably priced items from this brand, the Galaxy Palette is $59, which is much pricier than most of the competing eyeshadow palettes on the market. If you want your eyes to sparkle and shine, but don't have the cash to pay for this pricey palette, try some of these doppelganger palettes instead. These shadows will have your lids glittering brighter than the stars in the sky, without having to empty your bank account.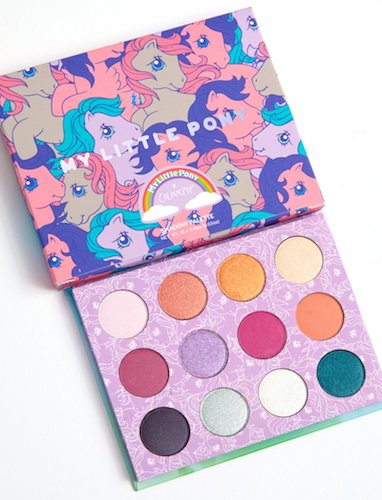 ColourPop My Little Pony Palette ($16)
ColourPop is serving some major blasts to the past with this retro My Little Pony-themed eyeshadow palette. Similar to the Galaxy Palette, these shades are full of eye-popping pigments and glittery shades, but at the fraction of the cost. Like most ColourPop eyeshadows, these shadows are highly pigmented and light up your eyes with a burst of glittery pastels and neon colors. And, these shadows are adorably named after My Little Pony characters, like "Blossom" and "Starshine." Although this palette has less shadows than the Fenty Beauty paleete, these are guaranteed to keep your lids sparkly all night long. So, bring your inner 90's kid out and put on some of these fun and funky colors on your next night out!
BH Cosmetics Supernova 18 Color Baked Eyeshadow Palette (sale $10, orig. $15.99)
BH Cosmetics, which is most popular for it's stunning and top of the line brush sets, created a palette that will leave your eyes looking more cosmic than the Aurora Borealis. This palette, which comes with four more shades than the Fenty Beauty palette, has 18 foil-like eyeshadow pigments. Whether you want to make your smoky eye glimmer slightly, or if you want to go all out in glitter, this palette is stepping up to the plate. It has a buildable formula, so you can easily add a dab of glitter or make your whole lids shimmer and sparkle even in the darkest lighting. And, you better act quickly, because this palette is on sale for a limited time only for just $10!
Makeup Revolution Mermaids Forever 32 Piece Eyeshadow Palette ($15)
First off, this palette comes with almost twice as many shimmery shadows at a fraction of the cost of the Fenty Beauty Galaxy Palette, so what more could you ask for? Don't let the price discourage you, these shadows have a high-quality feel at a jaw-droppingly low price point. These shadows are not as overwhelmingly sparkly as Fenty Beauty's shades, which will definitely allow you to build between natural and glitz-and-glamour looks. It also comes with nude and natural-toned shades so you can build a simple shimmer on your lids or experiment with a glowing smoky eye. Either way, this versatile palette needs to go on your beauty utiliy belt ASAP!