Everything means something, right? In this case, the length of your name and its number of syllables communicate a lot to the outside world. It's even been proven that people with shorter names earn slightly more per year than those with three or more syllables! As an Is|a|bel, I'm not happy to hear this! But way to go, Laura, Kate, Martha, Claire, et al…  What does the length of your name say about YOU?
RELATED: Find Out What Your Recurring Dreams Say About You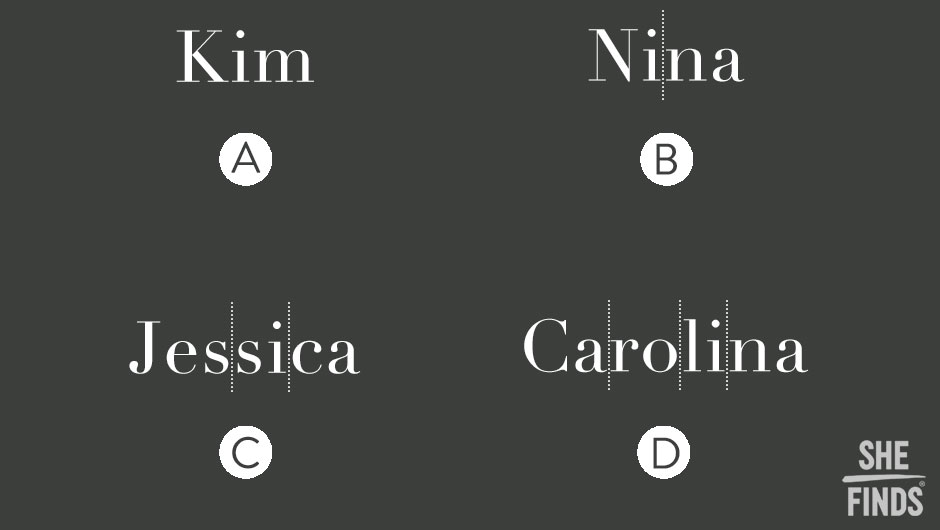 A) 1 Syllable
If your name has only one syllable (Kim, Lynn, Jill, etc..), you are rather eager to please. Sometimes you feel like people don't take you seriously, so you work really hard to prove them wrong. You might have a simple name, but you're NOT a simple girl! Having a short, easily mistaken name has forced you to be pretty outgoing — you used to get embarrassed when you'd respond to a word that rhymed with your name, but it doesn't bother you anymore.
RELATED: Find Out What Your Wine Choice Says About You

B) 2 Syllables
If your name has two syllables (Hannah, Cara, Lindsay, etc..), chances are you've donned more than a few annoying nicknames through your middle school years. Uggh! You're a generally likable person, and drama is NOT your thing. However, you tend to be super straightforward, which people sometimes mistake as aggression and can lead to some messy situations. At the end of the day, friendship is really important to you, so you try to mend bridges as fast as possible. But again, people like you, so it's rarely difficult for you to move past any interpersonal obstacle.
RELATED: Find Out What Your Eyebrow Shape Says About You

C) 3 Syllables
If your name has three syllables (Jennifer, Allison, Sophia, etc..), people often come to you for advice. A lengthy, no-nonsense name tends to reflect the wisdom of its beholder, so (natch) your inbox is filled to the brim with "SOS" texts from your besties. You don't mind being group therapist, but sometimes it seems like that's all your friends want from you. Make sure to communicate your needs and draw a line when things get too one-sided.
RELATED: Find Out What Your Hairstyle Says About You

D) 4 or More Syllables
If your name has four or more syllables (Felicity, Olivia, Alexandria, etc..), you're a thinker. People perceive you as smart and together, and for the most part they're right. You, like your name, are complicated. There are so many thoughts buzzing through your head at all times, which can be very challenging. Try to focus your energy on one feat at a time so you don't fall into a stress spiral!
RELATED: Find Out What Your Sleep Position Says About You


Don't forget to check out: Find Out What Your Fingernail Shape Says About You and Find Out What Your Lipstick Shape Says About You
[PHOTO: Carolina Barreto]