Very soon (if winter ever ends, that is) the weather will start to get warmer and it will be time to break out our Sperry boat shoes! Like most people, I love Sperry Top-Sider shoes. They're the perfect spring shoe.
Sperry boat shoes are comfortable and match with virtually anything. However, even though so many people have a pair, many people don't know how to put shoelaces on Sperrys. When I put shoelaces on mine, I try to look for a new way to wear them. Sperrys are a fun shoe to play around with and find ways to wear them in a unique fashion.
I used to be a sales associate at Sperry's flagship location on 5th Ave, New York City, so I learned a lot of Sperry hacks while I worked there. One of them being how to barrel knot my Sperry Top-Siders, which many people do not know how to do. Learning how to tie laces into a barrel knot was possibly one of my favorite Sperry tricks I learned during my time there. It's a cool, fun way to knot your Sperrys that will grab people's attention this season. While everyone else has their Sperrys tied in a normal bowknot, you'll stand out in the crowd.
If you've never seen a barrel knot, the laces look like small corks or barrels on the sides of your shoes. Barrel knots add a fresh take on the classic boat shoe.
To learn how to how to put shoelaces on Sperrys in a barrel knot, follow the steps below! It's easier than you may think.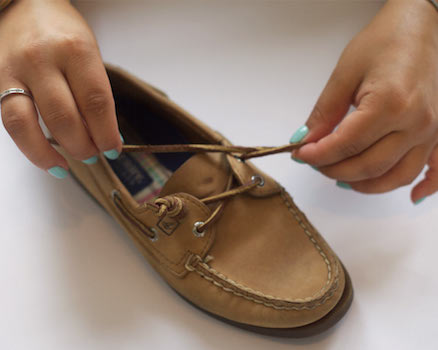 Step 1: Start with one side of your laces at a time. Holding one lace, create a loop with it by folding it over itself. You'll be holding the end of the lace in one hand, and the loop in the other.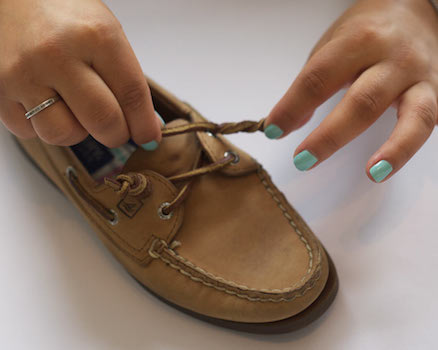 Step 2: Now, using the hand that is holding the looped side of the lace, start to twist it. You'll want to hold the end of the lace taught and still with the other hand. Keep twisting the loop until the entire lace is coiled in a clean way. Be cautious of twisting it too much–that'll cause the loop to spiral out of control.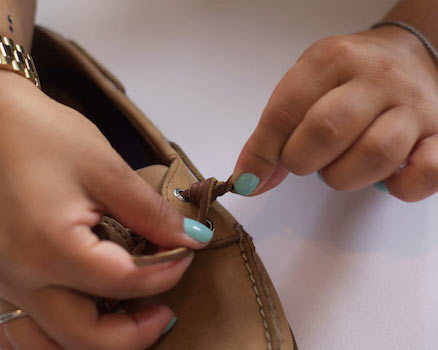 Step 3: With the hand that is holding the straight end of the lace, you're going to wrap it around the twisted loop. Keep wrapping the lace around the loop until you run out of lace to do so. Keep holding it tight the entire time.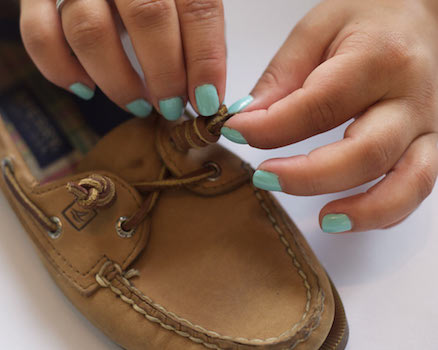 Step 4: When you reach the top of the loop with the lace and can no longer wrap it, carefully push the end of the lace through the hole at the end of the loop. Keep in mind this gets a little tricky when the laces are only so long. Just use patience.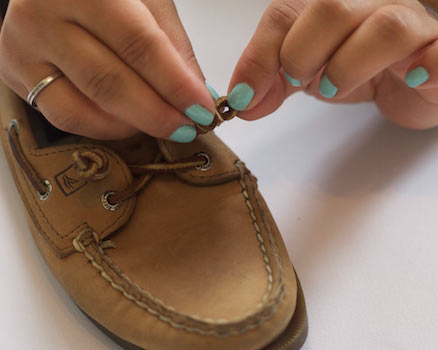 Step 5: You've made it to the final step. Now, after the loose end of the lace is securely through the loop, pull the end of the lace with one hand and push the barrel knot toward the shoe. Doing this tightens the barrel knot so it's less likely to fall out. You may be left with excess lace at the end of your barrel. If this bothers you, feel free to trim it–but that's completely optional.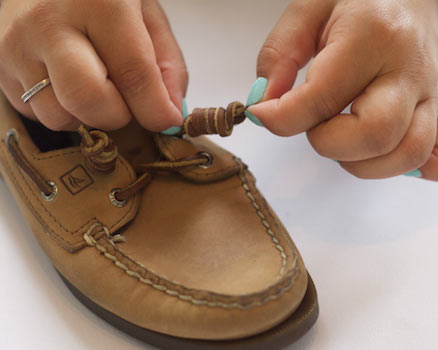 Step 6: Voila! You're finished barrel knotting one side of your Sperry Top-Siders. Go back up to step one and repeat on the other side until you're finished.
Shop a pair of Sperry Boat Shoes below to be ready for spring: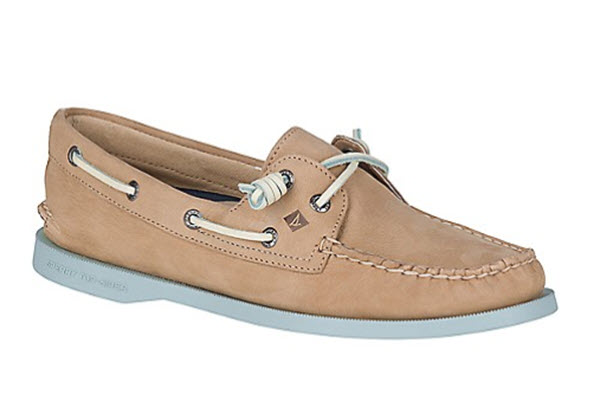 Women's Authentic Original Vida Color Pop Boat Shoe ($37.98, originally $94.95)
Did you know you can now design your own Sperrys? Check out their new makeover on SHEfinds.com.
SheFinds receives commissions for purchases made through the links in this post.