This has been a big year for the Kardashian-Jenners. The famous family made headlines for surprise pregnancies, new relationships, cheating allegations, and more, but all of the craziness started when news broke that Kylie Jenner, 20, was pregnant with her first child back in August.
Then, sister Khloé announced that she was expecting a baby girl with longtime boyfriend Tristan Thompson. Though the couple was excited to welcome her first child with the basketball player, it was soon revealed that he'd cheated on her multiple times during her pregnancy. While all this was happening, Kim Kardashian welcomed her third child, Chicago, via surrogate and Kourtney was busy blowing up our Instagram feeds with her new beau Younes Bendjima, 25, and their lavish European vacations.
And, you can forget that this was also the time that Kourtney's former flame Scott Disick confirmed his relationship with model Sofia Richie, 19. Then there was all that drama with Kanye West, who was dropping his latest album and sparking up a lot of controversy over at TMZ… But that blew over fast.
Aside from all the drama that ensued, 2018 has been shaping up to be one of the Kardashian-Jenner's most iconic years for fashion–so much so that we're anticipating SO many Kardashian-inspired Halloween costumes this year!
Kardashian-Jenner Halloween Costumes
Given this year's recent events, possibly the most predictable go-to Kardashian-Jenner Halloween costume will involve one (or all) of the pregnant baby mamas. When we think of the pregnant Kardashian-Jenners one viral Instagram photo comes to mind. After Kylie secretly gave birth to baby Stormi, Khloe posted a picture of her and younger sister "bumping" together.
"Congratulations My Sweet Kylie! What a magical ride it's been! I'll miss you bumping along with me. Never in a million years did I think we would do this together but it's been that much more special because of it. God is so great!! He had His plan all along! I love you little mama, love big mama," wrote Khloe, otherwise known as "big mama".
Considering the sisters are pictured only wearing matching sweats and what looks to be underwear, this is probably the easiest pregnant Khloe Kardashian and Kylie Jenner Halloween costume to replicate–given that you're not afraid to show a little skin.
Here's how to copy Khloe and Kylie's pregnancy photo with just four items from Forever 21!
DIY Pregnant Khloe Kardashian & Kylie Jenner Halloween Costume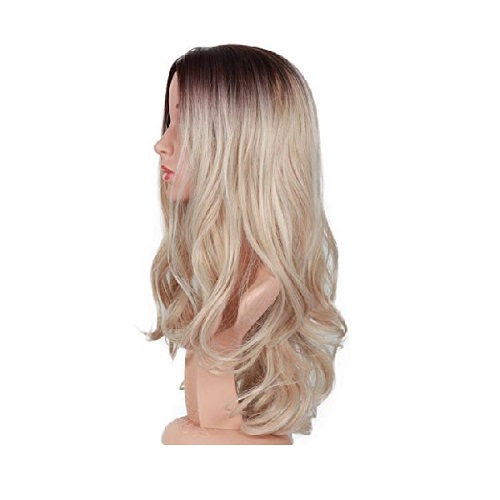 1. Blonde Wigs To Match Kylie & Khloe's Hair
The Kardashians dye their hair so often, it can be hard to keep track of when they were blonde, or pink, or brunette. However, Khloe is pretty consistently a blonde. If you already have blonde hair, then you can style yours to match by using a curling iron to wave it. Sprits in some beach waver and you're all set.
Khloe's signature look is tousled wavy blonde hair with brown roots showing through--just like it was in this viral photo of a pregnant Kylie and Khloe, posted on Khloe's Instagram.
Fani Wigs Long Wavy Ash Blond Ombre Wigs for Women ($14.99)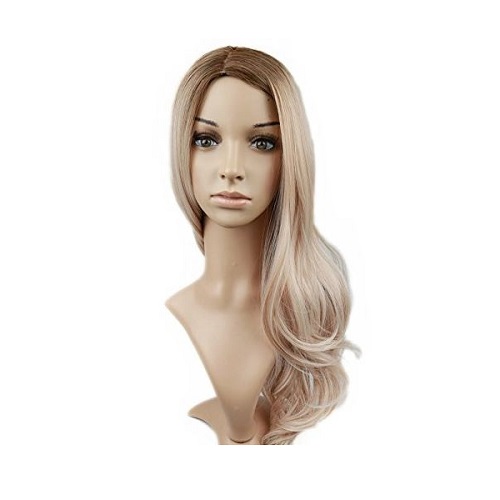 Lady Miranda Ombre Wig Brown To Ash Blonde ($16.49)
Kylie is possibly the most adventurous of the group with her hair, but during this part of her secret pregnancy, she sported blonde hair like her older sister. Perhaps their goal was to be totally #twinning because these two prego sisters look almost identical.
If you have blonde hair, just give yours a slight curl at the bottom with a large barrel curling iron to copy the style.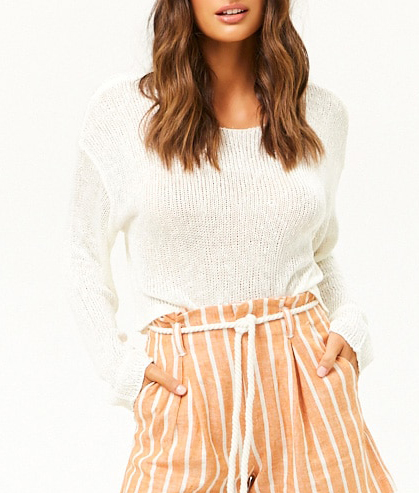 2. Cropped Cream Sweater
Kylie and Khloe barely wore anything in this Instagram pic and really showed off their baby bellies together. Both baby mamas wore a light cream or white long-sleeve sweater. The cropped length allowed their bellies to take center stage.
Both of these cropped sweaters from Forever 21 almost match Kylie and Khloe's sweaters perfectly--and they're under $13.
Forever 21 Slub Knit Sweater ($12, down from $17.90)
Forever 21 Marled Raglan Sweater ($12, down from $17.90)
3. Black Underwear To Match Kylie
Klhoe and Kylie definitely aren't shy when it comes to showing off their curves, pregnant or not. Kylie appears to be just wearing a pair of black lace underwear in this Instagram photo. Embrace the no-pants look with these microfiber panties from Forever 21.
If you would never be caught dead outside of your house in just underwear, we totally understand. You can pull off this look just the same with a pair of tight black shorts.
Forever 21 Microfiber Crisscross Panty ($3.90)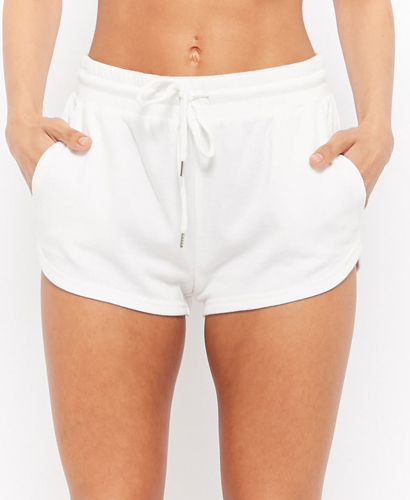 4. White Shorts To Match Khloe
Khloe appeared to be wearing a bit more clothing than Kylie in this photo and had white shorts on for bottoms. This pair of drawstring PJ shorts will work great, or you can grab any pair of light-colored pajama shorts from your dresser and save yourself an extra $10.
Forever21 Drawstring PJ Shorts ($10.90)
SheFinds receives commissions for purchases made through the links in this post.