Crime! Hot lifeguards! The beach! Even 16 years after the original Baywatch TV show left the air, the premise of the 2017 movie remake remains the same, save for a few new fresh faces. Zac Efron, Dwayne "The Rock" Johnson, and Priyanka Chopra joined Baywatch alums Pamela Anderson and David Hasselhoff in this comedic, action-packed interpretation. In the film, these red-bathing-suit clad local lifeguards must protect their beloved beach from a sketchy new drug that's sweeping the area. Drama! This Halloween is the perfect time to channel your inner hot lifeguard and DIY a Baywatch costume. Step aside, Pamela Anderson, there's a new beach babe in town.
It obviously wouldn't be a Baywatch costume with an itty bitty red swimsuit, so take it to the next level with this "Bae Watch" one piece. I mean, come on—you honestly can't find a more fitting and fun costume piece than this, even down to the color! It's a bit of a splurge for just a Halloween costume, so save it for future use next summer. Since Halloween definitely doesn't fall under swimsuit season, you'll probably want to wear this as a bodysuit tucked into a pair of jeans or leggings. Since, you know, it gets cold in October and all. For cheaper (but way less entertaining) versions of the famous Baywatch get-up, check out this J. Crew Scoopback One-Piece Swimsuit for $49.99, or this $30 Aerie Super Scoop One Piece Swimsuit.
Private Party Baywatch Swimsuit ($99)
You definitely don't want to cover up the most important piece of your costume (the bathing suit, duh). But, if you want an extra layer, this tank top's the way to go. It probably won't do much in terms of keeping you warm, to be honest, but it helps authenticate your outfit. Besides, you're a Baywatch babe—you bring the heat! If you don't want to go the traditional swimsuit route for your Halloween costume (which is totally understandable since it's the middle of fall), just sport this top with pants or red shorts and call it a day. Or, for a more revealing and Baywatch-appropriate top, check out this Urban Outfitters Baywatch Cropped Tee for $19.99.
Target Men's Baywatch Malibu Beach Patrol Tank Top ($11.99)
In case anyone had any doubts that you were a seductive lifeguard on a mission to protect the beach, add this inflatable boogie board to your ensemble. You can even use this comfortable prop to your advantage as an on-the-go chair, and pop a squat wherever you please. Disclaimer: this is not an actual professional life-saving device, so don't get too cocky.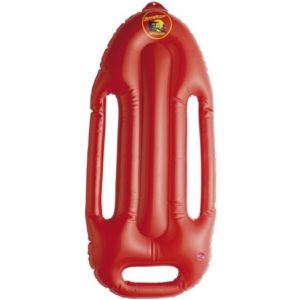 Walmart Baywatch Inflatable Mock Life Raft Preserver Boogie Board ($12.90)
Your skin also needs to look the part of a sun-kissed lifeguard on duty, so douse your body in self tanner. Start applying a few nights before Halloween to build up a solid base tan. If you end up looking orange, no biggie—it's all in the spirit of Halloween, and it washes off easily. Give your hair a tousled, beachy look, perfect your slow motion running, and then you're officially a Baywatch lifeguard!
Jergens Natural Glow Daily Moisturizer ($2.49)
For more 2017 DIY Halloween costumes, make sure to check out this year's best pop culture Halloween costumes.