As someone with extremely fair skin, I know firsthand how important it is to wear sunscreen every day. Even if it's not that sunny or I have no plans of laying out at the beach, I am obsessive about applying sunscreen. I obviously want to avoid painful burns in the short term, but being proactive about protecting my skin from the sun's damaging rays now, will also help ward off wrinkles, dark spots and other serious issues in the long term.
Here's where things get tricky: I know how important it is to wear sunscreen, but my combination skin makes it tricky to find a sunscreen that doesn't make parts of my face look and feel like an oil slick. I want maximum protection with minimum greasiness.
But believe it or not, I finally found an under-$15 option that does it all. You've probably heard of Hint because their flavored still and sparkling waters are amazing, but get this: they just debuted scented sunscreens and they're really–like really–good. I recently tried the Grapefruit version (Pear and Pineapple are the other scents) and I was pleasantly surprised.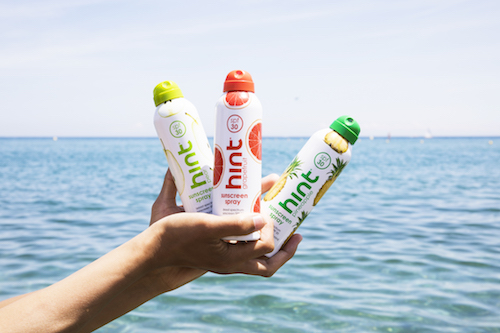 For starters, the fruit scents are actually genius because this sunscreen doesn't have that weird, gross sunscreen smell at all. Instead, the sunscreens actually smell fresh and citrus-y like the names imply so it really doesn't feel like you are wearing sunscreen at all.
Even better, Hint's new sunscreens go on crazy smooth and absorb so quickly. You know how some sunscreens are thick, show up white and take forever to dry? Not this one! When I sprayed it on for the first time and saw that it was clear, moisturizing and dried fast, I honestly couldn't believe my eyes.
The best part about Hint's sunscreen, though? It delivers all the sun-protecting goodness while eliminating harmful chemicals, such as oxybenzone and paraben. Their innovative technology only uses compressed air so there are no added skin-irritants.
If there is one thing you need to have in your bag this season (and every season, really), it is this sunscreen. Not only will you love it, but if you have kids they will too. It's 80 minutes water resistant and can be applied to both wet and dry skin. Get a bottle of each scent during your next Target run or click below to shop online.
The editors at SheFinds wrote this post on behalf of Hint and received compensation as part of our agreement.