I recently got my hands on a pair of my dream shoes that I've had my eye on for forever: a brand new pair of Adidas Stan Smith sneakers. I could not be more excited! When I took them out of the box, I immediately noticed that the leather on my Stan Smiths was very different from the leather on my other white sneakers. It was perfectly white and smooth. I knew I needed to learn how to clean leather Adidas sneakers if I were ever going to keep them this clean.
I was almost too afraid to wear them–I was terrified of messing them up and getting them scuffed. Part of the reason I love Adidas sneakers (and any other white sneaker) is because of how clean and polished the white looks when you get them. Dirty white sneakers just don't have the same aesthetic–ya know? But, I quickly got over my fear because what's the point of having a pair of coveted Stan Smiths if I never got to show them off?
In order to keep my kicks in the pristine state of perfect that I got them in, I needed to take extra precautions with them. The first thing I did was treat the white leather with a stain and water repellent spray. This step was life changing!
Before you treat any leather product with a stair repellent spray, make sure the shoes are completely clean and dry. Then, hold the can of spray about 6 to 8 inches away from the shoes and coat them lightly and evenly, covering the entire area of the shoe. If needed, use a cloth to dab and soak up any excess product–you don't want any pools of spray on the leather. Allow the shoes to dry thoroughly for at least 24 hours.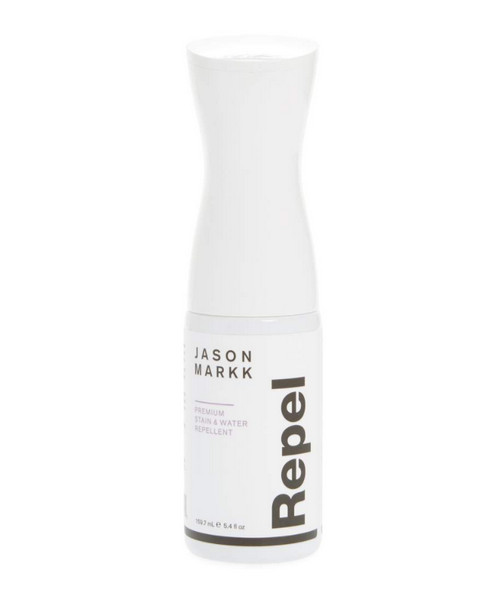 Jason Markk Premium Stain and Water Repellent ($17)
I personally recommend using Jason Markk Premium Stain and Water Repellent. This spray is basically a force field for your shoes.
After pretreating my sneakers, I started using the following method to clean them on a regular basis whenever the white leather was dirty. This leather cleaning method is relatively easy and will keep your Adidas sneaks (or any other white leather sneakers) looking brand new!
Here are the steps for how to clean Adidas shoes:
1) Step one, I fill a large bowl with warm water. You'll be using this bowl to mix the cleaning solution in step two.
2) Add a few drops of laundry detergent to the bowl with warm water and mix it together. Let the cleaning mixture sit for a few minutes before doing anything else to it. This ensures the detergent is fully dissolved in the water. For extra potency, you can also add a few drops of dishwashing soap to the mixture.
3) Grab a clean, light-colored washcloth (preferably white), and dip the cloth into the soapy water mixture. Make sure the cloth is damp and not soaking wet before moving on to step four.
4) Using the damp cloth, start to spot clean your white sneakers. Anywhere you see dirt or discoloration, rub at the leather. Keep dipping the washcloth back into the soap mixture between uses. If one area of the washcloth gets too dirt (and you'll be able to tell because it's a light color) then fold the rag and use another section. You don't want to be cleaning your shoe with a dirty section of the rag.
5) For harder stuck on stains and dirt, you can use a clean toothbrush to scrub at the area. The bristles on the toothbrush will help loosen hard stains and reveal the clean leather underneath.
6) With a dry towel (again, one of a lighter color), wipe your now clean sneakers, dry. You don't want any excess water to pool and sit on the leather for a prolonged period of time so towel drying them is important. After you dry them off, you will also be able to better see if there are any areas that need a little extra attention. If there are, you can go back and repeat steps 3 through 5.
Finally, you're now finished with the cleaning process. All that left is to let your white leather sneakers fully dry. Set your Adidas in a warm place and be sure to let them dry completely before wearing or storing them, again. Don't ever wear your sneakers while they're still wet–dirt is far more likely to stick to them and ruin all of your hard work. Plus, moisture can weaken the fibers in shoes, causing them to lose their shape.
Jason Markk Quick Wipes ($13.99)
For future wear, an easy way to spot clean leather sneakers on the go is to use a shoe cleaning wipe (yes, they make them). I usually keep a few of the Jason Markk Quick Wipes ($13.99) in my bag.
It might seem like overkill, but these wipes are a great way to clean your sneakers immediately after they get scuffed, and keep stains from setting in.
If you have suede sneakers, here's how you should clean Adidas suede sneakers:
1) Gently brush your shoes with a soft grain brush meant for suede. This will help remove any dirt that is stuck to them. Make sure you brush in the direction of the suede, not in too many different directions.
2) To remove other rains and watermarks, lightly coat the entire outside of your shoe with water and use the suede brush to buff them out. Although water is bad for suede, water applied correctly can help remove previous water damage.
3) Use a dry cloth to soak up any excess water by dabbing gently. You don't want to leave any pools of water on the suede sneakers because it will leave a water stain.
4) Let your shoes dry completely overnight. Then, bursh your suede shoes gently again to help the grain look normal again.
Whatever you do, do NOT put your white suede sneakers in the washing machine to clean them. Think about it–would you put you leather or suede handbag in the washing machine? Absolutely not! The washing machine can be extremely rough on sneakers, causing unnecessary wear and tear. Worst of all, the washing machine can also turn white rubber yellow. Nobody wants white leather sneakers with yellow rubber soles. Gross.
Don't forget to wash your laces, too. Unlike sneakers, you can throw shoelaces in the wash. Just be sure to put them in a garment bag and wash them on the cold setting. Clean laces help make your sneakers look nice and new–a detail people often forget.
For more tips, check out how to clean your Converse sneakers and how to clean your UGG boots on SHEfinds.com!
SheFinds receives commissions for purchases made through the links in this post.