Working in a beauty office, there's usually plenty of products to go around. In any given drawer, you're likely to find enough makeup to stock a mini Sephora. Painting your nails is a normal afternoon activity. The other day I had a client meeting and was desperate to clean up my nails. Of course, the communal bottle of nail polish remover was empty. That's when a coworker told me I could use clear nail polish to take off my nail polish. Nail polish to remove nail polish? I was skeptical.
It turns out, she was right! All I had to do was put a glob of clear nail polish over my fading manicure. Then I used a cotton pad (a paper towel works, too) to immediately wipe off the polish. It might take two or three tries, but it will ultimately removed all my old nail polish. The trick is not allowing the clear nail polish to dry. According to wikiHow, nail polish dries due to the evaporation of the solvents it contains. Applying a second coat, softens the same solvents and allows the nail polish to return to a liquid state and be wiped away. In fact, you can actually use any color nail polish for this trick. Just be sure it isn't fast drying.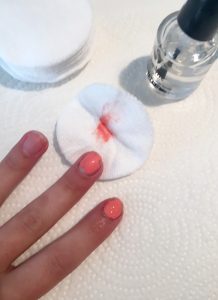 I was curious if there were any other methods for removing nail polish without nail polish remover. I looked up some hacks online and found a few sources that said that alcohol-based products could be used to peel away polish. I decided to give hand sanitizer and hairspray a try.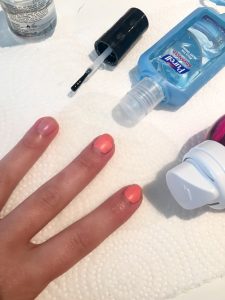 The results were not promising. The hairspray just made my finger really, really cold. It took the shine away from the polish, but it did nothing to remove it. The hand santizer only caused the nail polish to crack. The clear nail polish hack clearly worked the best. It took two tries and a little elbow grease, but this method removed all of the left over nail polish.
For more tips and tricks, check out the one thing you should never do to your makeup and how to make your Clarisonic bursh head last longer.