Are you playing hostess to your friends this 4th of July? Either you're the lucky one with the vacation home or you got stuck with the short end of the stick.
Unless you're Martha Stewart, playing hostess can be kind of a pain.  All you want to do is sit back and drink a beer, but you can't because if you're not paying attention, your drunk friend might accidentally set your house ablaze with a rogue firework.
Luckily, there are a few easy ways to guarantee your party is a hit. Scroll down for some quick and easy tips and ideas for throwing the best 4th of July party ever (that won't stress you out).
Throw The Best 4th Of July Party
1. Themed Desserts
Cupcakes are a fan favorite. They're relatively easy to decorate (all you need is red, white, and blue supplies and icing). Plenty of stories carry pre-made 4th of July cupcakes and desserts.
2. Jello Shots
Everyone loves Jello shots. They are fun and refreshing on a hot day. If you don't have time to make fancy layered ones, try making them in star-shaped ice cube trays. Another easy idea is to make red, white, and blue Jello shots and arrange them in the shape of an American flag. It makes a good table decoration, too!
3. Friendly Competition
Set up a beer (or juice) pong competition or horseshoe ring–anything to get your guests moving and talking with each other. People get really into this! Not to mention, all the red solo cups will look super festive.
4. Fully Stocked Coolers
Make sure there's plenty of drinks stocked at your house–end of story. You can't go wrong with an inflatable cooler full of beer. Throw in a few Capri Suns for nostalgia and the kids, of course. There's nothing worse than a party that runs out of alcohol or has warm drinks.
5. Fun Accessories
Get fun accessories for everyone to use. Everyone loves a funny hat or a pair of ridiculous sunglasses. Drunk family members plus funny props make for some pretty funny Instagram videos.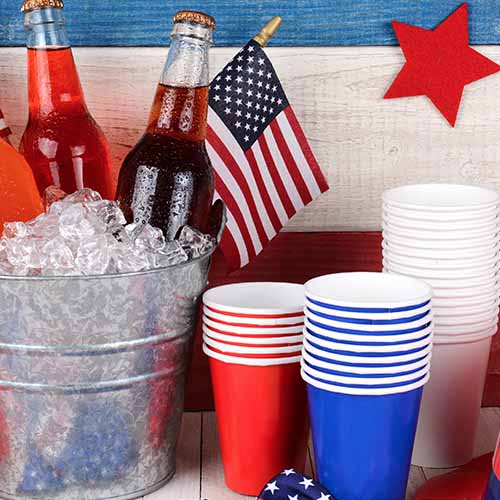 6. Sparklers
Opt for sparklers instead of fireworks. These are way safer to have around drunk people. Burns will be minor and risk of lighting something else on fire is (relatively) low.
7. Water Activities
Stock up on fun water toys to keep your guests cool on this hot July day. If you have a pool, fill it up with inflatable floats. If you don't have one, buy a few cheap water-guns or water balloons and watch your guests go to town. One less person that has to sleep in your house!