Nudes and blush tones are a huge spring fashion trend, and although darker colors are usually my quick fix to look smaller, this calming trend will definitely make an appearance in my wardrobe.  But you must proceed with caution when wearing lighter colors, because this trend can easily call out all of your body sins. Here's how you get the look right without adding on the pounds:
When wearing nudes, it's important to vary the shades to create dimension because a lighter look that is monochromatic won't let you to emphasize or de-emphasize certain body parts. Try a print to make the nude color seem less plain, and wear a blush tone jacket to give the look structure and makes you look smaller. Make sure that the shoes are not black or white–this  will cut off the legs and makes them look shorter. Instead, go for a shoe in the nude color family. Adding delicate, gold bangles will pop against the washed out colors, and wear a smaller, nude bag that won't add on bulk. Here are the pieces needed to get the look:
If you are looking for a dress to wear for work and play, this Patterson J. Kincaid "Salvador" Butterfly Print Tank Dress ($108) is the perfect option.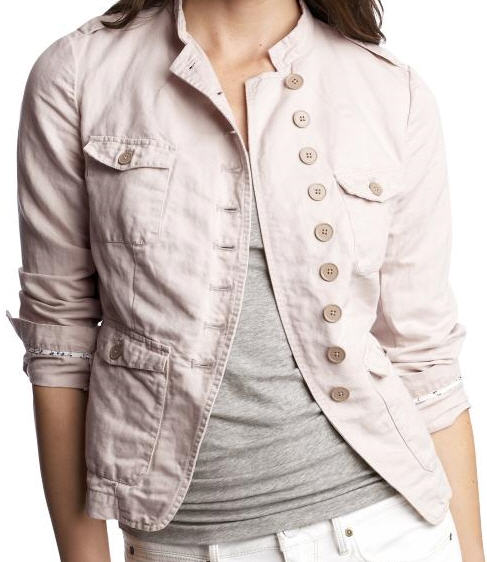 We loved this Gap Infantry jacket ($79.50) from their Hope chest collection so much, that we had to realize it in an outfit. The alabaster color and linen fabric is good for warmer weather.
A nude shoe will take you a long way, and you will wear these Seychelle's Get Outta Town Flats ($79.95) with everything.
Metallic colors complement nudes well, and these Argento Vivo Stingray Bangle Bracelet ($38 each or $68 for three) are delicate but make a big statement.
This The Sak Convertible Crossbody Clutch ($139) is a two-for-one deal and acts as a crossbody bag and a clutch.
Learn how to tackle more wardrobe conundrums in our how to wear posts, and then check out our guide to the best spring fashion trends, and the best chain strap bags.