It's no secret that Black Friday deals are can't-miss sales. You can score some serious bargains on what can often times be pricey items–and Hunter boots are no exception. But Black Friday isn't the only time of year that you can snag Hunter boots for way below full retail price. From Hunter's own year-long sale section, to sites like Zappos and Nordstrom Rack, you can get Hunter boots for as little as $80. Yes–they're worth every single penny of that original $160 price tag–but who would say "No" to an amazing deal? Nobody. This way, you can get the Hunter boot quality while paying an affordable price. It's a win-win kind of situation.
[Photo: jessannkirby.com]
1. Black Friday / Cyber Monday
The past five years, Hunter has had amazing sales running the week between Black Friday and Cyber Monday on their own website. In 2014, they had 40% off Wellington boots. In 2015, they had $99 boots. They also had a sitewide sale of 25% off in 2017 for Cyber Weekend (the exclusive event ran until November 28, 2016). We wonder what irresistible pairs of boots Hunter will have on sale this year…
[Photo: galmeetsglam.com]
Until Black Friday hits, you can save money on these Hunter boots that are on sale right now: 
Hunter's own sale section is rife with great discounts on tall and short Hunter boots year round. Don't sleep on this obvious source for Hunter boots on sale–you just might find the perfect pair!
Hunter Women's Original Tall Rain Boots ($105, down from $150)
If you're a "pink everything" kind of girl, you can't beat this price for Hunter's Original Tall Rain Boots. While others might shy away from the hue, if it's your thing, definitely add these boots to your cart. You can rarely find the tall Wellington boots for just $100!
Hunter Men's Original Dark Sole Chelsea Boots ($87, down from $145)
If you're shopping for your guy, these Men's Chelsea boots are great–and under $90. He'll love 'em!
3. Zappos
Zappos has fast, free shipping and returns and always delivers on discounted footwear deals. We found tons of Hunter boots on sale there–including these editors' picks.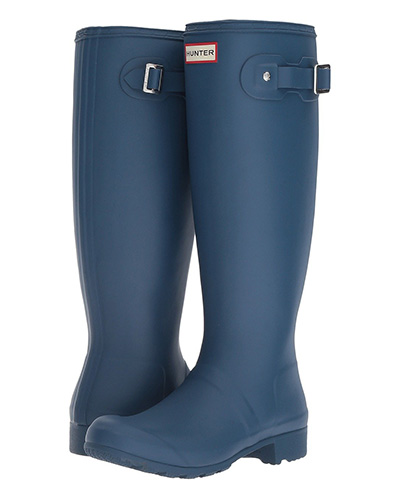 Hunter Hunter Original Tour Packable Rain Boot ($112.50, down from $150)
These tall boots actually roll-up so you can pack them in a suitcase. We love the muted blue hue–it's definitely something unique for the brand that not every other girl will have. Plus, they're 25% off full retail!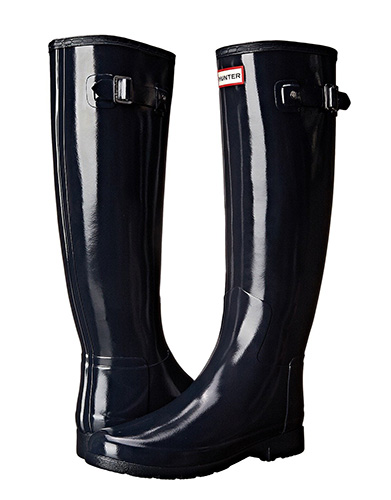 Hunter Original Refined Gloss Rain Boots ($123.75, down from $165)
The gloss is a great show-stopping look–and you can't go wrong with black. We found these 'Refined' rain boots for 25% off at Zappos. Score!
4. Nordstrom 
Nordstrom always has a good sale section (plus, free shipping and returns!), and they carry a variety of Hunter boots at all times. If you catch them during one of their seasonal sales (Winter Sale in February, Anniversary Sale in July, etc) you can catch even deeper discounts. As of press time, they had these two styles for up to 40% off at their Winter Sale 2018: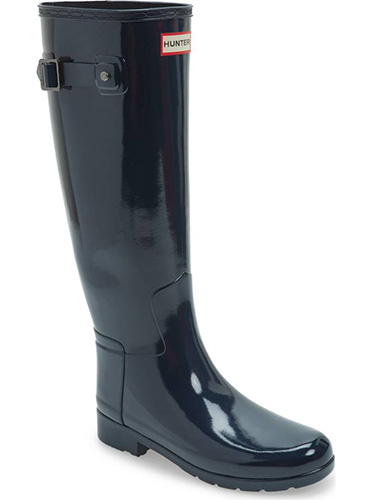 Hunter 'Original Refined' High Gloss Rain Boot ($99.98, down from $165)
We found more of these glossy 'Refined' boots on sale–this time in navy for under $100! Unfortunately, Nordstrom only has one size left. Hurry!
Hunter Snow Original Faux Fur Boot ($176.98, down from $295)
These aren't your typical Hunter boots–but we love 'em for winter. They're a full 40% off and available in a small handful of sizes.
5. Groupon
Groupon will occasionally have excellent flash sales running on Hunter Boots. Last Black Friday period they had a ton of popular styles for 35-50% off. There are no sales running currently, but it's a good idea to check here first if you're ever on the market for a new pair.
Nordstrom's kid sister site Nordstrom Rack is killing it with the deals lately–including their non-stop selection of Hunter boots on sale year round. We found arguably some of the coolest pairs in this post there. Shop 'til you drop!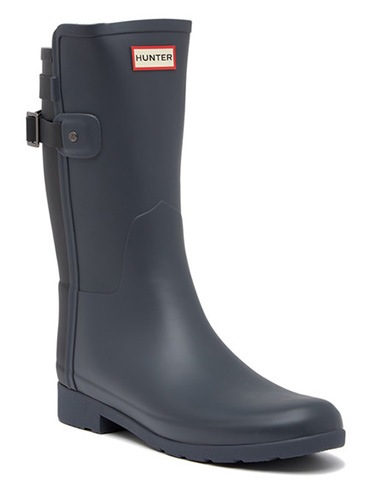 Hunter Original Waterproof Short Refined Back Strap Rain Boot ($109.97, down from $185)
These boots are matte (love!), short (love!) and have a back strap detail that is cooler than your average pair of rain boots. They're also a full 41% off. Too bad they're only available in one size. Womp!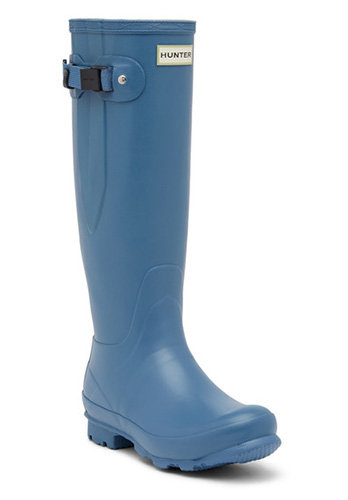 Hunter Norris Field Side Adjustable Rain Boot ($99.97)
There are also a variety of Hunter sale items available at Nordstrom Rack in select styles and colors. And if fate is on your side, you can snag a pair of Hunter Original Glossy Waterproof Boots for just $79.97.
For more deals and sales every fashion girl can't miss, make sure to check out the popular tunic you need to shop thanks to this Nordstrom sale, and where to get TOMS on sale— for just $29!
[Photo: brooklynblonde.com]