One of our all-time favorite pairs of casual shoes are Birkenstock sandals. Birkenstocks are having a major fashion moment gearing up for the warm weather months. It makes sense–they're the perfect everyday shoe. The only downside to the staple sandals: they're a little pricey. That's why we love these Birkenstock look alikes!
At SHEfinds, we will ALWAYS support splurging on a good pair of shoes–treat yourself, right? After all, there's no better form of retail therapy than shoe shopping, that's a fact. A quality pair of shoes is a great investment to your wardrobe. Chances are, you'll get way more use out of shoes than you would a top that you might only wear a few times.
But, with that said, there are some cases where splurging just doesn't make sense. Why on earth would you splurge on a pair of Birks when you can—dare we say it—snatch up an identical knockoff pair for way less money?
*GASP*—"knockoffs"?! Don't freak out just yet, hear us out here! The term "knockoffs" is such a bad word for look-alike products that can be just as good (or sometimes even better) than the original thing. You're going to want to check out these killer Birkenstock look alikes from four great retailers. They could easily pass as Birkenstock twins, really!
Target is one of our big go-to places to shop for super cheap and super adorable merchandise. The huge retailer always comes to the rescue with literally all of our wants and needs, so it should come as no surprise that they also have their very own like of Birkenstock-looking sandals. Target's selection of look-alike Birks has a large variety of options. They put their own spin on the classic Birkenstock Arizona shoe and offer it in traditional colors, as well as a fun floral pattern. Check out their Footbed Sandal Collection for all your knockoff Birkenstock needs.
Women's Mad Love Prudence Footbed Sandals ($22.99)
They even offer a pair of sandals in rose gold! Rose gold is still totally in for 2018. Hop on board and embrace this feminine, trendy color with a pair of fake Birkenstocks like these.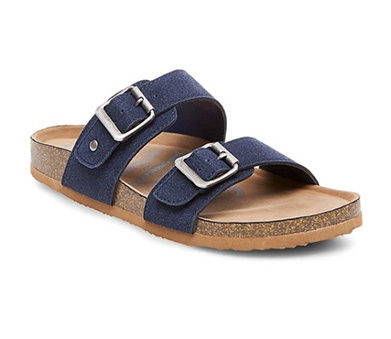 Mad Love Keava Footbed Sandals ($22.99)
If you're more of a traditional type of gal, then Target's pair of Footbed Sandals in black or navy would be the way to go for you. This pair is super simple and will match with literally everything in your closet this spring. What more could you want!?
Clarks makes great quality shoes that are both fashionable and comfortable. These Birkenstock look-alike sandals have a stylish twist to them. Shop for new summer shoes, in addition to these knock-off Birkenstock sandals.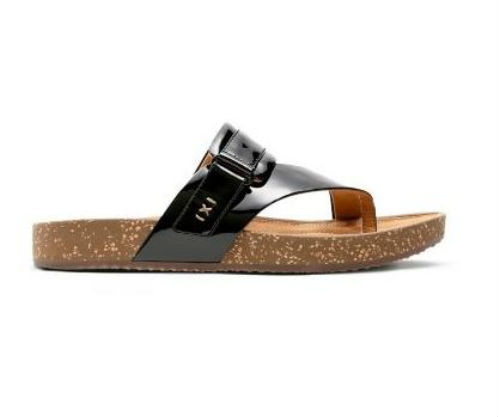 Clarks Rosilla Durham ($90)
These high-quality sandals look just like Birkenstocks–but better! While these shoes are a bit pricier, you're investing in something you'll wear all summer long!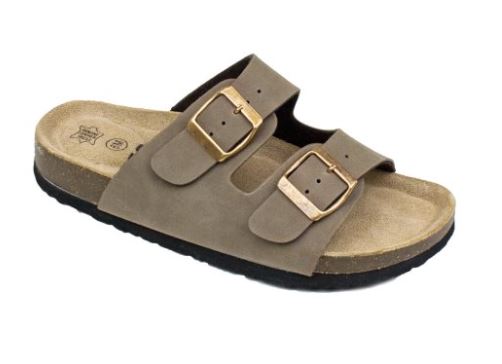 SNJ Women's Double Strap Genuine Leather Footbed Insole Flat Sandals ($27.99)
It doesn't get much better than these off-brand Birkenstock sandals at Walmart. The style, color, and materials of these Birkenstock look-alikes are almost identical to the real deal.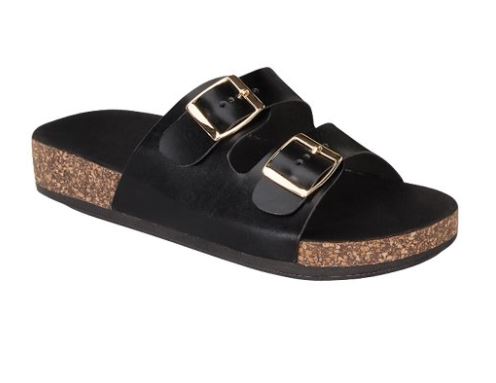 SNJ Women's Casual Buckle Straps Sandals Flip Flop Platform Footbed Sandals ($17.99)
Whether you like black, brown, tan, or metallic fake Birkenstock sandals, Walmart has a wide variety of these summer staple sandals.
Steve Madden's Madden Girl line makes another version of the classic Arizona Birkenstock sandal that is equally as comfortable and way more cute (but that's our personal opinion). Steve Madden just did a collaboration with artist and designer Jordana Schrager and recently launched Jordana A Madden Girl yesterday! The new line features lots of fun prints and bright colors that scream spring and summer time. You'll definitely stand out from the plain-old Birkenstock crowd with these playful sandals. Not to mention they're a huge bargain!
Brando-J ($49.95)
If you're looking to have fun with your Birkenstock-like sandals, Madden Girl has you covered with these fun patterns. From multi-color floral to a pretty gold hue, these sandals are adorable!
Brycee-J ($39.95)
Looking for something really exciting to brighten up your day? Brycee-J is a rainbow of fun! We love this vibrant sandal.
Brando ($49.95)
If simple is more your taste, Madden Girl also has a shoe to fit your needs. This white pair of sandals will make a great addition to your closet this spring.
Last but not least, Payless has A TON of fake Birkenstocks through their American Eagle line. While they don't have as many patterns and color variations as other stores, they offer the cheapest, most authentic looking sandals. If you want a pair of shoes that looks the closest to the real deal, they're definitely the way to go. Payless also usually has perks for ordering online, like discounts or free shipping, so grab 'em while they're hot!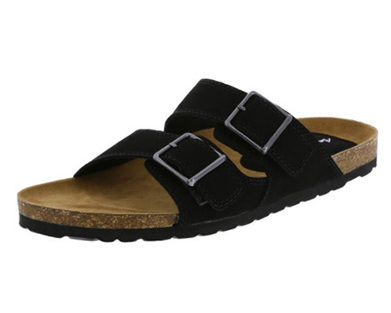 Women's Robyn Flat Slide ($29.99)
This pair of black slide sandals will definitely pass for real Birkenstocks at a glance. They're comfortable, classic, and very affordable.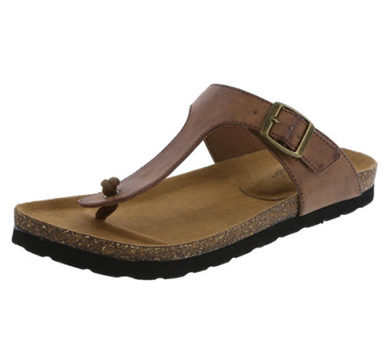 Women's Sage Flat Sandal ($19.99-$29.99)
This sandal is a spring, summer footwear staple. The natural brown color will match with every outfit you put together this season making them worth every (bargain) penny.
Looking to shop more bargain footwear? Shop cheap hunter rain boots and these affordable ballet flats on SHEfinds.com.
SHEfinds receives commissions for purchases made through the links in this post.