I recently started towel drying my hair every night. I used to use a regular bath towel wrapped on my head but apparently it's bad for your hair. Since bath towels are heavy, they weigh down your hair and can cause breakage at the roots. In addition, rubbing your hair on a bath towel creates frizziness. I finally bought myself a Turbie Twist and it was one of the best purchases I've made.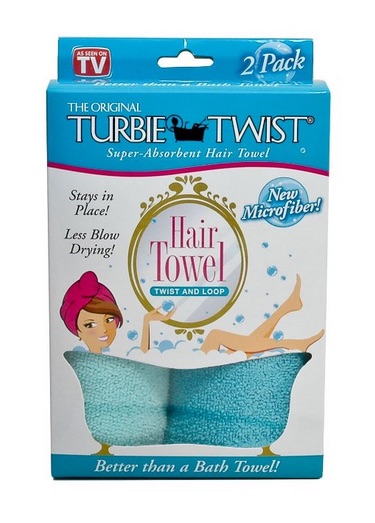 Turbie Twist Microfiber Hair Towel – 2 Pack ($13.50)
Yes, a Turbie Twist is one of those "As Seen On TV" products but it seriously works. It's a microfiber towel that's specifically designed to dry hair. The Turbie Twist is super lightweight and stays in place, unlike a regular bath towel. It's also extremely absorbent and dries my hair in about 10 minutes. Jessica Alba swears by it, too.
Alba told Into The Gloss, "The other thing I swear by is this Turbie Twist from Bed, Bath & Beyond. It's one of those 'As Seen On TV' products, but is the greatest thing in the world. It's like a towel that you pull your hair up in after the shower." She continued, "My girls won't let me dry their hair—they literally scream—so I put their hair in a Turbie Twist. Five minutes later, it's pretty much as wringed-out as hair could get."
You should buy one, like, now.
[Photo: Amazon]